George Albus
| | |
| --- | --- |
| Date and Place of Birth: | April 6, 1893 Easton, PA |
| Date and Place of Death: | November 8, 1918 France |
| Baseball Experience: | Minor League |
| Position: | Shortstop/Third Base |
| Rank: | Private |
| Military Unit: | Company L, 314th Infantry Regiment, 79th Division US Army |
| Area Served: | France |
George H. "Rabbit" Albus was born in Easton, Pennsylvania on April 6, 1893. He attended Easton High School and following graduation in 1912, went to work in the printing trade with the Eschenbach Printing Company. At the time, he was playing shortstop and third base for the German Hill team in the Easton-Phillipsburg City League and making quite a name for himself. In 1914, minor league manager, George "Cap" Leidy, who lived in Phillipsburg and is credited with "discovering" 18-year-old Ty Cobb when the youngster played for him at Augusta in 1905, invited Albus to spring training at Beaumont, Texas, where he was managing the Class B Texas League Oilers. Albus, who weighed just 142 pounds, impressed a lot of folks with his speed and hustle that spring, although some thought the Texas summer would wear him down quickly over a long season.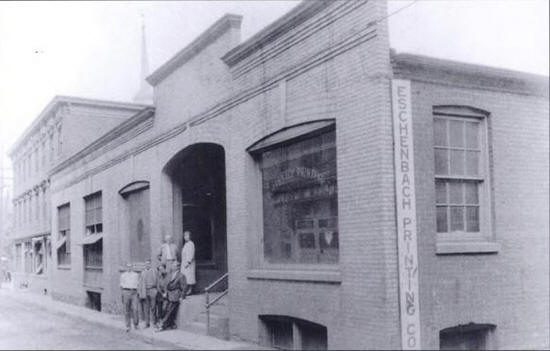 The Eschenbach Printing Company in Easton, PA, where George Albus worked.
After just one week into the regular season, Beaumont's starting infielder, Jim Durkin, injured a muscle in his leg and Albus was inserted at shortstop and then moved to third. Once in the line-up, he started the next eight games but was unable to hit the opposing Texas League pitchers, hitting just .103. Leidy didn't want to release the youngster and tried to option him to a team in the North Carolina League where a friend of his was managing. Albus declined the offer, however, and chose to find somewhere to play in Texas on his own. He was picked up by the Sherman Lions of the Class D Texas-Oklahoma League and played 76 games but batted only .189 and finished the season with the Muskogee Mets of the Class D Western Association, appearing in 10 games and hitting .194.

He was back in the Western Association in 1915, this time with the Tulsa Producers, and batted a vastly improved .283 in 27 games. He also spent time that year with the Temple Governors of the Class D Middle Texas League and the Waxahatchie Athletics of the Class D Central Texas League.

In 1916, Albus was playing baseball a little closer to home with the wonderfully named Hopewell Powder Puffs of the Class C Virginia League. In 59 games he batted .209.

Aged 24, the young infielder's baseball career came to a halt when he entered military service with the army and served with the Allied Expeditionary Force in France. A private with Company L, 314th Infantry Regiment, 79th Division, Albus took part in the Meuse-Argonne Offensive at St. Mihiel and was killed in action on November 8, 1918, just three days before the signing of the Armistice to end the war.

George "Rabbit" Albus is buried at the Meuse-Argonne American Cemetery in Lorraine, France.

Sources:
Research conducted by Davis O. Barker
Battle Participation of Organizations of the American Expeditionary Forces in
France, Belgium and Italy 1917-1918, Washington, Government Printing Office, 1920
Typographical Journal, Vol. 54-55
Philadelphia Inquirer, April 21, 1907
Philadelphia Inquirer, May 31, 1917
Thanks to Davis O. Barker for "discovering" George Albus and providing much of the information contained in this biography.
Date Added: February 22, 2015
Can you add more information to this biography and help make it the best online resourse for this player? Contact us by email
Read Baseball's Greatest Sacrifice Through The Years - an online year-by-year account of military related deaths of ballplayers
Baseball's Greatest Sacrifice is associated with Baseball Almanac
Baseball's Greatest Sacrifice is proud to be sponsored by