Dick Aldworth
| | |
| --- | --- |
| Date and Place of Birth: | October 1, 1897 Augusta, GA |
| Date and Place of Death: | September 18, 1943 Kelly Field, San Antonio, TX |
| Baseball Experience: | Minor League |
| Position: | Pitcher |
| Rank: | Colonel |
| Military Unit: | USAAF |
| Area Served: | Europe and United States |
Dick Aldworth was a semi-pro star in San Antonio before going to spring training with the Philadelphia Athletics. His minor league career was interrupted by World War II and he served as a fighter pilot on the Western Front. Aldworth remained in military service for 22 years and returned in 1941, to help his friend, Claire Chennault form the Flying Tigers.
Richard T. "Dick" Aldworth, the son of Thomas and Agness Aldworth, was born on October 1, 1897, in Augusta, Georgia. His father died on April 25, 1906, and Richard and his mother moved to San Antonio, Texas, to live with her parents, James and Katherine Quinn.

Aldworth attended St. Anthony's Apostolic School (commonly known as St. Anthony's College) - where he was an outstanding pitcher - and attended St. Mary's University in San Antonio in 1914.

By the time of his graduation, Aldworth was a well-known figure within the San Antonio baseball community. The tall, redhead, who played baseball for the Knights of Columbus and hurled a two-hitter against the Signal Corps team at nearby Fort Sam Houston in April of that year, was signed by Connie Mack's Philadelphia Athletics in October 1915. To celebrate, he hurled a 5-0 no-hitter against the Harlandales, for the Ahrens & Ott semi-pro team on Oct 31, and spent the winter months captaining the Knights of Columbus basketball team before reporting to the Athletics' spring training camp at Jacksonville, Florida, in March 1916.

Aldworth was used sparingly during spring training, but turned in a solid performance in April against the University of Tennessee. Hurling eight innings before the game was halted due to rain, Aldworth beat the Volunteers, 6-0, allowing just one hit and fanning 13.

When the regular season opened, Aldworth was assigned to the New Haven Murlins of the Class B Eastern League. Managed by former Athletics second baseman, Danny Murphy, and playing alongside big leaguers Rube Bressler, Frank Woodward, Dizzy Nutter, Red Shannon and Mickey Devine, Aldworth made nine appearances for a 4-4 won-loss record with 64 innings pitched. By July, however, at a time when the Athletics could have used a decent pitcher (they were 19 and 71 by the end of July and finished the season with an abysmal 36-117 record), Aldworth was back home in San Antonio, nursing a sore arm.

By the time the 1917 baseball came around, America had entered the First World War, and Aldworth had enlisted at Fort Sam Houston in San Antonio, Texas. His professional baseball days were behind him but he was still playing, albeit with the Army's headquarters team at Fort Sam Houston, causing as much damage with his bat as with his pitching. On April 29, Aldworth had a home run, two triples and two singles in a 21-3 thrashing of the Aeros at Fort Sam Houston. In May 1917, he attended the School of Military Aeronautics at the University of Texas, Austin, for ground flight instruction with a view to becoming a pilot. He went on to train with the Aviation Section of the Signal Corps at Fort Wood, New York, until October 1917, then left the United States for France, and learned to fly with the Headquarters Detachment, 3rd Aviation Instruction Center at Issoudun Aerodrome. Aldworth soloed in two hours and 35 minutes in December 1917. From France, he went to Italy and continued to train at the 8th Aviation Instruction Center in Foggia, also teaching Italian pilots to fly (Italy was an ally during the First World War).

In July 1918, Lieutenant Aldworth joined the 213th Aero Squadron, 3rd Pursuit Group, in France, and took part in the St. Miehel, Meuse and Argonne campaigns. Aldworth flew the French-designed Spad S.VII and Spad S.XIII biplanes, engaging and clearing German aircraft from the skies and providing escort to reconnaissance and bombardment squadrons over enemy territory. He also attacked enemy observation balloons, and performed close air support and tactical bombing attacks of enemy forces along the front lines. On November 4, 1918, Lt. Aldworth shot down a German plane northwest of Verdun, but a few days later he himself was brought down over German territory and taken prisoner. He managed to escape from the prisoner-of-war camp in Karlsruhe, Germany, and returned to allied lines, although news of his safe return did not reach concerned friends and family in San Antonio until mid-December, up to which point he had been reported missing in action.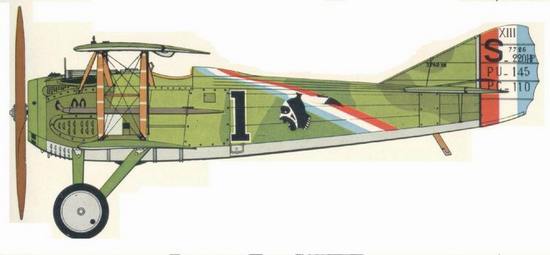 The type of plane Lt. Aldworth flew with the 213th Aero Squadron

With the war over, Aldworth served with the Army of Occupation in Germany with 138th Aero Squadron. In Coblenz, in July 1919, he was piloting a Spad biplane for the Polish government who were contemplating purchasing the plane. Whilst putting the plane through various maneuvers, the engine failed. Aldworth attempted a landing, but when he realized he would not be able to clear some fast-approaching trees – and just a few feet above the ground - he jumped for his life. As the biplane crashed into the trees and was destroyed, Aldworth landed with a thud and was lucky to escape with little more than a broken ankle.

Aldworth returned to the United States in September 1919, and remained in the Air Service. He was stationed at Fort Sam Houston until December, then moved to Kelly Field - at that time the center for advanced training, where Claire Chennault of "Flying Tigers" fame, was also an instructor. During the 1920s, while in service, Aldworth continued to play baseball in the San Antonio area with the San Antonio Independents and the Alamo-Peck Indians.

On July 11, 1922, Aldworth suffered further injuries as a result of a flying accident. He was piloting a two-seater plane at Camp Hancock, near Augusta, Georgia, that crash-landed due to engine failure. Aldworth suffered a fractured skull and lacerations to his body, while his passenger, Major P. E. H. Brainard, received a fractured arm and cuts to his face.

Yet another accident occurred on December 12, 1926, and on this occasion, Aldworth's disregard for his own safety spared the lives of many others. Taking off from Mitchel Field, Long Island, 1st Lieutenant Aldworth's pursuit plane stalled as it was flying towards Rockaway Beach, Queens. Rather than land on the beach and risk killing civilians, he ditched the plane in the sea. Despite the plane somersaulting when it hit the water, Aldworth was able to walk away from the accident with little more than a scratch on his head.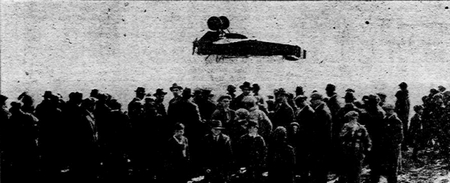 Lt. Aldworth's plane in the water after crashing near
Rockaway Beach, New York, on December 12, 1926.
In January 1929, Aldworth was granted a leave of absence from military service to act as temporary superintendent at Newark Metropolitan Airport, having complete authority of all planes flying from that airfield. His leave expired in July 1929, and he returned to the air corps, stationed at Langley Field, Virginia. In August 1929, Aldworth landed at Amboy Airport, near Syracuse, New York, in a Curtiss P-6 Hawk, to be greeted by H. O. "Bull" Nevin. The two had served together in France and not seen each other since Aldworth was shot down behind enemy lines in November 1918. Until then, Nevin believed Aldworth to be dead.

In January 1930, after 22 years of service, Aldworth retired from active duty and returned to Newark Metropolitan Airport as supervisor. Not counting his time in France, Aldworth had had more than 2,800 hours in the air.

For the next ten years, Aldworth served as supervisor at Newark. On August 25, 1932, he was on hand at Newark as Amelia Earhart became the first woman to complete a non-stop transcontinental flight, taking off from Los Angeles the day before. On November 8, 1934, as official timer for the National Aeronautical Association, he witnessed Eddie Rickenbacker break the transcontinental record for transport planes in a 12-hour flight from Burbank, California. On May 9, 1935, he was on hand to record the official time of Amelia Earhart's non-stop flight from Mexico City. The 2,100-mile journey took 14 hours, 28 minutes and 50 seconds, covering the perils of the Mexican mountains, the long stretch of the Gulf of Mexico and up the Atlantic Seaboard. For six years he was chairman of the New Jersey State Aviation Commission and consultant for the Bureau of Air Commerce, considered the leading expert on air traffic control.

On June 5, 1937, in recognition of his act of bravery 11 years earlier at Rockaway Beach, Aldworth was awarded the Distinguished Flying Cross in a ceremony at Mitchel Field by Major General Frank R. McCoy, commanding general of the second corps area.

By 1940, Aldworth was 42 years old, and his health was failing. In 1941, he was admitted to Walter Reed General Hospital, suffering from non-Hodgkin lymphoma (cancer of the lymph glands). Despite this, in April of that year he was called upon to serve his country again. Claire Chennault was putting together the American Volunteer Force, or "Flying Tigers", to help the Chinese fight the Japanese in the air. He desperately needed to recruit pilots and mechanics. Aldworth was seen as the perfect person for the job and Chennault telephoned him at Walter Reed Hospital, explaining the problem and why the group was being organized. Although gravely ill, Aldworth agreed to help Chennault and his team.

Between April and December 1941, under the umbrella of the Central Aircraft Manufacturing Company (CAMCO), Aldworth toured military bases across the United States to recruit pilots. He interviewed Marines at Quantico, Navy personnel at Norfolk and San Diego, and Army personnel at McDill, March, Mitchel, Langley, Hamilton, Eglin, Craig, Maxwell, Barksdale and Randolph fields. Many pilots had to be interviewed at his bedside as Aldworth was forced to periodically return to hospital. Over 300 men volunteered to serve with the Flying Tigers.

"Dick Aldworth did a magnificent job," said Chennault, "although he knew at the time he took the assignment that his days were numbered."

In June 1942, Colonel Aldworth returned to San Antonio with the Air Service Command at Duncan Field. Before being appointed chief of the maintenance division, he was a technical instructor, special projects officer, and assistant to the commanding general.

On September 1, 1943, Aldworth's health dramatically deteriorated. On September 17, paralyzed and in a sickroom banked with oxygen cylinders, he gained just enough strength to permit his oxygen tent to be pushed back, and General Gerald C. Brant awarded Colonel Aldworth the Legion of Merit for meritorious service in recruiting personnel for the Flying Tigers. Dick Aldworth died the following day, aged 45.

His Legion of Merit citation reads:

"Richard T. Aldworth, colonel (then first lieutenant, retired), air corps, United States Army. For exceptionally meritorious conduct in the performance of outstanding services from April 1941, to December 1941. Col. Aldworth left the Walter Reed General Hospital in 1941 to undertake the difficult assignment of selecting competent personnel for the American Volunteer Group in China (more widely known as the 'Flying Tigers').

"Despite countless rebuffs and at great detriment to his own health he utilized his extensive background of service in the army air corps to carry this arduous task through to a highly successful conclusion. Activated by the highest patriotic motives, his steadfast devotion to the cause of a friendly foreign nation proved indirectly of great benefit to his own country. Col. Aldworth's accomplishments in the furtherance of the war effort of the United Nations reflect the highest credit upon himself and the army air forces."

"The death of Col. Richard "Dick" Aldworth," wrote Harold Scherwitz, Sports Editor of the San Antonio Light, "touched a responsive note in the ranks of veteran San Antonio sports followers as the passing of few men could do. For Aldworth was a sort of Dick Merriwell of local athletics in the days just preceding World War I."

George Tucker, who played infield on the Knights of Columbus team for which Aldworth achieved much of his local fame, called him "one of the finest, cleanest athletes who ever lived," and another former teammate said, "I never saw a better sportsman, a cleaner liver or a better competitor. He was a remarkable fellow."

Funeral services were held on September 21, 1943, at Kelly Field Chapel No. 2, by Chaplain Edward Burns, with internment at Fort Sam Houston National Cemetery. He was survived by his widow, Estelle, and a daughter, Agness.
| | | | | | | | | | | | |
| --- | --- | --- | --- | --- | --- | --- | --- | --- | --- | --- | --- |
| Year | Team | League | Class | G | IP | ER | BB | SO | W | L | ERA |
| 1916 | New Haven | Eastern | B | 9 | 64 | - | 43 | - | 4 | 4 | - |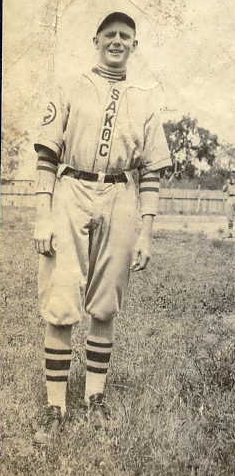 Dick Aldworth in his days with the San Antonio Knights of Columbus team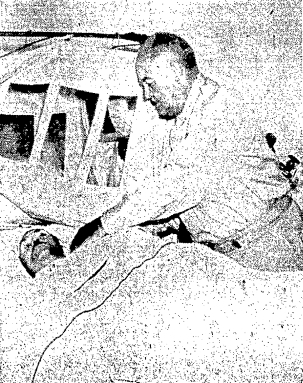 Colonel Aldworth being presented with the Legion of Merit the day before he died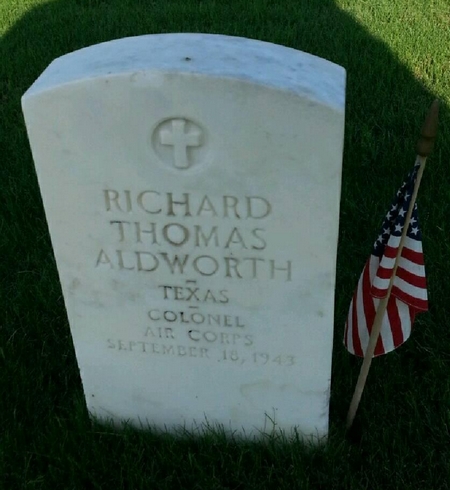 Dick Aldworth's grave at Fort Sam Houston National Cemetery, San Antonio, Texas

Thanks to Davis O. Barker for "discovering" Dick Aldworth. Thanks to Steve Boren for helping with medical information relating to Dick Aldworth's death.
Date Added November 11, 2016. Updated October 26, 2019
Baseball's Greatest Sacrifice is associated with Baseball Almanac
Baseball's Greatest Sacrifice is proud to be sponsored by