Art Amborski
Date and Place of Birth:

circa. 1924 Buffalo, NY

Date and Place of Death:

June 26, 1944 Austria

Baseball Experience:

Amateur

Position:

Second Base

Rank:

Sergeant

Military Unit:
742nd Bomb Squadron

,

455th Bomb Group

, 15th Air Force USAAF

Area Served:

Mediterranean Theater of Operations
Arthur E. "Art" Amborski was born in Buffalo, New York. He was the only son of Edward and Cecelia Amborski. Their eldest son Herbert, had died in infancy and their middle child, Dorothy was pre-school age when she succumbed to diphtheria. Art attended Burgard Vocational High School and was a four-letter athlete, making the Buffalo Courier-Express All-High teams in baseball and basketball, and winning the Typothetae Watch as the outstanding member of the class of 1943.

Amborski went on to play second base for the Newsboys Association in the Municipal Baseball League after high school, but was inducted into military service in September 1943.

A sergeant with the Army Air Force, Amborski served as a radio operator/ball turret gunner on a Consolidated B-24J Liberator with the 742nd Bomb Squadron of the 455th Bomb Group, 15th Air Force, making long range strategic bombing missions against enemy military, industrial and transportation targets in Italy, France, Germany, Austria, Hungary, Romania, and Yugoslavia. On June 26, 1944, Sgt. Amborski was aboard B-24J "Rusty Dusty" (#42-99771) that departed from 742nd's airfield at San Giovanni near Cerignola, Italy, to bomb an oil refinery at Moosbierbaum in Austria. The B-24 failed to return to San Giovanni and Sgt. Amborski and its crew were reported missing. It was not until April 1945, that news was finally received that Sgt. Amborski had been killed when the B-24 was shot down by German fighters and crashed near Neuaigen, Austria. His body was recovered at the crash site and buried in the cemetery at Tulln, Austria before being relocated to the Ardennes American Cemetery in Liege, Belgium in 1947.

Arthur Amborski was awarded the Air Medal and Purple Heart.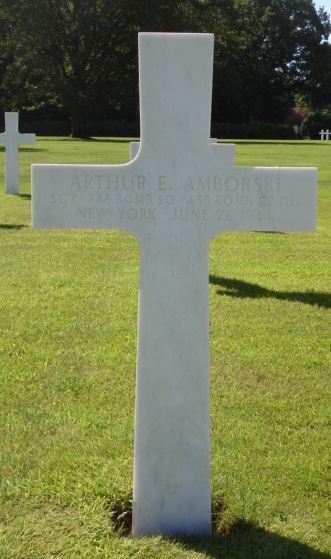 Arthur Amborski's grave at the Ardennes American Cemetery in Liege, Belgium.
Sources:
Buffalo Courier-Express, October 28, 1941
Buffalo Courier-Express, June 20, 1943
Buffalo Courier-Express, April 12, 1945
http://www.findagrave.com
http://ampoleagle.com/remembering-the-families-sacrifice-p4895-97.htm
http://forum.armyairforces.com/455th742nd-Cherignola-Italy-m48596.aspx
Date Added: January 9, 2014
Can you add more information to this biography and help make it the best online resourse for this player? Contact us by email
Read Baseball's Greatest Sacrifice Through The Years - an online year-by-year account of military related deaths of ballplayers
Baseball's Greatest Sacrifice is associated with Baseball Almanac
Baseball's Greatest Sacrifice is proud to be sponsored by