Martin "Pete" Anderson
| | |
| --- | --- |
| Date and Place of Birth: | October 11, 1888 Womelsdorf, PA |
| Date and Place of Death: | June 18, 1918 River Marne, France |
| Baseball Experience: | Amateur |
| Position: | Infield |
| Rank: | Corporal |
| Military Unit: | Company A, 38th Infantry Regiment, 3rd Division US Army |
| Area Served: | France |
Martin L. "Pete" Anderson, the son of Mr. and Mrs. Morris P. Anderson, was born in Womelsdorf, Pennsylvania on October 11, 1888. Anderson was an excellent amateur baseball player and well-known in the local area. As an infielder he played for various teams including Womelsdorf Athletic Associatiion, Lebanon Valley and All-Berkshire County.

Anderson, a cigar maker with H. S. Fidler & Company in Womelsdorf, entered military service during World War I and served in France, as a corporal, with Company A of the 38th Infantry Regiment, 3rd Division. On June 18, 1918, Anderson was part of an eight-man raiding party that crossed the River Marne on a small boat. They were attacked by German troops when they reached the other side and jumped into the river. Four returned to safety. The other four, including Corporal Anderson, died through drowning or gunshot wounds. His body was never recovered and he is remembered at the Tablet of the Missing at Aisne-Marne American Cemetery in Belleau, France. Corporal Anderson also has a memorial marker at Zions Lutheran and Reformed Cemetery in Womelsdorf.
His brother, Harry (Known as Hal), who was four years younger and also well-known as a local ballplayer, served with the U.S. Army during the First World War. He was attached to the 316th Infantry Regiment. Hal had also played on the Womelsdorf Athletic Association team and played minor league baseball with the Fargo-Moorhead Graingrowers of the Class C Northrn League in 1914, batting .234 in 64 games.

Martin "Pete" Anderson was survived by his wife, Laura, who passed away in 1965, and twin sons, LeRoy and Raymond, who were six at the time of their father's death. In 1929, both boys were designated candidates for entrance to the United States Military Academy at West Point. They were chosen by President Hoover, under authority of the act, which gave the President the right to name a certain number of candidates from the whole of the United States. In order to enter West Point the brothers had to take a competitive examination in New York, and, if among the 20 highest scorers in the examinations they would enter the military academy in July 1930. This author has been unable to uncover how the boys faired in the exams or if, indeed, they even sat the exams. We do know, however, that LeRoy did not attend West Point but graduated from Philadelphia School of Pharmacy in 1937, and owned and operated Anderson Pharmacy of Denver, Pennsylvania, from 1946 until he retired in 1989 at the age of 78. LeRoy passed away in 2007, Raymond passed away in 1992.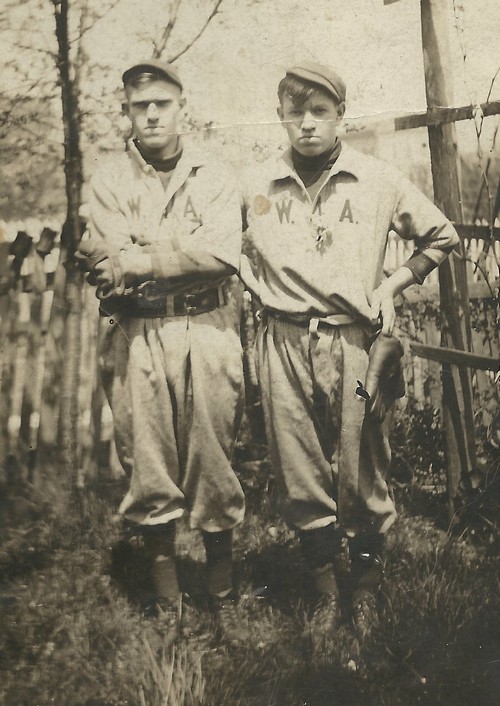 Hal (left) and Pete Anderson in Womelsdorf Athletic Association uniforms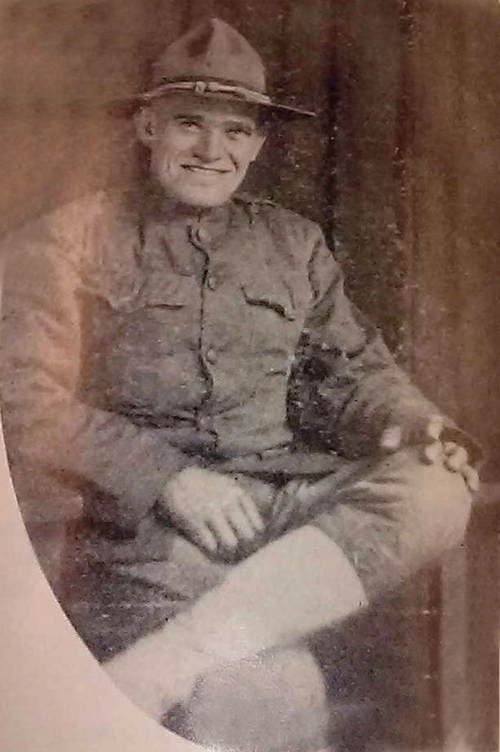 Cpl. Martin L. "Pete" Anderson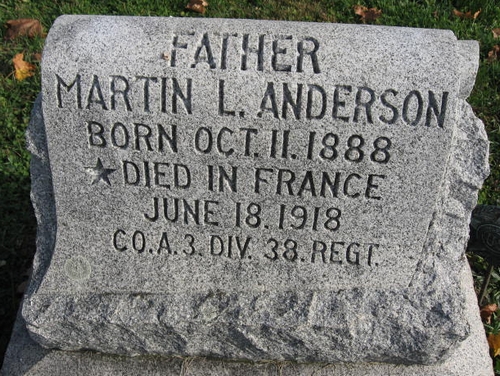 Martin Anderson's marker at Zions Lutheran and Reformed Cemetery in Womelsdorf, Pennsylvania
Sources
Lebanon Semi-Weekly News, May 5, 1919
Lebanon Daily News, August 31, 1929
Lebanon Daily News, June 23, 1965
Thanks to Pete Anderson's great nephew, Jeff Anderson, for the photos and help with this biography.
Date Added July 4, 2013. Updated January 5, 2020
Can you add more information to this biography and help make it the best online resourse for this player? Contact us by email
Read Baseball's Greatest Sacrifice Through The Years - an online year-by-year account of military related deaths of ballplayers
Baseball's Greatest Sacrifice is associated with Baseball Almanac
Baseball's Greatest Sacrifice is proud to be sponsored by