Jerry Angelich
Date and Place of Birth:
February 18,

1916

Butte, MT
Date and Place of Death:

December 7, 1941 Hickam Field, Honolulu, Hawaii

Baseball Experience:

Minor League

Position:

Pitcher

Rank:

Private

Military Unit:

Headquarters Squadron, 17th Airbase Group, US Army Air Corps

Area Served:

Pacific Theater of Operations
Jerry Angelich had trials with the Pacific Coast League's Sacramento Senators and pitched against the legendary Japanese hurler, Eiji Sawamura. He was killed during the Japanese attack on Pearl Harbor.
Jerry M. Angelich - the son of Milan Angelich, an immigrant from Yugoslavia, central Europe - was born in Butte, Montana, on February 18, 1916. His father was a grocery store proprietor and Jerry's early life was spent in Anaconda, Montana.
Jerry's mother died when he was young, and the family moved to Wilmington, a district of Los Angeles, California, where his father married Bozica.

Jerry was educated at Phineas Banning High School in Wilmington, and tranferred to Narbonne High School when the family moved to Lomita, following his father's death. A 6-foot-1, slow ball pitcher, he was a star with the Narbonne HS Gauchos team and also played for the Lomita Merchants in 1934, the year he graduated.

Angelich had trials with the Sacramento Senators of the Class AA Pacific Coast League in 1935, and was with the team for pre-season exhibition games in early March.

On March 18, 1935, 19-year-old Angelich was selected by manager Kettle Wirts to start for the Senators against a touring Japanese professional all-star team at Moreing Field in Sacramento. Before a crowd of 4,200, and with Wirts behind the plate, Angelich was locked in a pitching duel with 18-year-old Japanese ace Eiji Sawamura. In Japan, the previous November, Sawamura had faced a team of visiting major league all-stars including Babe Ruth, Jimmie Foxx, Lou Gehrig and Charlie Gehringer. Entering the game in the fourth inning, the Japanese high school pitcher struck out nine batters and held the Americans to a single run over five innings; a home run by Gehrig in the seventh that left Sawamura with the loss. However, he was immortalized by Japanese fans for striking out Gehringer, Ruth, Gehrig, and Foxx in succession.

Angelich, who hurled eight innings and was relieved by Bill Hartwig in the ninth, was beaten by Sawamura, 2-1. The Senators managed just five hits off the Japanese youngster.

Angelich signed a contract with the Solons on April 5 (the day before opening day), but was released on April 20, spending the season with the San Pedro Knights of Pythias semi-pro team, Inter-City league winners. On September 15, 1935, the Knights beat a team representing the USS Vestal, 2-0. Angelich did the hurling, allowing just four hits and striking out eight. The USS Vestal was later damaged at Pearl Harbor.

Angelich had a further trial with Sacramento in the spring of 1936, and spent the summer with the Knights of Pythias and the Jadran Slavonian athletic club. He continued to play semi-pro baseball around Los Angeles. In 1937, he was with the Wilmington Merchants, Richfield Oil Company and the San Pedro nine. He was back with the Knights of Pythias in 1938 and began 1939 with the Wilmington Merchants, before taking a job on a dam project in Provo, Utah. There he played for the Provo Timps of the Utah Industrial League – a thriving semi-pro circuit with six teams fielding formidable line-ups that competed throughout the state. On September 3, 1939, he pitched a 3-1, five-hitter over Magna-Garfield to take Provo to the league championships, which they clinched over Pinney Beverage for their first title since 1932. While in Provo, Angelich also became engaged to local girl, Norma Williams.

Back in California in 1940, Angelich pitched for the San Pedro Longshoremen, and worked as an operating engineer for the Griffith Company in Wilmington. Aged 25, he entered military service with the Army Air Force on August 19, 1941. He was soon stationed as an anti-aircraft battery gunner at Hickam Field in Hawaii with Headquarters Squadron, 17th Airbase Group.

On December 7, 1941, during the Japanese surprise attack on Hawaii, their planes bombed and strafed Hickam to eliminate air opposition and prevent U.S. planes from following them back to their aircraft carriers. Hickam suffered extensive damage and aircraft losses, with 189 people killed and 303 wounded.

Private Angelich was attempting to operate a machine gun in a wrecked airplane when he was killed by strafing Japanese fighter planes. Among his personal effects were a ball glove and two baseballs.

Survived by his step-mother, Bozica, sisters Millie and Darinka, and brothers Paul and Sam, he was initially buried at the nearby Schofield Barracks Cemetery, and later moved to the National Memorial Cemetery of the Pacific. His posthumously awarded Purple Heart was received by his sister, Millie, in April 1943.

Memorial Day services at both Banning and Narbonne high schools in May 1943, remembered Jerry Angelich among the servicemen who had lost their lives in the war.

In 1945, a 6-foot Indian statue, arms extended in supplication towards the sky, was mounted on a memorial plaque base at Narbonne High. The plaque listed the names of the 27 Narbonne High students who lost their lives in WWII. Jerry Angelich is also remembered on the memorial wall located outside the entrance to the Lomita Post Office.

Sawamura, the Japanese pitcher Angelich hurled against in 1935, went 15-3 in 1936 for the Tokyo Giants in the nation's first professional season. On September 25, 1936, he pitched the first no-hitter in Japanese professional baseball history. He had an incredible 33-10 record and 1.38 ERA in 1937, but was drafted for military service against the Chinese in January 1938. Aged 23, he returned to professional baseball in 1940 but was unable to put up the numbers he achieved in previous years.

A second tour of duty came in 1942 before playing his last professional season in 1944. Sawamura ended his career with a 62-22 record and 1.71 ERA. Serving with the Imperial Japanese Navy, he was killed near the Ryukyu Islands when his ship was torpedoed on December 2, 1944.

Year

Team

League

Class

G

IP

ER

BB

SO

W

L

ERA

1935

Sacramento

PCL

AA

Pitched only during Spring Training

1936

Sacramento

PCL

AA

Pitched only during Spring Training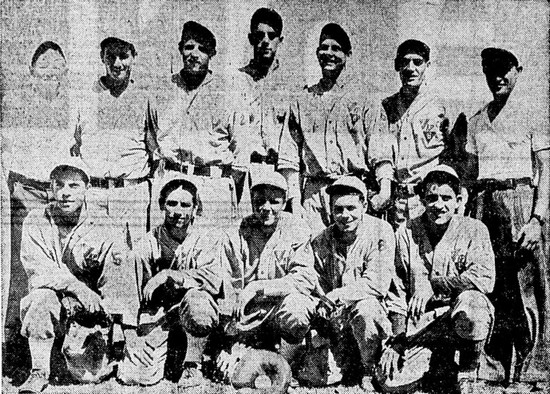 Jerry Angelich (back row, fourth from left) with the 1935 San Pedro Knights of Pythias.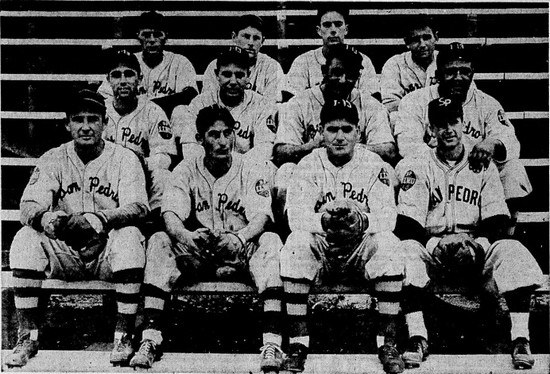 Jerry Angelich (back row, third from left) with the San Pedro Longshoremen in 1940. His catcher, Jack Mele (middle row, second from left), played in the Brooklyn Dodgers organization, while infielder Bryant Bonner (front row, far right), had a five year minor league that was interrupted by the war.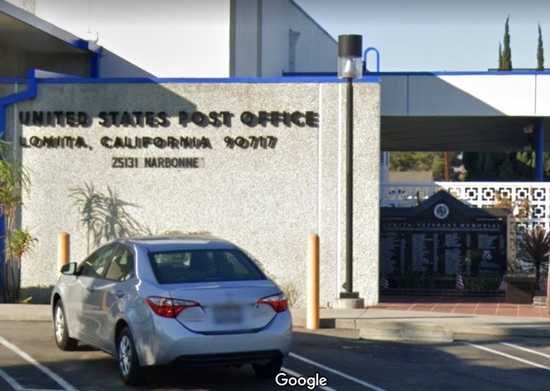 The plaque remembering Jerry Angelich at the Lomita Post Office

Date Added January 23, 2012 Updated October 28, 2019
Baseball's Greatest Sacrifice is associated with Baseball Almanac
Baseball's Greatest Sacrifice is proud to be sponsored by