Elmer Bailey
| | |
| --- | --- |
| Date and Place of Birth: | April 26, 1915 Roseville, CA |
| Date and Place of Death: | December 23, 1944 Marcouray, Belgium |
| Baseball Experience: | Semi-Pro |
| Position: | Unknown |
| Rank: | Technical Sergeant |
| Military Unit: | 76th Troop Carrier Squadron, 435th Troop Carrier Group, 9th Air Force USAAF |
| Area Served: | European Theater of Operations |
"A former Roseville baseball player will never put on a fielder's glove or grip a bat again."
Roseville Press-Tribune April 6, 1945
Elmer J. Bailey, the son of John and Mary Bailey, was born in Roseville, California on April 26, 1915. Elmer's father died in 1920 and he went to live with his grandparents, Hans and Jessie Krauspe, on their ranch in Smith Valley, Nevada, where he graduated from Smith Valley High School in 1934.
Elmer returned to Roseville, where his mother had married Max Holling, and worked as a station operator with Standard Oil Company, playing semi-pro baseball in the Placer-Nevada League.
He enlisted in the Army Air Corps in October 1940 and trained as an engineer at Stockton Field, California. Attaining the rank of Technical Sergeant, Bailey was stationed in England with the 76th Troop Carrier Squadron, 435th Troop Carrier Group of the 9th Air Force at Welford in Berkshire.
On December 23, 1944, crew chief Elmer Bailey and the entire crew of a Douglas C-47B Skytrain were killed when the plane was hit by ground fire and 88mm flak on a resupply mission to Marcouray, Belgium. The entire plane was quickly engulfed in flames which allowed for none of the crew members to escape before it crashed. Elmer Bailey is buried at Golden Gate National Cemetery in California.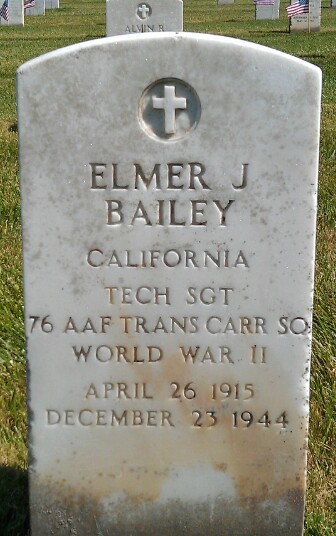 Date Added March 18, 2020
Baseball's Greatest Sacrifice is associated with Baseball Almanac
Baseball's Greatest Sacrifice is proud to be sponsored by