Herman Bauer
| | |
| --- | --- |
| Date and Place of Birth: | 1918 East St. Louis, IL |
| Date and Place of Death: | July 12, 1944 Les Haut Vents, France |
| Baseball Experience: | Minor League |
| Position: | Catcher |
| Rank: | Staff Sergeant |
| Military Unit: | 33rd Armored Regiment, 3rd Armored Division, US Army |
| Area Served: | European Theater of Operations |
Herman Bauer, older brother of Yankees' star, Hank Bauer, was in line to be a great catcher with the Chicago White Sox before WWII.
Herman A. Bauer was one of nine children born to Austria-Hungarian immigrant parents in East St. Louis, Illinois. His father, John, worked as a bartender after losing a leg in an aluminum mill accident and money was scarce in the Bauer household. After graduating from Central Catholic High School, Bauer played for the semi-pro East St. Louis A.C. Blue Jays and was signed by the Chicago White Sox during the summer of 1939. The White Sox sent the young catcher to the Grand Forks Chiefs of the Class D Northern League, where he batted an impressive .305 in 37 games as a rookie. Back with the Chiefs in 1940, Bauer was the club's starting catcher and clean-up hitter, helping them turnaround from a seventh place finish the previous year to a comfortable 64–48 record for first place and the Northern League championship. Bauer hit .294 for the year with 12 home runs and 86 RBIs, and was voted the league's most valuable player. "Herman Bauer 'iron man' catcher for the Grand Forks Chiefs," announced the Associated Press on December 11, 1940, "was named the loop's most valuable player in a poll conducted by the Northern League Baseball Writer's Association."

Bauer received the Linus "Skeets" Ebnet Trophy with a vote total that was double that of Don Turck of Crookston and Frank Danneker of Winnipeg, who tied for second).

"I was 12 years old when I first met Herm," recalled Grand Forks resident Bob Gilmour. "We lived only a few blocks from the ballpark. I had two older sisters and ballplayers would occasionally stop over. The Northern League was Class D at the time but the competition was anything but."[1]

In 1941, Bauer jumped to Class AA ball with the St. Paul Saints of the American Association, one level below the major leagues. Sharing the catching duties with Ed Fernandes and Norm Schlueter, Bauer played in 27 games and batted .269. "My father was a conductor for the Great Northern Railway," Gilmour recalled. "He took me to a game in St. Paul in 1941, when Herm was promoted to the Saints." Gilmour and his father were in the stands at Lexington Park shortly before the game began. "Suddenly, my dad said, 'Let's go down and see Hermie.' I said they wouldn't let us in the dugout but Dad was on his way and I trotted along after. Herm was amazed. His eyes were wide and [he] said, 'Hi, Bobby. Hello, Mr. Gilmour.' Our short conversation was broken up by Red Kress, manager of the Saints. He said, 'Who are these guys, Hermie? They gotta get out of here.' I never saw Herm again and all of his fans were convinced that the war deprived the Chicago White Sox of a great catcher and great person."[2]

In 1941, Bauer helped his younger brother Hank get a job in professional baseball. Hank Bauer had graduated from high school in 1940 and was repairing furnaces in a beer-bottling plant back in East St. Louis. Herm—four years Hank's senior—got his brother a tryout with Grand Forks, and while Hank did not catch on with that team he was signed by the Oshkosh Giants of the Wisconsin State League where he began a career in professional baseball that would span three decades.[3]

Herm Bauer's promising baseball career was put on hold when he entered military service with the Army at the end of the 1941 season. On February 3, 1943, he married Margaret Hume in Lebanon, Pennsylvania, and in September of the same year, Staff Sergeant Bauer arrived in England with the 33rd Armored Regiment, 3rd Armored "Spearhead" Division. The division was initially stationed at Warminster in southwest England, and during nine months of pre-invasion training they maneuvered extensively over Salisbury Plain, and engaged in practice-landing operations up and down the coast.

On June 24, 1944, the 3rd Armored Division and its Sherman tanks landed at Omaha Beach in Normandy, and first went into action amid the earthbound hedgerow countryside that led to Saint-Lô. German infantry, with machine guns and mortars, supported by artillery, were expertly concealed and lying in wait in the dense summer foliage, and Villiers-Fossard (16 miles south of Omaha Beach) was the site for the baptism of fire for Bauer and the 3rd Armored. Despite suffering serious losses, they were able to turn back a vicious counterattack, and the division later wrestled Pont-Hébert from its defenders and attacked Hill 91 at Les Haut Vents (five miles from Saint-Lô) on July 10. Despite further heavy counterattacks over the next few days and a continuous barrage of mortar and artillery fire, the area was held by the division, but on July 12, Staff Sergeant Bauer was mortally wounded and died later in the day. He is buried at the Normandy American Cemetery in Colleville-sur-Mer, France.

Hank Bauer — who entered military service the same year as his brother and served with the Marines in the South Pacific as a combat platoon leader — named his first-born son Herman in 1956. Hank played with the New York Yankees from 1948 to 1959. He served as manager of the Kansas City Athletics in 1961 and 1962, the Baltimore Orioles from 1964 to 1968 (winning the World Series in 1966), and the Oakland Athletics in 1969.

| | | | | | | | | | | | | |
| --- | --- | --- | --- | --- | --- | --- | --- | --- | --- | --- | --- | --- |
| Year | Team | League | Class | G | AB | R | H | 2B | 3B | HR | RBI | AVG |
| 1939 | Grand Forks | Northern | D | 37 | 141 | 9 | 43 | 7 | 0 | 1 | 12 | .305 |
| 1940 | Grand Forks | Northern | D | 124 | 493 | 70 | 145 | 24 | 8 | 12 | 86 | .294 |
| 1941 | St. Paul | Amer Assoc | AA | 27 | 78 | 5 | 21 | 1 | 0 | 1 | 9 | .269 |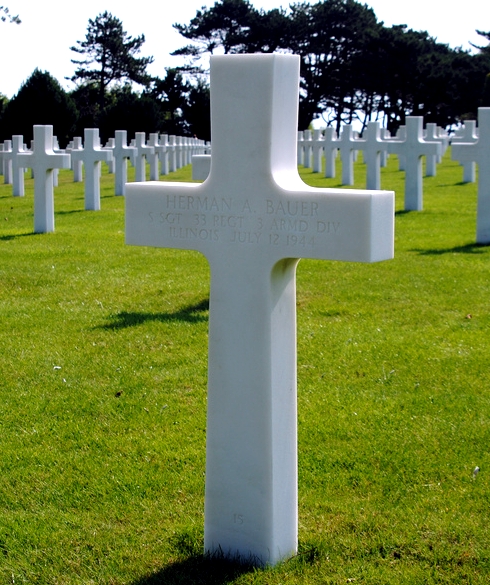 Notes

1. "Baseball in Wartime - Herm Bauer," www. baseballinwartime.com. Retrieved February 15, 2009.
2. Ibid
3. Hank Bauer played 108 games with Oshkosh and batted .262, before joining the Marine Corps in January 1942.
Thanks to Bob Gilmour for his contributions to this biography. Thanks to Mark Haubenstein for pointing me in the right direction for a photo of Herman.
Date Added January 23, 2012 Updated June 18, 2018
Baseball's Greatest Sacrifice is associated with Baseball Almanac
Baseball's Greatest Sacrifice is proud to be sponsored by