Paul Baum
| | |
| --- | --- |
| Date and Place of Birth: | September 27, 1916 Sandusky, OH |
| Date and Place of Death: | March 27, 1944 Bay of Biscay, off Capbreton, France |
| Baseball Experience: | Amateur |
| Position: | Catcher |
| Rank: | Second Lieutenant |
| Military Unit: | 66th Bomb Squadron, 44th Bomb Group, Eighth Air Force USAAF |
| Area Served: | European Theater of Operations |
Paul F. "Butch" Baum, the son of Mr. and Mrs. George C. Baum, was born on September 27, 1916 in Sandusky, Ohio. He played football at Sandusky High School and caught for the Commodore Denig Post. No. 83 Sandusky American Legion junior baseball team that reached the state finals in 1933 (along with Alvin "Bus" Stiewe, who was killed in action in February 1945).

Baum, still a high school junior, was playing for the Sandusky Baseball Federation's Walt's Lunch Club team in 1934 and was with the Sandusky Shamrocks of the Tri-County League in 1935 (Stiewe was the shortstop and lead-off hitter). In June 1935, both Baum and Stiewe were selected to play for a Sandusky all-star team against the House of David. In July 1935, he joined Port Clinton's Standard Products team of the Northwestern Ohio Amateur League, establishing himself as a key member of that squad. "Paul Baum," wrote the Sandusky Register on August 13, 1936, "has played an important part in the many victories scored by the Standard nine. Baum, a catcher, has done fine work in the receiving department. His timely hitting in the U. S. Gypsum game of a week ago played an important part in the team's victory."
In 1938, Baum worked at the U.S. Gypsum plant in Gypsum, Ohio (about 12 miles northwest of Sandusky), and played baseball for the Gypsum Sheetrocks, who were now affiliated to the Lake Shore League. The team had a fine ballpark located on Route 2, near the U.S.G. Corporation dairy. With a new grandstand built in 1937, the park had a capacity of 350. Baum quickly established himself as a timely hitter with excellent defensive skills and continued to play for the Sheetrocks through 1942. In 1941, he was also playing for the Norwalk Boosters, who played the majority of their games at night. The Boosters oftened played before big crowds against traveling clubs such as the Negro League St. Louis Stars.

In January 1943, Baum, 26, entered military service with the Army Air Force at the Fort Hayes reception center in Columbus, Ohio. After receiving preliminary training he was sent to the San Antonio Cadet Training Center, Texas as an aviation cadet with the 101st Cadet Squadron. In February 1943, Baum was transferred to Ellington Field, Texas for nine weeks of pre-flight training. From there he took a 12-week bombadier training course at Midland Army Air Field, Texas. Graduating from Bombardier School at Midland on July 15, 1943, he was commissioned a second lieutenant. Baum was later stationed at Salt Lake City Army Air Field, Utah, and Gowen Field at Boise, Idaho, where he shared barracks with movie star Jimmy Stewart. In September 1943, after a short furlough at home in Sandusky, Lieutenant Baum and his wife, Verone, left for Casper Army Air Base, Wyoming.

On November 15, 1943, Baum was sent overseas to England with the 66th Bomb Squadron of the 44th Bomb Group, Eighth Air Force. Flying missions over Europe from Shipdham Airfield in Norfolk, 2/Lt. Baum was bombardier on a Consolidated B-24 Liberator. He suffered wounds on a mission to Oschersleben/Helmstedt in Germany on February 20, 1944, when flak injured his head and neck.

On April 11, 1944, Verone received word from the War Department that her husband had been posted missing in action following a flight over France on March 27. His mother had received a letter from him that he'd written just the day before. On June 3, 1944, Verone received a further telegram that confirmed the worst- her husband was dead. The telegram stated that the German government had reported his death to the International Red Cross.

March 27, 1943 had been a mission to bomb the airfield at Mont-de-Marsan in southern France for the 44th Bomb Group. The airfield was being used by long-range reconnaissance German aircraft. Piloted by 1/Lt. Richard E. Harleman, Baum's B-24 was hit by flak and left formation at 1438 hours with one engine out but under control. It was last seen headed for the safety of neutral Spain.

Left waist gunner Joseph G. Benoit, one of only four survivors from Baum's plane, later described what happened: "Seconds after we dropped the bombs, the plane was hit by flak. The right wing had a big hole just aft of the #4 engine that caused this engine to backfire and the prop began windmilling. It hit the fuel cells, too, and we were losing gas.

"We could not keep up with the formation, therefore, we decided to go to Spain. The pilot decided that we should hit the deck [author's note: fly low] and take our chances with ground artillery rather than be shot down by enemy aircraft at higher altitude.

"As we approached the French coast, we were fired on by machine guns and small arms along the beach. The plane caught fire in the bomb bay area and that halted all hopes of making it to Spain. We ditched [in the water in the Bay of Biscay] about one mile from shore. The plane broke at the waist windows when we hit the water, and the four of us standing in the waist section were thrown into the water. These were John Petricevich, James Crane, Lee Fields and myself.

"When I could see again, bombardier Paul Baum was out of the nose section and swimming near me, but he soon sank and I never saw him again. The Germans picked up his body the next day, and I was told that he had bullet holes in him – seven of them, as I remember it."

2/Lt Paul Baum among the six killed, including the pilot, 1/Lt. Harleman. The four survivors became POWs.

Paul Baum is buried at Rhone American Cemetery in Draguignan, France. A memorial plaque stands in the seaside town of Capbreton near where the plane crashed. In 1947, a plaque was unveiled at Sandusky High School listing the names of the 65 former students who had died during World War II.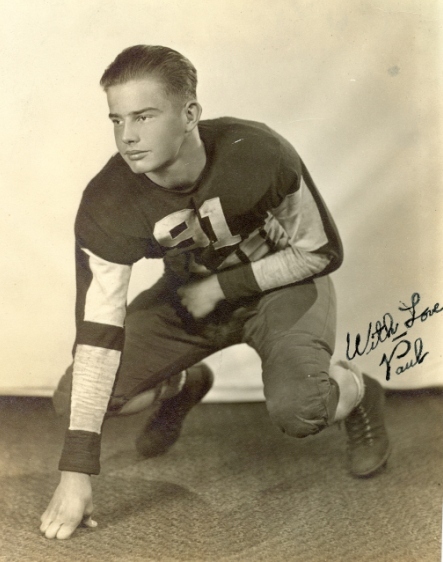 Paul "Butch" Baum at Sandusky High School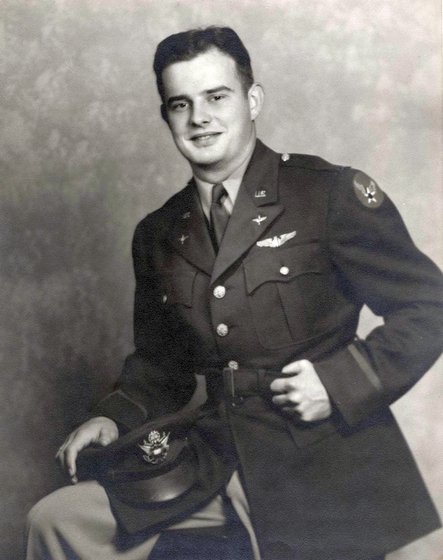 Paul F. Baum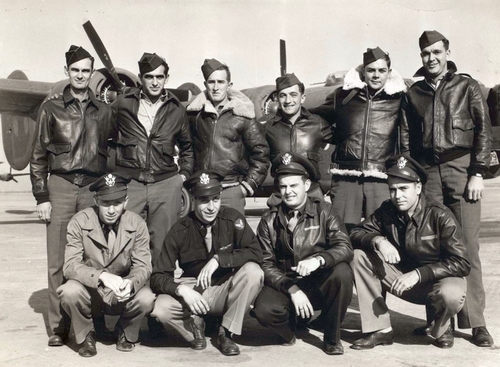 Paul Baum (bottom row, second right) with a B-24 crew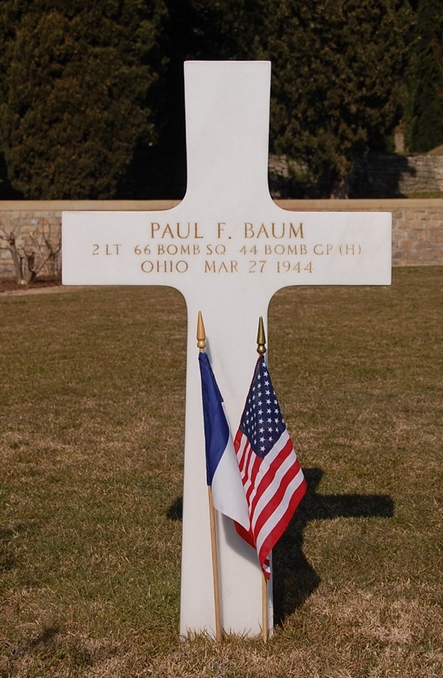 The grave of 2/Lt. Paul F. Baum at Rhone American Cemetery in Draguignan, France
The plaque at Sandusky High School dedicated to former students who lost their lives during World War II
2/Lt. Paul Baum's Purple Heart and Air Medal

Sources
Sandusky Register, Sandusky Star-Journal and Sandusky Register Star-News, 1933 to 1947
www.find-a-grave.com
www.44thbombgroup.com
Thanks to Stephen Altic for permitting the use of many of the photos
Date Added August 9, 2013 Updated September 1, 2013
Can you add more information to this biography and help make it the best online resourse for this player? Contact us by email
Read Baseball's Greatest Sacrifice Through The Years - an online year-by-year account of military related deaths of ballplayers
Baseball's Greatest Sacrifice is associated with Baseball Almanac
Baseball's Greatest Sacrifice is proud to be sponsored by