Leonard "Link" Berry
| | |
| --- | --- |
| Date and Place of Birth: | August 1, 1916 Bowman, SC |
| Date and Place of Death: | December 24, 1944 English Channel |
| Baseball Experience: | Minor League |
| Position: | Pitcher |
| Rank: | Sergeant |
| Military Unit: | Company B, 264th Infantry Regiment, 66th Infantry Division US Army |
| Area Served: | European Theater of Operations |
Leonard E. "Link" Berry, son of Clarence and Metta Berry, was born in Bowman, South Carolina on August 1, 1916. Link and his brothers Wilbur "Wib" and Harold "Huck", were local semi-pro ballplayers and Link signed with the Macon Peaches of the Class B South Atlantic League in 1937. The Peaches sent him to the New Bern Bears of the Class D Coastal Plain League and he had three wins and three losses in 18 appearances. In 1938, the Bears were league champions, and Berry led the pitching staff with 31 appearances for a 12–4 record. The following year, the Bears slipped to fifth place despite Berry's 18–8 record and 3.06 ERA.

During the winter of 1939-1940, Berry played winter ball in Panama with Balboa Heights in the Canal Zone League, before starting his fourth season at New Bern. Yet again, he was the mainstay of the pitching staff and posted a 17–8 record and 3.08 ERA, despite the club's sixth-place finish. Berry had won 50 games against just 23 losses over four seasons and was sold to the Charleston Rebels of the South Atlantic League at the end of the season. Moving up to Class B, Berry had a 12–14 record with the Rebels in 1941. Only Irv Stein (who pitched for the Athletics in 1932) and Mack Stewart (who would pitch for the Cubs in 1944) won more games for the Rebels.

A promising career was interrupted when military service called on April 8, 1942. Berry was inducted into the Army at Fort Jackson, South Carolina, and joined Company B, 264th Infantry Regiment of the 66th "Black Panther" Infantry Division at Camp Blanding, Florida. The division moved to Camp Joseph T. Robinson in Arkansas, then took specialized training, including small-unit infantry-tank tactics at Camp Rucker, Alabama.

He married Emma Mae Thompson on October 4, 1943, but the young couple did not have much time together. The division was soon headed for New York to prepare for overseas deployment.

The three regiments of the 66th Infantry Division sailed from New York Harbor on November 15, 1944, aboard the Army transport George Washington and the Navy transport George O. Squier. They disembarked in England on November 26, and were billeted in barracks and towns in the vicinity of Dorchester in the southwest part of the country. The time in England was spent further preparing for combat with vigorous lastminute training.

On Christmas Eve 1944, Sergeant Berry was among 2,235 troops of the 262nd and 264th Regiments of the division who boarded the SS Leopoldville - a Belgian passenger ship converted into a transport - that left England bound for the port of Cherbourg in France. In the overcrowded and uncomfortable conditions, men were doing their best to relax after an evening meal. Many were curled up in hammocks or using tables as improvised beds. Just five miles from France, the Leopoldville was spotted in the darkness by German U-boat U-486. At 5:55 P.M., undetected by the escorting destroyers, Oberleutnant Gerhard Meyer, commander of U-486, launched torpedoes from his submarine at the Leopoldville. One of the torpedoes hit the ship on the starboard side and ripped a gaping hole below the water line. Bitter cold seawater poured into the troop compartments causing chaos and panic, but it was soon announced that the ship was not sinking and no effort was made to abandon ship. Then, at some time after 8:00 P.M., two large explosions were heard from the bowels of the vessel and she immediately began to descend into the water.

Confused and distressed, men jumped into the rough sea and struggled to stay afloat against the weight of their equipment. Approximately 515 troops went down with the ship. Another 248 died from injuries, drowning or hypothermia (Staff-Sergeant Howard DeMartini, a minor league pitcher, was also aboard the Leopoldville and lost his life, as did Gilbert Carrell, a semi-pro player from Wichita, Kansas. Harvey Riebe, who had caught 11 games for the Detroit Tigers in 1942, spent 45 minutes in the icy water before being fished out by an English rescue boat).

Berry was among those lost that evening. After the torpedo struck, he remained in his compartment and assisted in evacuating the wounded. He then descended into the hold of the ship to aid other men who were trapped. It was the last time he was seen alive.

The sinking of the Leopoldville resulted in the worst loss an American infantry division suffered from a U-boat attack during the war. Allied authorities, afraid of what the news would do for morale, buried the case. News that Berry was missing was received by his family in January 1945, but the circumstances remained a secret for many years. His mother, Metta Berry, who passed away in 1976, never learned how her son died, and documents about the incident remained classified until 1996.

Leonard "Link" Berry is buried at Bowman Cemetery. On November 21, 2004, a memorial service in honor of the 15 South Carolina soldiers that died on the Leopoldville was held at the Bowman Southern Methodist Church. The service concluded with the placing of a wreath on Berry's grave.

Berry's name can be found engraved on the Leopoldville Disaster Monument that was dedicated on November 7, 1997, at Fort Benning in Columbus, Georgia.

"Uncle Link's baseball legacy lives on within the Berry family," says Rhonda Berry, the wife of his nephew who was born four years after his death and is named for him. "My husband was a good high school player (pitcher) and our own son, Rhett Berry, is now playing Junior College baseball with the desire to continue playing as far as his talent will take him. Uncle Link is Rhett's "touch stone" and when he learned of his playing and his sacrifice for his country, he has inscribed Uncle Link's initials in every baseball cap he has worn since he started playing high school ball."
| | | | | | | | | | | | |
| --- | --- | --- | --- | --- | --- | --- | --- | --- | --- | --- | --- |
| Year | Team | League | Class | G | IP | ER | BB | SO | W | L | ERA |
| 1937 | New Bern | Coastal Plain | D | 18 | 72.2 | - | 48 | 39 | 3 | 3 | - |
| 1938 | New Bern | Coastal Plain | D | 31 | 199 | - | 72 | 120 | 12 | 4 | - |
| 1939 | New Bern | Coastal Plain | D | 36 | 235 | 80 | 59 | 130 | 18 | 8 | 3.06 |
| 1940 | New Bern | Coastal Plain | D | 36 | 237 | 81 | 76 | 147 | 17 | 8 | 3.08 |
| 1941 | Charleston | South Atlantic | B | 37 | 185 | 105 | 68 | 93 | 12 | 14 | 5.11 |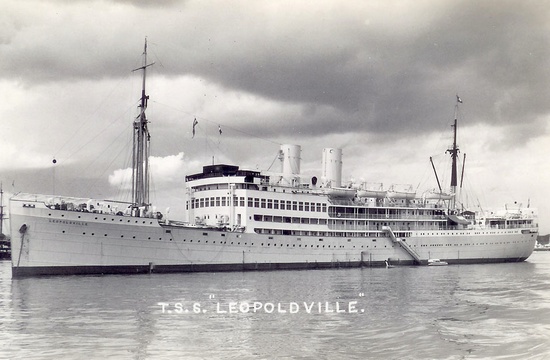 The SS Leopoldville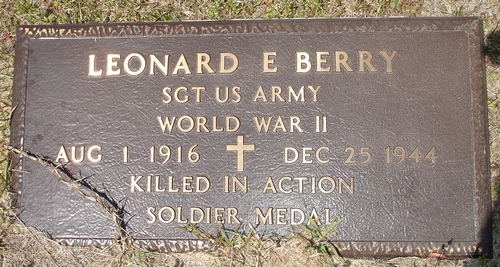 Grave marker for Leonard E. "Link" Berry at Bowman Cemetery in Bowman, SC.
Thanks to Rhonda Berry and family for help with this biography.
Date Added: January 23, 2012 Updated May 4, 2014
Baseball's Greatest Sacrifice is associated with Baseball Almanac
Baseball's Greatest Sacrifice is proud to be sponsored by