George Bogovich
Date and Place of Birth:
September 15, 1914 Masontown, PA
Date and Place of Death:
April 26, 1945 Okinawa
Baseball Experience:

Minor League

Position:
Pitcher
Rank:

Private

First-Class
Military Unit:
106th Infantry Regiment, 27th Infantry Division US Army
Area Served:
Pacific

Theater of Operations
Bogovich was one of many eccentric ball players that showed brief glimpses of brilliance in Organized baseball during the 1930s. A hard-throwing left-hander with a shaggy mop of black hair, an unbuttoned jersey and suffering recurring bouts of homesickness, he always had a word or two for the local reporters. By 1945, his brief career in baseball was a distant memory, the world was at war and Bogovich was on his way to the Pacific as a private first-class in the United States Army.
George E. "Bogey" Bogovich was born on September 15, 1914 in Masontown, Pennsylvania. His parents, Mike and Mary, were immigrants from central Europe, arriving in the United States at the turn of the 20th century. Mike worked in the coalmines of western Pennsylvania, supporting a family of five daughters and two sons. The two boys George and Eli - were the last-born children. George followed his father into the coalmines, but baseball was his true love and something for which he possessed a great talent. Having pitched for the local American Legion junior team in the late 1920s, he hurled for sandlot teams, including Edenborn in the Dice-Spalding League in 1932, Miraclean of the same league in 1933, and Republic of the Industrial League in 1934. By 1935, he was pitching for Filbert of the Western Pennsylvania League and Royal of the Tri-County League, attracting a great deal of attention from local scouts who were keen to sign the hard-throwing lefty.
Bogey signed with the Charleroi Tigers of the Class D Penn State Association in August 1935, as they tried in vain to secure a place in the play-offs. The 20-year-old showed promise as his raw talent produced a 6-0 three-hitter over the Washington Generals on September 1, securing a contract for the following year. In 31 appearances for the Tigers in 1936, Bogey had 8 wins against 13 losses with a 5.23 ERA. His season highlight was a 5-0 six-inning no-hitter against the McKeesport Tubers on August 26.
Bogey was invited to spring training with the Fort Worth Cats of the Class A1 Texas League for 1937, a huge jump from Class D ball of the year before. Despite showing promise his spring performance was hampered by concern over the critical illness of his father, which led to him leaving the club and returning to Pennsylvania. Although he was still the property of the Fort Worth ball club, Bogey began working in the coalmines. "I get down in the mine," he later recalled, "but I don't dig no coal. I long to pitch some more. So I hit the road again."
But Bogey didn't hit the road as far as Fort Worth, Texas. In fact, he didn't hit the road particularly far at all. He chose instead to remain in the local area and play for semi-pro teams around Pennsylvania and West Virginia, often using a false name to hide his connection with the Fort Worth club. "Just when I would get settled with some semi-pro outfit," he explained, "a major league scout would come nosing around, and I would have to leave in the night. And I would get in a new town and look in the box scores in a paper and select me another name and then report to a local semi-pro manager."
By the late summer of 1937, Bogey was pitching for Edenborn, the Fayette (Pennsylvania) County champions. Using the alias, George "Judy" Steiner, Bogey threw a no-hitter and struck out 18 for Edenborn in his first appearance in the NABF (National Amateur Baseball Federation) tournament at Dayton, Ohio, and was mobbed by scouts. The Dayton Herald of September 13 featured an impressive article about "Steiner" that included three photographs of the youngster. But Billy Doyle, the Detroit scout, knew exactly who "George Steiner" was. "There's no use fooling with that kid," Doyle told the other scouts. "His name's Bogovich, and he belongs to Fort Worth." Bogey and the Edenborn team were subsequently thrown out of the tournament for using an illegible player.
After working the coalmines during the off-season, Bogey was back at the Fort Worth Cats' spring training camp in 1938. "Bogovich…is reported just about as fast as they come," declared the Fort Worth Star-Telegram in March, and the 23-year-old made the team's roster for the start of the regular season, leading to a host of crazy antics for sports writers to devour. In one game, he threw the ball clear over catcher Vern Mackie's head and into the grandstand. Mackie rushed out to the mound to find out what the trouble was. "Nothing," Bogey calmly replied. "I was all right, just taking my time getting a good windup. When I looked down at the plate, that big batter had a mean look in his eye and was drawing that bat back. I knew he'd hit one over the fence for sure. So, I just put the ball where he couldn't reach it. I fooled him, didn't I?"
Another time, Bogey stated that he thought that pitchers' arm troubles were mostly mental. "Me, I never think of my arm," said Bogey, "so it never bothers me...I never wear no jacket between innings or rub my arm or nothing. In fact, I don't know I got an arm until I get out there and start chucking."
On the Cats' first road trip, Bogey's restaurant bill included cigarettes, cigars, chewing tobacco and magazines. When the team's business manager explained that the club was not responsible for such items, Bogey replied: "Okay, but you hadn't ought to talk like that to a poor, overworked, hard-up rookie."
After once telling Vern Mackie, who, at the time, was probably the best catcher in the Texas League, that he was doing something wrong behind the plate, Mackie told Bogey, "Listen punk, all you have to do is try to get that ball over the plate, some way or another. I'll catch 'em. Anyway, I play ball in leagues where they wouldn't even sell you a ticket to get in the park."
Bogey struggled to get the ball over the plate and made six appearances during the early part of the year for an ERA of 15.43. He then went AWOL again on June 3. Bogey returned five days later and told the Cats' business manager Cecil Coombs that he'd like to play for Lake Charles (the Cats' Class D affiliate in the Evangeline League) if the pay there was the same as at Fort Worth. Bogey was promptly suspended.
It was the end of Bogey's minor league career, but his baseball-playing days were far from over. Working in the coal mines during the off-season, Bogey made a name for himself as the best pitcher in western Pennsylvania, pitching for Edenborn, Isabella and Buffington in Fayette County's semi-pro Big Ten League until being inducted in the army in November 1943. The following February, with overseas service looming, Bogey married 24-year-old Emaline Ciaramella. They made their home, albeit briefly in Edenborn, Pennsylvania.
His younger brother, Eli, had entered military service with the army the year before. Despite serving with different divisions, their lives were on course for a series of tragic similarities.
Private First-Class George Bogovich was with the 106th Infantry Regiment of the 27th Infantry Division, when he arrived at Okinawa on April 9, 1945. Only 340 miles from mainland Japan, Okinawa was the final Allied amphibious landing of the war. It was also the largest in the Pacific campaign and proved to be the bloodiest. Just over two weeks later, on April 26, during the battle to secure Machinato Airfield from the Japanese, Bogovich was killed in action. He was 30 years old and was awarded the Bronze Star and Purple Heart.
The day after Bogey's death, his 26-year-old brother, Eli, arrived at Okinawa with the 306th Infantry Regiment of the 77th Infantry Division. Also, a private first-class, Eli was awarded the Bronze Star twice before being killed in action on May 19. In the space of three weeks, Mike and Mary Bogovich had lost both their sons on a remote island in the Pacific, 7,500 miles from Pennsylvania. Emaline had lost her husband of just 14 months*.
Both George and Eli remain on an island in the Pacific. They are buried at the National Memorial Cemetery of the Pacific, better known as the Punchbowl, in Honolulu, Hawaii. George was laid to rest at Plot D16 on March 24, 1949. Eli was laid to rest at plot D38 a day later.
In July 1945, ceremonies were held for Bogey before the Dice-Spalding League game between the Edenborn and Johnny's Inn teams. A further ceremony was held in 1946, before a Big Ten League game and Joe Petko, league president, called it "the most impressive ceremony I have ever seen, befitting every district ball player giving his life during World War II." In 1954, Bogey was among the first inductees in the Big Ten Fayette County Baseball Hall of Fame.
The closing of western Pennsylvania coal mines starting in the 1950s, saw the demise of semi-pro baseball and with it went the memories of players like George "Bogey" Bogovich. Seventy-seven years after his death, Bogey is all but forgotten. He hasn't been inducted in the Fayette County Sports Hall of Fame, which was founded in 2008, and it was by chance that my friend, Jack Morris, stumbled across Bogey's name. He has been added to the Baseball's Greatest Sacrifice website where his exploits on the ball field and ultimate sacrifice on the battlefield will be preserved for all future generations.
*Emaline's tragedy didn't end with the loss of Bogey. She remarried some years later, to a gentleman named Pritz. His first name was the same as Bogey's brother, Eli. They had a daughter, Charlotte, who graduated from West Virginia University and was an elementary school physical education instructor. Charlotte was killed in an automobile accident, aged 24, in 1973. Emaline passed away in 2006, aged 87.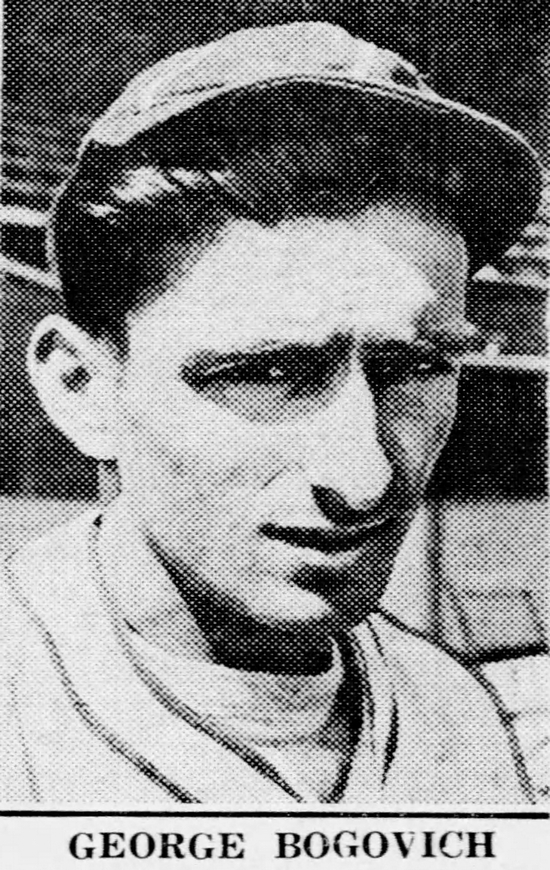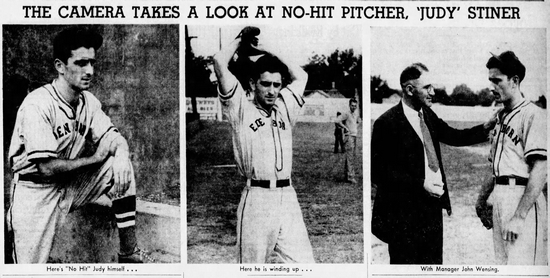 Bogovich following his no-hitter at NABF tournament when he played as George "Judy" Steiner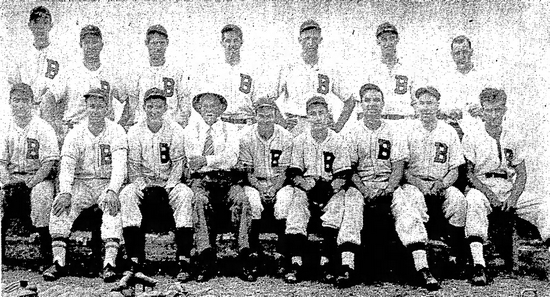 Bogovich is front row, far right, in this photo of the 1942 Buffington Big Ten team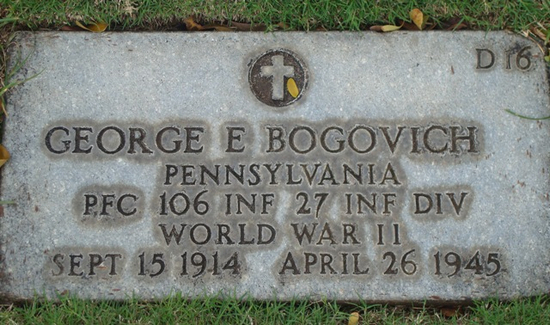 Date Added April 6, 2022
Thanks to Jack Morris for "discovering" George Bogovich.
Baseball's Greatest Sacrifice is associated with Baseball Almanac
Baseball's Greatest Sacrifice is proud to be sponsored by