Joe Boren
| | |
| --- | --- |
| Date and Place of Birth: | June 14, 1914 Carterville, IL |
| Date and Place of Death: | July 12, 1942 Carenage Bay, West Indies |
| Baseball Experience: | Minor League |
| Position: | Pitcher |
| Rank: | Ensign |
| Military Unit: | Patrol Squadron VP-31 U.S. Navy |
| Area Served: | Caribbean |
Growing up in Carterville, Illinois, Joseph Stumm Boren was a mischievous and fun-loving youngster who always managed to get himself in trouble. One time he and a classmate got a Mohawk haircut that in those days was regarded as outlandish and resulted in them both being expelled from school. The incident led to a whipping from his father, and young Boren ran away from home and hid out for a while in his grandmother's barn near Crab Orchard Lake about five miles away. Fortunately, Boren was allowed to return to high school where he made a name for himself as a left-handed pitcher with the Carterville Community High School team.

In 1935, Boren was signed by the St. Louis Cardinals' organization and farmed out to the Bloomington Bloomers of the Class B Three-I League. He made just a handful of appearances that year and then played briefly with the Winnipeg Maroons of the Class D Northern League. In 1936, he joined the Monett Red Birds of the Class D Arkansas-Missouri League, and in seven appearances, the southpaw was 1–4 with a 7.38 ERA.

Unable to see a future in professional baseball, Boren retired and later enrolled at Southern Illinois Normal University (now Southern Illinois University). In 1939, he enrolled at the University of Illinois and then worked as a sports and feature writer for the Monett Times in Missouri.

Boren's family had a strong military heritage. His father, James, was a Spanish-American War veteran and his four brothers would all serve as commissioned officers during World War II. On February 24, 1941, Boren entered military service with the Navy as a seaman second class. He was appointed an aviation cadet in May 1941, and trained at the Naval Air Station in Corpus Christi, Texas.

In March 1942, he was commissioned an ensign, and piloted a Consolidated PBY-5A Catalina flying boat with Patrol Squadron VP-31 at Naval Air Station Trinidad in the British West Indies. VP-31 hunted for enemy submarines and protected convoys as they passed through the dangerous Caribbean Sea.

During the night of July 12, 1942, Boren was flying with pilot Lieutenant Junior Grade Walter W. Winika as they returned to NAS Trinidad following a patrol. The twin-engine Catalina's airspeed was too high as it approached the airfield. It touched down, bounced off the runway and crashed into the sea at Carenage Bay. Boren, Winika and eight other crew members were killed. Two others survived but suffered serious injuries.

Joe Boren, the first casualty of the war from Carterville, Illinois, was originally buried at the Fort Reed Cemetery in Trinidad. In 1947, his body was returned to Carterville and now rests at Oakwood Cemetery.

On April 29, 1944, because of the commitment to service by the Boren boys (all five brothers had gained commissions in the military), their mother, Lulu Mae Boren, was invited by the Navy to christen the USS Chestatee (AOG-49), a tanker used for transporting gasoline to warships and remote Navy stations. At this point Joe had been dead for nearly two years and his brother, J. Russell Boren, a second lieutenant with the Army Air Force, was a prisoner-of-war in Germany, having been shot down on a bombing raid over Berlin. Ralph C. Boren, was a doctor in the Navy (Lt. Commander); and Captn. Ryburn D. Boren was serving in Burma. John L. Boren (also an Ensign), was killed in 1946.
| | | | | | | | | | | | |
| --- | --- | --- | --- | --- | --- | --- | --- | --- | --- | --- | --- |
| Year | Team | League | Class | G | IP | ER | BB | SO | W | L | ERA |
| 1935 | Bloomington | Three-I | B | - | - | - | - | - | - | - | - |
| 1935 | Winnipeg | Northern | D | - | - | - | - | - | - | - | - |
| 1936 | Monett | Arkansas-Missouri | D | 7 | 39 | 32 | 13 | 18 | 1 | 4 | 7.38 |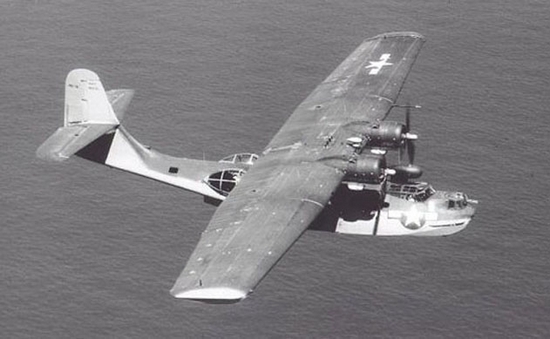 A PBY-5A. The type Ensign Boren was flying on July 12, 1942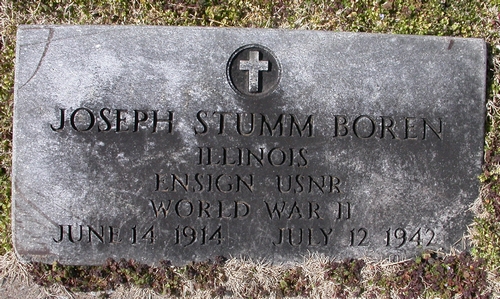 Joseph Boren's marker at Oakwood Cemetery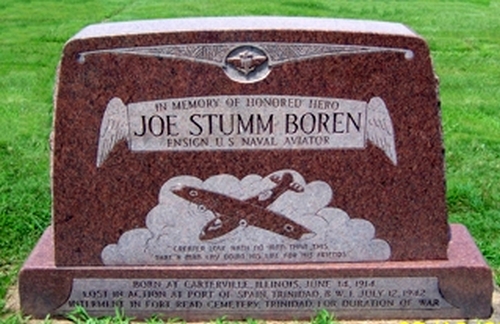 Memorial to Joe Boren at Oakwood Cemetery
Date Added January 27, 2012 Updated June 15, 2014
Baseball's Greatest Sacrifice is associated with Baseball Almanac
Baseball's Greatest Sacrifice is proud to be sponsored by