Charles Bowers
| | |
| --- | --- |
| Date and Place of Birth: | March 19, 1923 Marion, OH |
| Date and Place of Death: | April 15, 1945 Aschersleben, Germany |
| Baseball Experience: | Minor League |
| Position: | Second Base |
| Rank: | Technician Fifth Class |
| Military Unit: | 128th Ordnance Medium Maintenance Company, US Army |
| Area Served: | European Theater of Operations |
Charles W. "Chuck" Bowers attended Harding High School in Marion, Ohio, where he was a three-sport star. In his senior year — 1942 — Bowers' hitting and defensive skills as a shortstop guided the Harding High School Presidents to the Ohio state tournament where they eventually lost at the semi-final stage to McClain High School of Greenfield. But to get to that stage, Bowers made a rare appearance as a pitcher, holding Libbey High School of Toledo to just one hit over seven innings in a 10–1 win. In football, he helped Harding to the undisputed North Central Ohio (NCO) conference championship in 1941, as the Presidents were the only Class A team to boast an unscored-against record. And in basketball he was a member of the Presidents 1941-1942 squad which finished behind Columbus South and Newark in the Class A district tournament. A loss to Ashland in the final game of the season cost them an undisputed NCO title. Bowers also starred for the Marion American Legion junior baseball team in 1940, which competed in the Ohio state championships.

Bowers first attracted the attention of professional baseball scouts during his junior year at Harding but was advised to complete high school education. His one-hit pitching performance brought the scouts hurrying back to Marion and he clinched a professional tryout following graduation in 1942. Frank Rickey, brother of the illustrious Branch Rickey, signed the 18-year-old and he was sent to the Johnson City Cardinals of the Class D Appalachian League. "Charles Bowers, former Harding High School athletic satellite," announced the Marion Star in August 1942, "is roaring to rapid baseball success. Various high school coaches who have watched Bowers develop into a star performer, predict a bright for the 19-year-old youth. Likewise, Johnson City officials laud him as a great diamond prospect."

Bowers was the fourth Marion youth to be given a trial with a pro team during the early summer of 1942. Owen Creasap, John Edington and Joe Roseberry were soon back home and playing with the Marion Hawks in the Ohio State semi-pro loop, but Bowers got off to a sensational start. Playing second base, he had a 10-game hitting streak in July and a batting average that was flirting with the .300 mark in August. He cooled off during the latter part of the season, however, and finished with a .246 average along with 29 RBIs in 67 games, still good enough to receive honorable mention on the 1942 Appalachian League all-star team.

Bowers' future as a professional baseball player looked bright, but military service intervened when he was inducted at Columbus, Ohio, on February 13, 1943. He was assigned to the U.S. Army's 128th Ordnance Medium Maintenance Company at Camp McCoy, Wisconsin, and played for the post baseball team throughout the summer months. His .325 batting average was one of the highest on the team and he was awarded a gold baseball trophy for his good sportsmanship. In November 1943, the company moved to Camp Campbell, Kentucky, and Bowers attended Ordnance Parts Clerical School at the Rossford Ordnance Depot in Toledo, Ohio. He played basketball for the company team at Camp Campbell and helped them to an 8–1 record.

The 128th Ordnance Medium Maintenance Company left for Europe on February 11, 1944, and arrived in Belfast, Northern Ireland, 11 days later. He was one of the leading scorers on the basketball team overseas, and when spring rolled around he was playing second base on the softball team. The company left Northern Ireland for England in May 1944, and was stationed in a strip of woods at Northleach near Cheltenham in Gloucestershire. The company was kept busy taking classes on gas warfare, hiking, drilling and waterproofing vehicles in preparation for deployment to mainland Europe. Despite the heavy workload, there was still time for visits to Cheltenham, London, Oxford, Bristol and Stratford-upon-Avon (home of William Shakespeare) and the company entered a softball team in the 6th Cavalry Group league. They finished with a 15–2 record.

On July 11, the company moved 100 miles to the Southampton marshalling area and boarded LST266 (Landing Ship, Tank) on July 13, sailing for France and arriving at Omaha Beach in the intense darkness of the following evening. They soon entered the combat zone with a forward Ordnance Battalion in support of the Third Army, and the main job as they advanced into the Cherbourg Peninsula was welding hedgerow cutters for tanks. The company advanced through the Brittany Peninsula, stopping at Saint-Malo, Brest, Saint-Nazaire and Lorient, with whole towns and villages turning out to greet the liberating American troops with flowers and fruit cascading from every window and door. Even in France, the company made the most of opportunities to play ball and a handful of softball games were played against any opponents they could find.

By October 1944, the 128th Ordnance was in Luxembourg recovering wrecked vehicles from the front line. The Germans launched their offensive in the Ardennes on December 16, and the company moved to Belgium, where the weather was bitter cold and work was hindered by heavy snowstorms. In March 1945, the company crossed the Roer River, and set up camp in Odenkirchen, Germany, repairing vehicles needed to cross the Rhine. At the same time, the softball team set about finding competition and won a few games before suffering two defeats at the hands of the 503rd Ordnance Heavy Maintenance Tank Company. On April 14 - just three weeks before the German surrender - they moved to Biere, close to the Elbe River, and the next day T/5 Bowers and T/5 Casimer Jablonski drove a truck to the nearby ordnance depot to pick up supplies for maintenance work. They never returned and were reported missing.

A few days later word was received by the company that Bowers had been killed and Jablonski had been badly wounded and captured. Bowers had been driving one of three vehicles that set out that day for the depot and, somehow, they took a wrong turn and drove into an ambush near Aschersleben, Germany. Bowers was killed before the trucks could get out of the area.

"It is with a heavy heart," wrote his commanding officer, Captain George E. Lien, in a letter to Bower's mother, "that I write as his commanding officer to you in the loss of your son and to us in the loss of a friend and fellow soldier beloved and true.

"Three of his best friends and I," continued Captain Lien, "saw him again before he was sent to be buried in the American Army Cemetery at Margraten, near Mastricht, Holland. A Protestant Chaplain was in charge of the burial services."

Captain Lien went on to describe that Bowers "was clean in word, thought and deed and the friend of all. In everything he did, just as in every game he starred as a great athlete, he played the game."

In conclusion, his moving letter stated, "It is impossible to say anything that will relieve your sadness in this hour, but he will always be with us as a symbol of the good that he as a man attained."

Chuck Bowers, one of only four members of the 128th Ordnance Medium Maintenance Company to lose their lives as a result of enemy action during WWII, remains buried at what is now called the Netherlands American Cemetery at Margraten.
| | | | | | | | | | | | | |
| --- | --- | --- | --- | --- | --- | --- | --- | --- | --- | --- | --- | --- |
| Year | Team | League | Class | G | AB | R | H | 2B | 3B | HR | RBI | AVG |
| 1942 | Johnson City | Appalachian | D | 67 | 232 | 24 | 57 | 13 | 3 | 0 | 29 | .246 |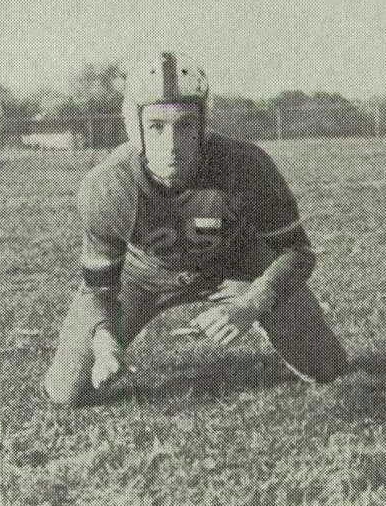 Charles Bowers at Harding High School in 1942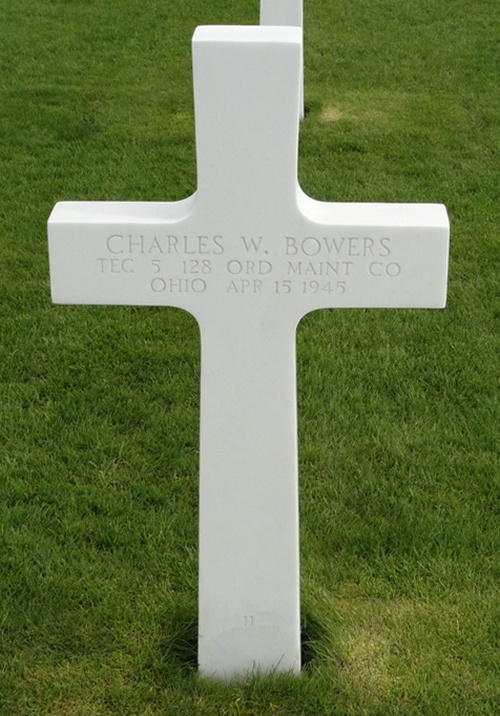 Thanks to Astrid van Erp for help with photos for this biography.
Date Added: January 27, 2012 Updated August 1, 2017
Baseball's Greatest Sacrifice is associated with Baseball Almanac
Baseball's Greatest Sacrifice is proud to be sponsored by