Ben Bradford
| | |
| --- | --- |
| Date and Place of Birth: | March 24 1893 Wayne, ME |
| Date and Place of Death: | August 6, 1918 Tours, France |
| Baseball Experience: | College |
| Position: | Catcher |
| Rank: | First Lieutenant |
| Military Unit: | 2nd Aviation Instruction Center US Army Air Service |
| Area Served: | France |
Benjamin P. Bradford was born in Wayne, Maine on March 24, 1893. He graduated from Kents Hill prep school (Kents Hill, ME) in 1912 and attended Bowdoin College in Brunswick, Maine, where he played football, hockey and captained the baseball team his senior year. He also played for the Winthrop (Maine) town team, helping them clinch the Kennebec Trolley League title in 1916. That year, Bradford led the league in home runs.

Bradford graduated from Bowdoin in 1917. He was living in Boston when he entered military service in May 1917 at the Officer Candidate School at Plattsburg, New York. After graduating as a lieutenant he took a course in military aeronautics at the Massachusetts School of Technology, being one of six whose high rank enabled them to finish the course with the US Army Air Service in France.
He went overseas in October 1917, and made several successful bombing raids behind enemy lines. By the summer of 1918, 1/Lt. Bradford was an instructor at the 2nd Aviation Instruction Center at Tours, France, the principal basic training airfield for both observers and observation pilots.

On August 6, 1918, Bradford was test flying a new bomber that went into a nose spin. He was unable to regain control before the biplane crashed into the ground.

Ben Bradford is buried at Oise-Aisne American Cemetery in Fere-en-Tardenois, Picardie, France.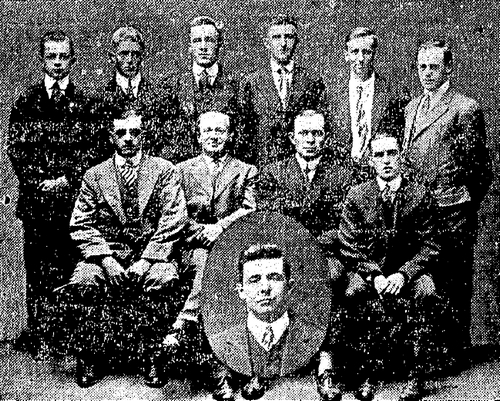 The 1916 Kennebec Trolley League champions, Winthrop.
Ben Bradford is back row, third from left.
Source
Daily Kennebec Journal, May 1, 1916
Boston Sunday Globe, September 17, 1916
Boston Globe, September 22, 1918
Lowell Sun, September 24, 1918
Daily Kennebec Journal, September 29, 1918
Date Added September 7, 2013
Can you add more information to this biography and help make it the best online resourse for this player? Contact us by email
Read Baseball's Greatest Sacrifice Through The Years - an online year-by-year account of military related deaths of ballplayers
Baseball's Greatest Sacrifice is associated with Baseball Almanac
Baseball's Greatest Sacrifice is proud to be sponsored by