Tommy Brailsford
| | |
| --- | --- |
| Date and Place of Birth: | May 28, 1894 Crockett, TX |
| Date and Place of Death: | July 29, 1918 Belleau Woods, France |
| Baseball Experience: | Minor League |
| Position: | Third Base |
| Rank: | First Lieutenant |
| Military Unit: | 6th Regiment, 2nd Division USMC |
| Area Served: | France |
Thomas R. "Tommy" Brailsford, son of George and Sarah Brailsford, was born on May 28, 1894 in Crockett, Texas. He attended high school in Crockett and graduated in 1912. He went to Texas A&M where he played baseball and graduated with the Class of 1917. Brailsford also played for the Crockett independent town team from 1913 to 1915. In 1916, Crockett fielded a team in the Class D East Texas League and Braislford played every game at third base for the Volunteers.

In June 1917 he was commissioned a second lieutenant with the Marine Corps and assigned to the Marine Corps Barracks at Port Royal, South Carolina, then attended the Marine Corps Officers Training School at Quantico, Virginia. In February 1918, Braislford left behind his wife, the former Merle Haring, and sailed for France. Promoted to first lieutenant in April 1918 and assigned to the 6th Regiment of the 2nd Division, he was killed in action at Belleau Woods in France on July 29, 1918. Lieutenant Brailsford is buried at Aisne-Marne American Cemetery in Belleau, France.

Brailsford American Legion Hall in Crockett was named in his honor.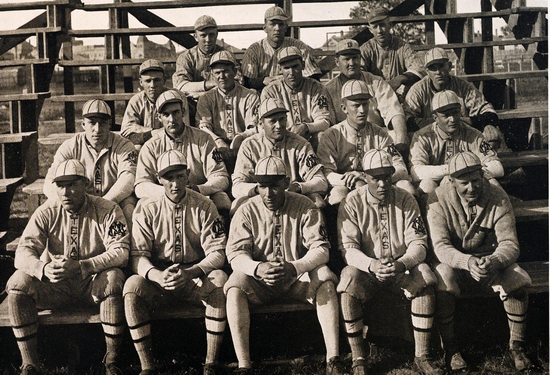 Texas A&M baseball team in 1916.
Tommy Brailsford is in the second row from front, second from left.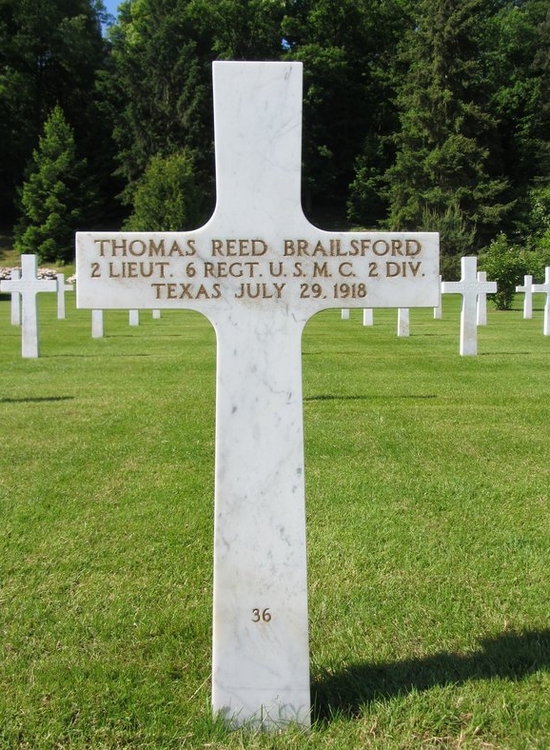 Thanks to Davis O. Barker for bringing Tommy Brailsford to my attention.
Date Added: May 14, 2015
Baseball's Greatest Sacrifice is associated with Baseball Almanac
Baseball's Greatest Sacrifice is proud to be sponsored by