Samuel Bruce
| | |
| --- | --- |
| Date and Place of Birth: | December 7, 1915 Seattle, WA |
| Date and Place of Death: | January 27, 1944, Nettuno, Italy |
| Baseball Experience: | Negro Semi-Pro |
| Position: | Second Base |
| Rank: | First Lieutenant |
| Military Unit: | 99th Fighter Squadron, 79th Fighter Group USAAF |
| Area Served: | Mediterranean Theater of Operations |
Samuel Bruce was a semi-pro African-American baseball player with the Seattle American Giants, who served with the Tuskegee Airmen.
Samuel M. "Sammie" Bruce was born in Seattle, Washington on December 7, 1915. He attended Garfield High School in Seattle, and played second base on the baseball team as well as playing football. During the summer of 1934, he played third base for the Yakima Giants, an African-American team that won the Yakima Twilight League title. In 1937, he was part of the Ubangi Blackhawks (a team sponsored by a Seattle night club owner), who were Seattle City Football League champs. He also played semi-pro baseball with the Puget Sound League's Seattle American Giants (league champions in 1938) before entering military service in 1942.

Bruce trained to be a pilot with the 99th Pursuit Squadron, the Army Air Force's first African-American fighter squadron, receiving his flight instruction at Tuskegee, Alabama, as part of the famed Tuskegee Airmen.

On September 6, 1942, Bruce earned his pilot's wings and the rank of second lieutenant. In the spring of 1943, the newly named 99th Fighter Squadron left Tuskegee for the Mediterranean Theater, arriving in Casablanca, French Morocco, in April as the campaign in North Africa was ending. Flying Curtiss P-40 Warhawks, the 99th flew patrol and bomber escort missions, and attacked enemy ground targets on the Italian islands of Pantelleria and Sicily, as well as the Italian mainland.

The unit transferred to Licata, Sicily, in July 1943, and then to Capodichino Airfield (now Naples International Airport), Italy, in January 1943, attached to the 79th Fighter Group.

On January 27, 1944, Captain Clarence C. Jamison, while leading a formation of 16 fighters of the 99th Fighter Squadron – including 1/Lt. Samuel Bruce - spotted 15 German Focke-Wulf FW-190s dive-bombing shipping off St. Peter's Beach near Anzio. It is unclear what happened, but Lt. Bruce's P-40 crash-landed on the beach at Nettuno, killing him instantly.

Samuel Bruce is buried at the Evergreen Washelli Memorial Park in Seattle, Washington.
Thanks to Lyle Kenai Wilson, author of "Sunday Afternoons at Garfield Park," for directing me to Samuel Bruce.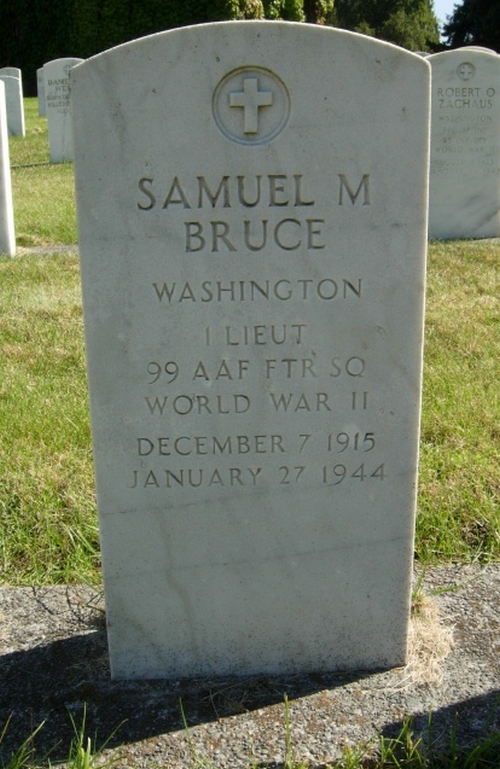 Date Added March 14, 2016. Updated March 18, 2016
Baseball's Greatest Sacrifice is associated with Baseball Almanac
Baseball's Greatest Sacrifice is proud to be sponsored by