Whitey Burch
| | |
| --- | --- |
| Date and Place of Birth: | June 19, 1918 Chesterfield County, SC |
| Date and Place of Death: | November 29, 1941 near Albemarle, NC |
| Baseball Experience: | Minor League |
| Position: | Infield |
| Rank: | Private |
| Military Unit: | 530th Signal Air Warning Company, US Army Air Force |
| Area Served: | United States |
Whitey Burch was a promising young infielder applying his trade in the North Carolina farm leagues. His life would end in tragedy just seven months after entering military service.
Eldred H. "Whitey" Burch, son of Redmer and Henrietta Burch, was living in Mount Croghan, South Carolina, when he signed with the Thomasville Tommies of the Class D North Carolina State League in 1939. The 5-foot-8 middle-infielder batted .215 with nine RBIs in 35 games. In 1940, he remained in the North Carolina State League and split the season as a second baseman with the Lexington Indians and the league champion Kannapolis Towelers, batting a vastly improved .291 with 39 RBIs in 76 games.

After two seasons, Burch's minor league career was put on hold when he entered military service on April 16, 1941, and he served with the 530th Signal Air Warning Company of the U.S. Army Air Corps at Drew Field, Tampa, Florida. On Saturday afternoon, November 29, 1941, while on maneuvers in the Carolinas, Private Burch was driving an Army truck on the Morrow Mountain State Park Road near Albemarle, about a mile from the intersection with the Badin Highway, when the truck overturned. Burch, just 23 years old, was crushed by the steering wheel and died at the scene. Two other soldiers, Corporal Everett L. Jobe and Private Guadalupe Villarreal were injured and taken to Stanley General Hospital in Albemarle.

Whitey Burch, who is buried at the Elizabeth Baptist Church Cemetery in Mount Croghan, is one of only three former professional baseball players to die in service before the United States had entered WWII.
Year

Team

League

Class

G

AB

R

H

2B

3B

HR

RBI

AVG

1939

Thomasville

N. Carolina

D

35

93

7

20

2

0

0

9

.215

1940

Lexington/

Kannapolis

N. Carolina

D

76

275

43

80

11

1

1

39

.291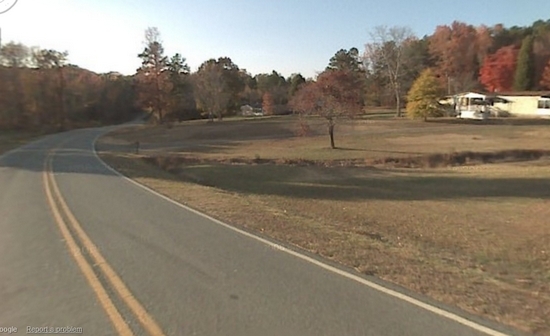 The approximate location on the Morrow Mountain State Park Road where Burch lost his life.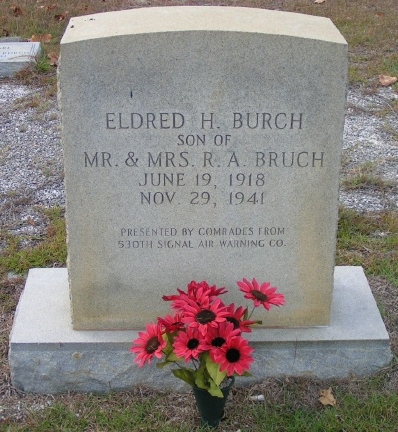 Whitey Burch's grave at Elizabeth Baptist Church Cemetery in Mount Croghan, South Carolina
Thanks to Paul Morrison, Heritage Room Manager, at Stanley County Public Library, North Carolina and Davis O. Barker for press articles relating to this event. Thanks to R. G. "Hank" Utley for statistical information.
Date Added: January 27, 2012 Updated May 4, 2014
Baseball's Greatest Sacrifice is associated with Baseball Almanac
Baseball's Greatest Sacrifice is proud to be sponsored by