Bob Burns
| | |
| --- | --- |
| Date and Place of Birth: | July 28, 1917, Oyens, IA |
| Date and Place of Death: | circa October 1943, San Angelo, Italy |
| Baseball Experience: | Amateur |
| Position: | Outfield |
| Rank: | First Sergeant |
| Military Unit: | 135th Infantry Regiment, 34th Infantry Division US Army |
| Area Served: | Mediterranean Theater of Operations |
Sergeant Burns knew how important baseball could be to the morale of his company, and he made sure he pulled out all the stops to get his boys playing as often as possible.
Robert J. "Bob" Burns was born in Oyens, Iowa on July 28, 1917. He attended high school in nearby LeMars where he was active in all sports. After graduating in 1936, Burns found employment as a clerk in the Schneider-Bowers clothing store in LeMars. He also joined Company K of the Iowa National Guard and attained the rank of sergeant. [1]

In February 1941, Company K was inducted into the federal army, and Burns found himself involved in intensive training at Camp Claiborne, Louisiana. From there, Burns was sent to Fort Dix, New Jersey. In February 1942, Sergeant Burns boarded a troop ship at the Brooklyn Navy Yard bound for Northern Ireland.

As part of a large convoy that zigzagged across the North Atlantic, Navy destroyers constantly circled the outside of the convoy in an effort to ward off prowling U-boats.

Burns arrived safely in Northern Ireland in March 1942 and was stationed at Castle Rock. Informal baseball games between battalions began in April, and it was in July – to celebrate Independence Day – that the first officially recognized baseball game since the First World War took place in Northern Ireland. Burns played centerfield for the 34th Infantry Division against the 1st Armored Division at Windsor Field, Belfast, in front of an enthusiastic if somewhat bewildered crowd of locals and the Duke of Abercorn. Burns was 0-for-2 at the plate but the 34th won the game, 3-2.

The catcher with the 34th that day was Orlando "Bud" Langenfeld of Earling, Iowa. "Bob Burns was a good friend of mine," recalls Langenfeld. "He took charge of our battalion ball team and always made arrangements to schedule the games and see that we had transportation for the games and practices." [2]

Burns continued to organize games throughout the summer, providing morale boosting activity for his fellow servicemen. "I have fond memories of the baseball games in Ireland," says Langenfeld. "The practices and games provided a respite from the training and monotony of army life." [3]

In November 1942, the 34th Infantry Division left Northern Ireland to take part in "Operation Torch," the Allied landings on North Africa. They landed at Oran on January 3, 1943 and were moved up to the front line in Tunisia the first week in February. Sergeant Burns remained in the front line until the end of the Tunisian campaign in May 1943. The 34th Infantry Division then returned to Oran where major league slugger, Zeke Bonura, was in charge of all the athletic activities. "Burns and I met with Zeke in Oran," recalls Langenfeld. "We hoped to schedule a few games with teams under his direction but he informed us that the schedules were pretty well filled and wasn't too impressed with our battalion team. So Bob contacted the 95th General Hospital team manager. The 95th was one of the better teams under Zeke's direction. We played two games against them, losing the first game, 11-0, and winning the second, 11-0." [4]

The 11-0 win was to be Robert Burns' last game. Days later his battalion was sailing for Italy.

The Allied advance through Italy was a slow, gruelling and costly process. In November 1943, First Sergeant Burns was at the Volturno River north of Naples. Heavy rain had flooded the river, and strong German defences were proving a major obstacle for Allied forces. On November 4, amidst an enemy onslaught of machine gun, mortar and artillery fire, Sergeant Robert Burns, aged 26, was seriously wounded. He was evacuated from the front line but two days later he died from his injuries.

On November 26, his parents, Mr and Mrs James Burns, were informed that their son had been wounded in combat, but it was not until December 9, that they were notified of his death. "The Secretary of War desires that I tender his deep sympathy to you in the loss of your son," read the message from the Adjutant General's Office in Washington. [5]

Memorial services were held on December 13 at St James Church in LeMars, where military honors were accorded the young soldier who had given so much to his country and always gone the extra mile so his fellow servicemen could play ball while so far from home. [6]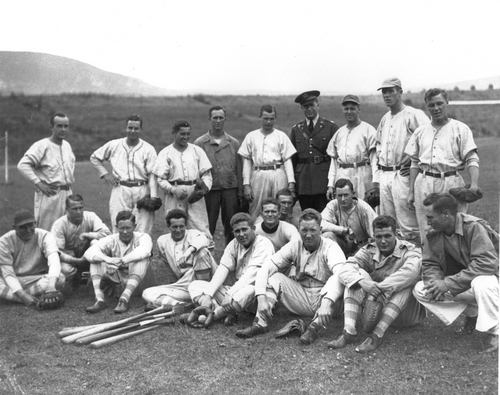 34th Infantry Division "Midwest Giants" in Northern Ireland in 1942
(Bob Burns is back row, second from left)
Sources:
1 LeMars Sentinel December 10, 1943
2 Correspondence, Orlando Langenfeld 1995
3 ibid
4 ibid
5 LeMars Sentinel December 10, 1943
6 LeMars Sentinel December 14, 1943
Date Added October 16, 2012 Updated July 23, 2013
Baseball's Greatest Sacrifice is associated with Baseball Almanac
Baseball's Greatest Sacrifice is proud to be sponsored by