Ray Burroughs
| | |
| --- | --- |
| Date and Place of Birth: | July 7, 1918 Spring, TX |
| Date and Place of Death: | February 12, 1943, Knoxville, TN |
| Baseball Experience: | College |
| Position: | Utility |
| Rank: | First Lieutenant |
| Military Unit: | 6th Ferrying Group USAAF |
| Area Served: | United States |
Raymond W. Burroughs, the son of Ralph and Eliza Burroughs, was born in Spring, Texas on July 7, 1918. He attended Abilene Christian College from 1938 to 1941, where he excelled at baseball.

Burroughs, who was married to Maxine, learned to fly with the Civilian Aviation Authority's civilian pilot training program at Municipal Airport in Abilene, Texas, in March 1941. He learned to fly a Ryan ST trainer and Cessna monoplane, graduating as a pilot in June 1941. Entering service with the Army Air Corps, he trained at Goodfellow Field in San Angelo, Texas, and joined the Ferrying Command as a pilot in California. On February 12, 1943, First Lieutenant Burroughs was piloting a Lockheed P-38 Lightning from Long Beach, California, that was involved in a mid-air collision with another P-38, 14 miles north of Knoxville, Tennessee.
"I would like to say a word for Raymond Burroughs, a very conscientious and ambitious workman," Ivo Woosley - former Abilene Christian baseball coach - told the Abilene Reporter-News on February 21, 1943. "He always put everything into every job as was demonstrated by a willingness to play anywhere on the team. He could pitch, catch, and play infield or outfield and turn in a nifty performance at any of them. Baseball was his sport, and I'm sure all interested in the city league will miss him as much as I do."
Ray Burroughs is buried at the Earthman Resthaven Cemetery in Houston, Texas.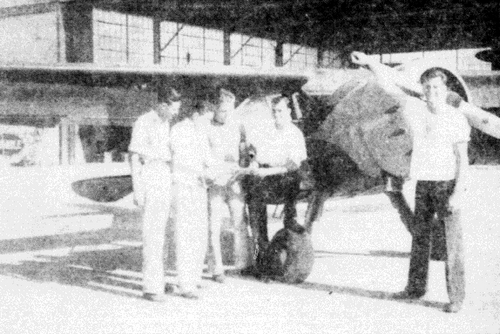 Raymond Burroughs (fourth from left, with foot on wheel) with a Cessna monoplane at Municipal Airport, Abilene, Texas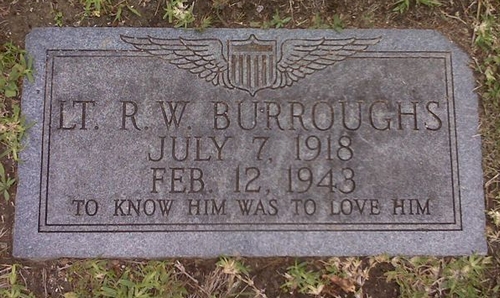 Ray Burroughs grave at the Earthman Resthaven Cemetery in Houston
Thanks to Astrid van Erp for help with this biography.
Date Added: June 8, 2012 Updated September 10, 2017
Baseball's Greatest Sacrifice is associated with Baseball Almanac
Baseball's Greatest Sacrifice is proud to be sponsored by