Les Clotiaux
| | |
| --- | --- |
| Date and Place of Birth: | August 16, 1921 Nederland, TX |
| Date and Place of Death: | August 9, 1945 Smiley, TX |
| Baseball Experience: | Minor League |
| Position: | Catcher |
| Rank: | Corporal |
| Military Unit: | 2539th AAF Base Unit USAAF |
| Area Served: | United States |
Six Army men from Foster Field were killed early Thursday when a plane in which they were returning to their base here from a baseball game at Waco, crashed and burned in a wooded area 60 miles to the northwest.
Harlingen Valley Morning Star August 10, 1945
Lester O. "Les" Clotiaux, the son of Ozele "Ozee" and Myrtle Clotiaux, was born in Nederland, Texas on August 16, 1921. Clotiaux graduated from Nederland High School in 1937 and went to work for the Gulf Refinery in Port Arthur where he played baseball with the Barrel House Bees in the Gulf Refinery League.

In 1941, Clotiaux was among four catchers on the spring roster of the Port Arthur Tarpons of the Class D Evangeline League and was with manager Harry Strohm's squad when they hosted the Brooklyn Dodgers in an exhibition game at Legion Stadium on March 28 (for the record, the Dodgers walloped the Tarps 17-0).

Clotiaux was released before the season began and played for the Grammiers, a top-notch local semi-pro team, as well as continuing to play for the Barrel House team where he worked.

Clotiaux entered military service on August 29, 1942. He served as a corporal with the 2539th Army Air Force Base Unit at Foster Field, Texas, and was the regular catcher on the Foster Field Falcons baseball team.

On August 9, 1945, the Falcons traveled to Childress Army Air Base in Texas for a ballgame. The Falcons won that contest and five of the players - Clotiaux, Duard Lawson, Harold Phillips, Chester Seipp and Pete Zarrilla, along with pilot Second Lieutenant Peter R. Davis (an experienced pilot with over 1,500 hours during the previous year) - flew back to Foster Field in a twin-engined Beechcraft AT-7C. On the return journey the plane crashed near Smiley, Texas. Corporal Clotiaux and the other five men on board were all killed.

On August 12, 1945, funeral services were held for Corporal Clotiaux at the First Methodist Church in Nederland, with Reverand John R. Lockhart officiating. He was buried at Block Cemetery (also known as Oak Bluff Memorial Park) in Port Neches and the burial included a military escort from the Lake Charles air base and US Marine Corps pallbearers from the Marine base at Mid-County Airport in Nederland.
Team

League

Class

G

AB

R

H

2B

3B

HR

RBI

AVG

1941
Port Arthur
Evangeline
D
Appeared in spring training games only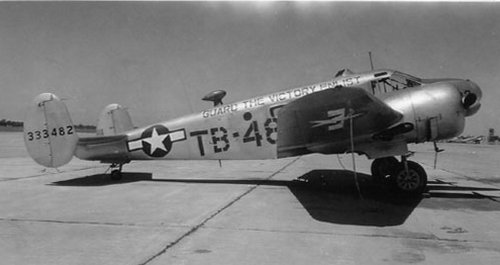 A Beechcraft AT-7C. The type Les Clotiaux was aboard on August 9, 1945.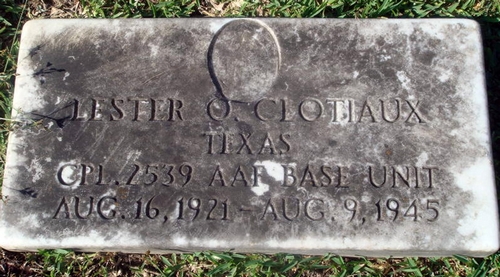 Les Clotiaux's grave at Oak Bluff Memorial Park in Port Neches, Texas
Thanks to Davis O. Barker for help with this biography.
Date Added January 27, 2012 Updated June 13, 2014
Baseball's Greatest Sacrifice is associated with Baseball Almanac
Baseball's Greatest Sacrifice is proud to be sponsored by