Olan Dabbs
| | |
| --- | --- |
| Date and Place of Birth: | 1918 Pauls Valley, OK |
| Date and Place of Death: | April 6, 1945 Heilbronn, Germany |
| Baseball Experience: | Minor League |
| Position: | Outfield/Third Base |
| Rank: | Private First Class |
| Military Unit: | Company E, 397th Infantry Regiment, 100th Infantry Division US Army |
| Area Served: | European Theater of Operations |
Olan Dabbs, the son of W.J. "Jack" and Bertha "Bertie" Dabbs, was born on his father's farm between Pauls Valley and Wynnewood, Oklahoma in 1918. He graduated from high school in Pauls Valley in 1936 (a year after his mother passed away) and signed with the Tyler Trojans of the Class C East Texas League in 1939. Also playing for the Trojans that year was catcher Walter Lake, who was killed in action in France in July 1944.
Although Dabbs probably never made an appearance for the Trojans in 1939, he was back in minor league baseball in 1940, playing 53 games in leftfield with the Carthage Pirates, a Pittsburgh affiliate in the Class D Arkansas-Missouri League. The four-team circuit disbanded at the Fourth of July doubleheaders of that year and Dabbs finished the season playing third base and batting .212 in 41 games for the Topeka Owls of the Class C Western Association.

That was to be Dabbs' only summer of professional baseball. In April 1942, he left his job as a sales clerk and entered military service with the army. Following basic training, Dabbs was assigned to Company E of the 397th Infantry Regiment, 100th Infantry Division. By October 1944, the division was in France.

On April 4, 1945 Company E, of the 397th was on the road to Neckargartach, near Heilbronn, Germany, with the mission to clear the area of enemy resistance. The 398th Infantry Regiment had crossed the Neckar River near Neckartgartach and established a beachhead but had been counterattacked by heavily armoured German forces. Company E were called upon to cross the river and attack the glass factory area where much of the enemy fire was coming from.

Crossing the river in rubber boats, Private First Class Dabbs and the rest of Company E reached the administration building of the glass factory, where they prepared to holdout against a German counterattack. The Germans fired automatic weapons and panzerfausts at the building, and used grenades, both fragmentation and incendiary, setting the building on fire. It was soon an inferno and the men of Company E abandoned the building, leaving behind the bodies of six of their dead comrades. These six men were PFC Olan Dabbs, 2/Lt. Peter P. Petracco, Sgt. Earl H. Leland, PFC Harold E. Miller, PFC Jason S. Miller, Jr., and PFC William A. Bresnahan. They were all cremated in the fire. Little was found of them other than their dog tags and their remains were buried in a common grave in France.

The fighting at Neckartgartach and Heilbronn was to be the last major battle of the war for Company E. One month later, Germany surrendered.

PFC Olan Dabbs was awarded the Silver Star "for conspicuous gallantry and intrepidity in action against the enemy...his gallant actions and selfless devotion to duty without regard for his own safety, were in keeping with the highest traditions of military service."

In March 1950, Olan Dabbs' remains, together with those of his comrades who had died in that glass factory administration building in Germany, were returned to the United States and buried in a common grave at Arlington National Cemetery.
| | | | | | | | | | | | | |
| --- | --- | --- | --- | --- | --- | --- | --- | --- | --- | --- | --- | --- |
| Year | Team | League | Class | G | AB | R | H | 2B | 3B | HR | RBI | AVG |
| 1939 | Tyler | East Texas | C | - | - | - | - | - | - | - | - | - |
| 1940 | Carthage | Arkansas-Missouri | D | 53 | 219 | 33 | 52 | 18 | 6 | 2 | 36 | .237 |
| 1940 | Topeka | Western Assoc. | C | 41 | 137 | - | 29 | 6 | 2 | 0 | - | .212 |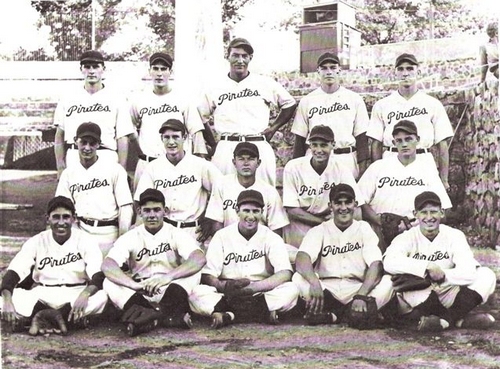 Carthage Pirates 1940
(Olan Dabbs is front row, second right)
Thanks to John G. Hall for supplying this photo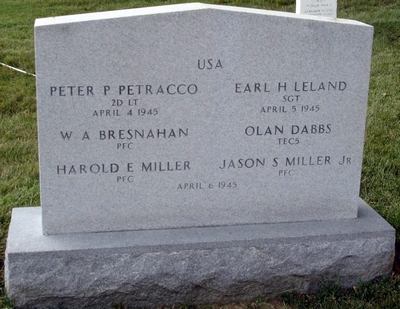 Sources:
Box Cars and Burps: History of Company E by Craig Davison and Bill Law

Special thanks John G. Hall, author and editor of the KOM League newsletter, who recently informed me about Olan Dabbs being a WWII casualty.
Date Added February 1, 2014 Updated May 5, 2014
Can you add more information to this biography and help make it the best online resourse for this player? Contact us by email
Read Baseball's Greatest Sacrifice Through The Years - an online year-by-year account of military related deaths of ballplayers
Baseball's Greatest Sacrifice is associated with Baseball Almanac
Baseball's Greatest Sacrifice is proud to be sponsored by