Gene Dellinger
| | |
| --- | --- |
| Date and Place of Birth: | June 30, 1926 Bahama, NC |
| Date and Place of Death: | January 31, 1946 Northington General Hospital, Tuscaloosa, AL |
| Baseball Experience: | Minor League |
| Position: | Outfield/First Base |
| Rank: | Sergeant |
| Military Unit: | 333rd Infantry Regiment, 84th Infantry Division US Army |
| Area Served: | European Theater of Operations |
"[Dellinger] was described by many as having a brilliant baseball future."
Unidentified press clipping circa February 1946
Eugene L. "Gene" Dellinger, Jr., the son of E. L. and Foye Dellinger, was born on June 30, 1926 in the small town of Bahama, North Carolina, about 14 miles north of Durham. Dellinger loved baseball and played the game every opportunity he had while growing up.

"Eugene and I grew up in Bahama, and we lived within 150 yards of each other," recalls his boyhood friend Alton P. Mangum. "We played together from the time we could walk. We were both in the Boy Scouts, and we hiked and camped with our Scout troop, and we were as close as brothers.

"When Eugene was about 10 years old, his daddy helped him in changing his swing from the right side to the left. He had a very natural swing left handed, and he reminded me of Ted Williams in the way he snapped his wrist when he swung at a ball.

"We both played baseball at every opportunity as we grew up. If we weren't playing in a game, we were throwing the ball to each other. His dad had broad shoulders, and Eugene took after him."

Dellinger played shortstop with the Mangum Township High School team in Bahama; Mangum played first base, and the two of them regularly attended ballgames at Durham Athletic Park, home of the Durham Bulls who were a Brooklyn Dodgers farm club at the time.

"When the Bulls held a tryout day, Eugene attended," says Mangum. "After displaying his baseball skills, they talked to him and signed him after he graduated from high school."

The Bulls assigned Dellinger to the Olean Oilers of the Class D PONY League in 1943, where he played for former Pirates second baseman Jake Pitler, and had Ralph Branca and future American League infielder Billy DeMars as teammates. In 80 games (46 in the outfield, 14 at first base and 13 at shortstop), the 17-year-old batted .257 with 35 RBIs and led the team with 300 at-bats, 77 hits and 14 doubles.. He finished the season playing with the Durham Bulls for former St. Louis Cardinals infielder Bruno Betzel and alongside future Brooklynites Gene Hermanski, Rex Barney and Gene Mauch, Dellinger appeared in 10 games as an outfielder and batted .293.

In 1944, he advanced to the Montreal Royals of the Class AA International League - one level below the majors - and appeared in an exhibition game against the Brooklyn Dodgers on July 11.

"After the game," recalls Mangum, "Leo Durocher went to Eugene and talked with him, and Eugene told him it looked like he was going to be drafted in the Army. Leo told him if he went into the Army to call him after the war and that he wanted him with the Dodgers."

Playing again for Bruno Betzel, Dellinger batted .185 in 28 games for the Royals and was assigned to the Newport News Dodgers of the Class B Piedmont League where he was reunited with another former manager, Jake Pitler. Playing first base, third base and the outfield, Dellinger batted .304 in 85 games and drove in 56, while his teammate, future Hall of Famer Duke Snider drove in 50 runs and batted .294.

In November 1944, Dellinger was drafted by the Buffalo Bisons of the American Association but he would never get to play a game for them because he entered military service with the Army the same month.

Dellinger, who attained the rank of sergeant, spent much of his military service playing baseball; first in the United States and later in Europe. It was while traveling with his Army team near Hesperange in Luxembourg on October 22, 1945, that tragedy struck. "The ball team was riding in the back of an Army truck when it struck a train," remembers Mangum. Seven soldiers burned to death in the accident. Dellinger suffered a broken leg and was badly burned about his legs and hands. He was transferred to a hospital in Nancy, France. By November 1945, his condition was reported to be improving, but at the beginning of 1946, he was flown back to the United States for treatment at the Northington General Hospita in Tuscaloosa, Alabama. At the end of January his condition worsened and he succumbed to his injuries on January 31, 1946. Dellinger was 19 years old.

Eugene Dellinger's body was returned to Bahama, North Carolina, and services were held at Mount Bethel United Methodist Church by Reverand T.M. Vick, Rev. M. C. Dunn and Rev. Earl Brewer. He now rests at the Mount Bethel United Methodist Church Cemetery in Bahama.

Alton Mangum will never forget his childhood friend: "Eugene was a great athlete – playing baseball, basketball and football. He was extremely well liked, and his death was certainly a shock to our small community."
| | | | | | | | | | | | | |
| --- | --- | --- | --- | --- | --- | --- | --- | --- | --- | --- | --- | --- |
| Year | Team | League | Class | G | AB | R | H | 2B | 3B | HR | RBI | AVG |
| 1943 | Durham | Piedmont | B | 10 | 41 | 6 | 12 | 1 | 0 | 0 | 5 | .293 |
| 1943 | Olean | PONY | D | 80 | 300 | 29 | 77 | 14 | 1 | 1 | 35 | .257 |
| 1944 | Montreal | International | AA | 28 | 65 | 9 | 12 | 4 | 1 | 0 | 9 | .185 |
| 1944 | Newport News | Piedmont | B | 85 | 316 | 63 | 96 | 27 | 2 | 6 | 56 | .304 |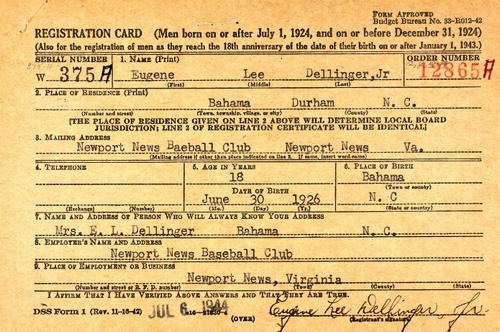 Gene Dellinger's draft registration card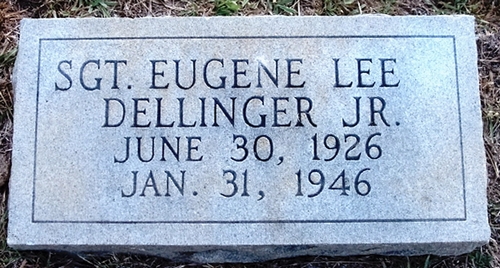 Gene Dellinger's grave at Mount Bethel United Methodist Church Cemetery in Bahama, North Carolina
Thanks to Alton P. Mangum and Toni Garrett, Secretary at Mt. Bethel UMC for their assistance with this biography. Thanks also to Astrid van Erp for help with photos and information for this biography.
Date Added January 27, 2012 Updated July 15, 2022
Baseball's Greatest Sacrifice is associated with Baseball Almanac
Baseball's Greatest Sacrifice is proud to be sponsored by