Don Dudding
| | |
| --- | --- |
| Date and Place of Birth: | December 22, 1923 Bancroft, IA |
| Date and Place of Death: | November 25, 1944 Camp Algona POW Camp, Algona, IA |
| Baseball Experience: | Semi-Pro |
| Position: | Catcher |
| Rank: | Sergeant |
| Military Unit: | United States Marine Corps |
| Area Served: | Pacific Theater of Operations |
James Donald Dudding, the son of McClellan and Oda Dudding, was born in Bancroft, Iowa on December 22, 1923 and graduated from S. John's High School in 1941. He was a catcher with the Bancroft, Iowa team and family ties helped him secure a position behind the plate with the Albert Lea team in Minnesota in 1942. His cousin, Johnny Menke, had previously caught for the Albert Lea team and had played minor league baseball with Des Moines and Sioux City in 1937.

Sergeant Dudding served with the Marines and was at Tarawa and the Marshall Islands during 1943 and 1944. After two years in the Pacific he was home on 30-day furlough in November 1944. While traveling alone in his car on the highway two miles west of Lakota, a tire blew out and he was thrown from the vehicle. Don Dudding was unconscious when Dr. W.P. Pelz arrived at the scene around 2am Saturday morning (November 25). The doctor immediately lifted the Marine into the back of his car and drove to the hospital at the Camp Algona Prisoner of War camp. Dudding had a severe skull fracture and remained unconscious until he died at 8:10am.
His funeral was held in Bancroft on November 27 and burial took place at Saint Johns Cemetery in Bancroft.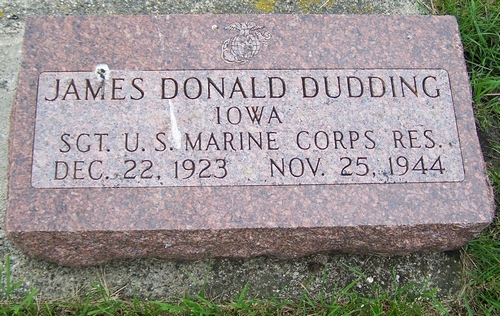 Don Dudding's grave at Saint Johns Cemetery in Bancroft, Iowa
Date Added June 4, 2012 Updated July 10, 2013
Baseball's Greatest Sacrifice is associated with Baseball Almanac
Baseball's Greatest Sacrifice is proud to be sponsored by