Lou Elko
| | |
| --- | --- |
| Date and Place of Birth: | November 27, 1922 Streator, IL |
| Date and Place of Death: | April 2, 1944 St. Mary's Hospital, Streator, IL |
| Baseball Experience: | Minor League |
| Position: | Shortstop/Pitcher |
| Rank: | Private |
| Military Unit: | US Marine Corps |
| Area Served: | United States |
Louis E. Elko, the son of coal minor John and Anna Elko, was born in Streator, Illinois, and attended Streator High School, where his athletic exploits have become almost legendary. In four years of competition, from 1939 to 1942, Streator High School amassed a won-loss record of 58–12, including three trips to the state finals and a second-place finish in 1942, in which he hrled his teammates to a 7-4 victory over Champaign, before the team was beaten by Oak Park in the finals. Elko hit 15 home runs during that time—a school record that was not broken until 2000—and batted over .400 in three seasons. He accumulated 89 hits, a record that stood until 1999, and he is the only player in the top 12 on the career hits list to have played before 1997. On the mound, with future major leaguer Ralph "Rube" Novotney as his batterymate (both were voted all-state honors in 1941), Elko tied a school record for wins, going 16–3 from 1940 to 1942. And his athletic talents were not just restricted to the baseball diamond. He was also a standout in basketball on the most famous and most successful Streator High School team in history—the 1941–42 team that posted a 31–2 record with Elko as starting point guard under legendary coach Lowell "Pops" Dale.

Elko signed with the Chicago Cubs immediately following graduation in 1942, and was assigned to the Los Angeles Angels of the Class AA Pacific Coast League. The Angels assigned him as an infielder to the Madison Blues of the Class B Three-I League at the end of the season, and he was preparing to play his first season in the minors in 1943, when military service intervened.

Elko entered service on April 9, 1943 and served as a private with the Marine Corps. He was stationed at Marine Corps Barracks San Diego, where he played for the Marine Corps Recruit Depot San Diego baseball team. In August 1943, Private Elko was heading home to Streator on leave when he fell ill. He was removed from the train at El Paso, Texas, and hospitalized at William Beaumont General Hospital for two months with a ruptured appendix. He was then transferred to a hospital in San Diego, where he received an honorable medical discharge on November 29, 1943.

Elko returned home to his mother Anna's house in Streator (his father had died in 1941), but was still very ill. Anna Elko vividly remembered the day her son came home. "He opened the door and I expected him to say how the place looked good," she explained in an interview in 1973. "He didn't say a word. He walked to his bedroom, opened the dresser drawer, took out a baseball and held it in his hand. As he looked at it, he said, 'I sure got a bum deal.'"

There were occasions when his health showed some improvement, but in mid-February 1944, he took a turn for the worse and was admitted to St. Mary's Hospital. Lou Elko was just 21 years old when he passed away on April 2, 1944.

Hundreds attended his last rites on April 5 at St. Stephen's Catholic Church in Streator, and he was buried at the church cemetery. On the same day, his mother received in the mail, a beautifully engraved folder bearing the sympathy of the Los Angeles Angels and the Chicago Cubs. In September 1944, a War Department headstone was approved for Elko's grave.

Lou's younger brother, Andy, who served in the Navy from 1943 to January 1946, went on to pitch in the minor leagues from 1946 to 1953. He won 22 games with Pensacola in the Class B Southeastern League in 1950, and spent the following two seasons with the Atlanta Crackers in the Class AA Southern Association.
Year

Team

League

Class

G

AB

R

H

2B

3B

HR

RBI

AVG

1942
Los Angeles
PCL
AA
Signed but did not play
Lou Elko (front row, far right) with the 1942 Streator High School basketball team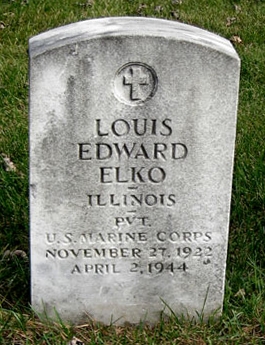 Lou Elko's grave at St. Stephen's Catholic Cemetery in Streator, Illinois
Thanks to Kevin Missell for help with this biography. Thanks also to Astrid van Erp for help with photos for this biography.
Date Added January 27, 2012 Updated December 14, 2019
Baseball's Greatest Sacrifice is associated with Baseball Almanac
Baseball's Greatest Sacrifice is proud to be sponsored by