Charles "Chatty" Etherton
| | |
| --- | --- |
| Date and Place of Birth: | February 13, 1919 Carbondale, IL |
| Date and Place of Death: | December 27, 1945 Jefferson City, MO |
| Baseball Experience: | Minor League |
| Position: | Pitcher |
| Rank: | Corporal |
| Military Unit: | 382nd AAA Auto-Weapons Battalion, US Army |
| Area Served: | Pacific Theater of Operations |
Charles "Chatty" Etherton, Jr., was the son of Charles and Agnes Etherton. His father was the postmaster in Carbondale, Illinois, and young Charles was a right-handed pitcher of local fame. He signed with the Mayfield Clothiers of the newly formed Class D Kitty League in 1936, and made one brief appearance before returning to Carbondale to play for the Bridge 4-H softball team that won the county championship.

Between 1938 and 1940, Etherton had brief trials with teams in the Arkansas-Missouri League, South Atlantic League, Kitty League, and Alabama State League, but it was following an outstanding season with the sandlot Red Wings of Murphysboro, Illinois, that he secured a regular place in organized baseball, joining the Zanesville Cubs of the Class C Middle-Atlantic League in 1941.

Etherton started in style for the Cubs with a 16-strikeout performance in a pre-season game against Muskingum College on April 24. "Etherton, who served a brief hitch with Troy in the Alabama State League last season, used a fast breaking curve and a fair fastball to bewilder all the Muskie batsmen," declared the local newspaper the following day.' Etherton made 22 appearances with Zanesville for a 3-7 record and a 5.01 ERA. He finished out the year making seven appearances for the Lake Charles Skippers of the Class D Evangeline League. In 1942, Etherton joined the Winnipeg Maroons of the Class C Northern League, where he posted a 4-2 won-loss record, before entering military service on June 12.

Corporal Etherton served in the Pacific Theater with the 382nd AAA Auto-Weapons Battalion and returned home in late 1945. On December 23, he boarded a troop train at Camp Stoneman, California, bound for discharge at Jefferson Barracks, Missouri. Nobody knows what horrors the 26-year-old faced on the battlefields of the Pacific, but other soldiers on the train said he was despondent. Four days after the train left California, Etherton locked himself in a wash room and cut his throat with a double-edged razor blade. His body was found when the train stopped at Jefferson City, Missouri, only a few hours from home.
Charles "Chatty" Etherton is buried at Oakland Cemetery in Carbondale, Illinois.
| | | | | | | | | | | | |
| --- | --- | --- | --- | --- | --- | --- | --- | --- | --- | --- | --- |
| Year | Team | League | Class | G | IP | ER | BB | SO | W | L | ERA |
| 1936 | Mayfield | Kitty | D | 1 | 4 | - | 2 | 1 | 0 | 1 | - |
| 1938 | Monett | Arkansas-Missouri | D | - | - | - | - | - | - | - | - |
| 1939 | Paducah | Kitty | D | - | - | - | - | - | - | - | - |
| 1940 | Troy | Alabama State | D | - | - | - | - | - | - | - | - |
| 1941 | Zanesville | Mid-Atlantic | C | 22 | 88 | 49 | 57 | 28 | 3 | 3 | 5.01 |
| 1941 | Lake Charles | Evangeline | D | 7 | 33 | 15 | - | - | 0 | 0 | 4.09 |
| 1942 | Winnipeg | Northern | C | 7 | 38 | - | 14 | 24 | 4 | 2 | - |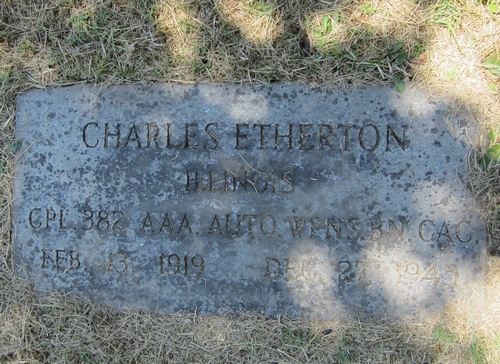 Chatty Etherton's grave at Oakland Cemetery in Carbondale, Illinois
Date Added January 27, 2012 Updated July 25, 2016
Baseball's Greatest Sacrifice is associated with Baseball Almanac
Baseball's Greatest Sacrifice is proud to be sponsored by