Frank Faudem
| | |
| --- | --- |
| Date and Place of Birth: | July 9, 1921 Detroit, MI |
| Date and Place of Death: | January 12, 1945 Leyte Gulf |
| Baseball Experience: | Minor League |
| Position: | Outfield |
| Rank: | Private First-Class |
| Military Unit: | Company B, 305th Infantry Regiment, 77th Infantry Division US Army |
| Area Served: | Pacific Theater of Operations |
During an interview by the Central Student newspaper on April 25, 1940, Frank Faudem stated that his ambition was "to be a professional baseball player." He went on to achieve star status as a professional player in the minor leagues. However, he was called to battle in World War II where his life was ended by a Japanese sniper, short of fulfilling his dream in baseball's major leagues.
Frank Faudem, the son of Solomon and Bessie Faudem, grew up in the heart of the Jewish neighborhood in Detroit, Michigan, in the 1930s. It was an era of anti–Semitism, when many Jewish athletes operated incognito. But in 1934, Hank Greenberg strode into the national spotlight with Faudem's hometown Detroit Tigers. It is not hard to imagine that Greenberg's play inspired young Faudem to develop his own baseball-playing skills — Faudem was 11 years old when Greenberg took over from Harry Davis as the Tigers' first baseman — and the youngster set his sights on a career as a professional ballplayer just like his idol.

Faudem was captain of both baseball and basketball teams in the ninth grade at Hutchins Intermediate, and was a star at 15 in the competitive leagues of the Detroit Amateur Baseball Federation. He batted .538 in 1937 at Class E, and was runner up for the most valuable player award. He hit .400 the following year at Class C with the Registers.

At Central High School in Detroit, he quickly rose to fame in baseball and football. The short, stocky left-hander, was a hard-hitting pitcher and outfielder, producing a .348 batting average as captain of the Central Trailblazers in 1939. In 1940, his senior year, he led the team with a .478 batting average, winning All-City honors.

When asked by the Central Student newspaper in April 1940, what his biggest thrill was, Faudem replied: "Last season while playing against Mackenzie [High School, Detroit], I hit a homer in the fourth inning with the bases loaded. It was one of the longest four baggers ever hit at Littlefield. The pitch was off a lefthander, and, before that, I was always afraid of southpaws."1 In comparison with this performance was the touchdown Faudem scored against Northern in a post-season football game. The Central team was losing, 13–0, when he pulled a pass out of the air and zigzagged 40 yards through an open field

After graduating from high school in 1940, Faudem spent the summer playing sandlot baseball with the Class C Tommy Burke Club of the Detroit Amateur Baseball Federation and was batting over .300. In July, Central High baseball coach Johnny Madonna asked the visiting New York Yankees manager Joe McCarthy to let Faudem and fellow Central teammate Sheldon Harris work out with the team at Briggs Stadium. McCarthy obliged and even let Faudem and Harris don New York uniforms for the workout. Bursting with pride in their major league outfits, the young Detroiters threw on the sidelines and took some swings in the batting cage after the Yankees' regulars had finished.

McCarthy was impressed with what he saw during the workout and told them both to come out again when the Yankees came back to Detroit in September. "To say merely that Faudem and Harris were pleased with wearing Yankee uniforms," declared the Detroit Free Press shortly after the event, "and working out with the American League champions at Briggs Stadium would be an understatement."

In the meantime, Faudem continued to play for the Tommy Burke club and on August 22, 1940, he was a virtual one-man team as he helped them eliminate Elder, 13–3, from the Class C playoffs. "All the little fellow did," announced the Detroit Free Press, "was hammer out a homer and a triple in two official trips to the plate, walk on three other occasions, steal four bases, score three runs and drive in four others."

Not surprisingly, Faudem generated interest among numerous major league teams, but despite offers from the St. Louis Browns and Cleveland Indians, he chose to accept an offer with his hometown team by signing in October 1940 with Aloysius "Wish" Egan, Detroit Tigers' scout and former major league player.

The Tigers assigned Faudem to the Muskegon Reds of the Class C Michigan State League for 1941, and the club began spring training in Fulton, Kentucky, on April 6. When Muskegon headed north for the start of the regular season, Faudem remained in Fulton to play with the Fulton Tigers of the Class D Kitty League.

As his hero, Hank Greenberg, left the Detroit Tigers for Army service at Fort Custer, Michigan, Faudem began an outstanding rookie campaign. Despite being one of the shortest players in the league at 5-foot-7, he hit .321 with 68 RBIs, 81 runs scored and 15 stolen bases in 118 games. Fulton is a town on the Kentucky/Tennessee border and had a population of 5,000 in 1941. Known as the "Banana Capital of the World," because 70 per cent of imported bananas to the United States were shipped there, the Fulton townsfolk loved their Tigers and Faudem quickly became a favorite, regularly stealing headlines for his hitting and dazzling defensive work in centerfield. "Frank Faudem was the outstanding star in Saturday night's victory over Mayfield, with two catches which fans hardly believed possible," boasted the Fulton Sentinel in July 1941, "and also came through with a two run single when the tallies were badly needed." The following day he was in the news again, helping Fulton to a 5–2 win over Mayfield. "Frank Faudem supplied the crowning touch with a 347 foot home run over the right field wall with one aboard."

Throughout his baseball career, Faudem's biggest fan was his father, Solomon, who did not miss a single game his son played in high school. But in the spring of 1942, shortly before the baseball season began, Solomon became seriously ill at the family home in Detroit. Frank was due back in Fulton, 600 miles away, and was reluctant to leave his father, but after talking it over, it was agreed he should play. It was what his father wanted.

The summer months of that year were extremely difficult for the 20-year-old. "He has played just as hard and just as brilliantly," noted the Fulton News, "but there has been lacking that sense of joy that he radiated last year. Last year he was always playing with his mates; always ready and eager for a jest; this year he has been strangely reserved and a little distant in his manner."

On June 18, 1942, Solomon Faudem died, and the following day the Kitty League — considered one of the strongest Class D circuits—disbanded as Hopkinsville and Union City succumbed to wartime restrictions and poor attendance. Fulton had one of its best teams in many years and finished first in the shortened season with Faudem batting .321 and having clouted eight home runs over 40 games. He immediately returned home to attend his father's funeral before being assigned to the Winston-Salem Twins of the Class B Piedmont League for the remainder of the year.

The Twins line-up featured former Detroit sandlotters Johnny McHale (who joined the Tigers in 1943), Ted Gray (who made it to the Tigers in 1946), Johnny Radulovich, Dave "Butch" Derrick and Joe Moceri (who was killed in action in France in June 1944). Faudem played 68 games with the Twins and batted .260 with 18 RBIs.

On October 24, 1942, his contract was assigned to the Beaumont Exporters of the Class A1 Texas League. He was following in Hank Greenberg's footsteps. Greenberg had played with Beaumont in 1932 and hit 39 home runs. But Faudem was unable to report. Again, echoing the path of his hero, Faudem was called to military service on January 18, 1943, and inducted into the Army at Fort Custer, Michigan.

Faudem was assigned to Company B, 305th Infantry Regiment, 77th "Statue of Liberty" Infantry Division, and on March 24, 1944, the division left Camp Stoneman, California, bound for Hawaii, where they trained in amphibious landings and jungle warfare. While there, Faudem played baseball for the Army team near Honolulu, against future baseball Hall of Famers Joe DiMaggio, Johnny Mize and Pee Wee Reese.

The 77th Infantry Division left Hawaii on July 1, 1944, and on July 21 made an assault landing on Guam. After taking over defense of the beachhead, the division drove north on the island, until Japanese resistance ended on August 8. On September 17, 1944, Faudem's celebration of Rosh Hashanah on Guam began an endearing friendship with fellow Detroiter Benno Levi, who was serving with Company A. Faudem and Levi had lived in the same neighborhood but had never met before. For the rest of their time on Guam they would get together and scour the pages of the Jewish News for articles about their friends, reminisce about the past and daydream about the future. On the second day of Rosh Hashanah, Faudem and Levi attended evening services, but got hungry beforehand and Faudem suggested they eat at the division headquarters kitchen where Major General A. D. Bruce (commander of the 77th Infantry Division) enjoyed his meals. "Frank got into a conversation with the mess sergeant," Levi recalled. "Then presto, before you knew it, we were having General Bruce's supper."

On November 2, 1944, the 77th Infantry Division left Guam as part of a convoy bound for a period of rest and rehabilitation at New Caledonia. They were aboard the destroyer USS Ward (DD-139), the ship that had fired the first shot of World War II when it detected and sank a Japanese midget submarine off Pearl Harbor on the morning of December 7, 1941. Nine days into the journey the entire convoy changed direction. Plans had been changed and the division was proceeding to Leyte, a province of the Philippines.

On December 7, the troops scrambled down cargo nets into assault boats and entered the battle with an amphibious landing behind enemy lines that enabled the capture of the port of Ormoc. Later that day the USS Ward was struck below the water line by a kamikaze attack. An explosion ripped through the troop compartment where, hours earlier, Faudem, Levi and many other men of the division had been. With uncontrollable fires, the Ward was abandoned and sunk by gunfire from another destroyer.

With the port of Ormoc secure, the 77th Infantry Division fought its way up the Ormoc Road to Valencia. Throughout that time, Faudem and Levi had not seen each other, but whenever they met anyone from each other's respective companies, they would make enquiries. Both men were safe and well. On December 25, 1944, a second landing was made behind enemy lines with Palompon on the west coast as the objective — the last Japanese supply port on Leyte. There was little resistance as the enemy fled into the hills, allowing the Detroiters time to catch up. At the time, Faudem was anxiously awaiting news from his wife Lydia about the birth of their first child.

In early January, mopping up operations began as the division attempted to wipe out the last organized resistance on the island. Faudem and Levi met by chance at the Battalion Aide Station the day before the attack began. Levi had a badly infected foot and was waiting to be sent back to the field hospital. Faudem was bursting with excitement because Lydia had given birth to a baby girl named Sherry Beth. A few days after the mopping up began, casualties began to arrive at the field hospital. Levi met a member of Company B and asked his usual question: "How's Faudem?" The reply was devastating: "He's dead."

On January 12, 1945, on the second day of a three-day patrol to clear the Japanese out of the hills, and while he was setting up night defenses, a single bullet from a sniper abruptly ended the life of Private First Class Frank Faudem. Upon hearing the news, Levi hobbled on his crutches up a hill to the tent where the bodies were brought before burial. He wanted to say goodbye to his friend. Faudem was on a stretcher with only a poncho covering his body. "I didn't want to uncover his face in death," he said. "I wanted to remember him the way he was."

News of Faudem's death appeared in the Detroit Free Press in February 1945. "He was a hustling outfielder," Wish Egan recalled, "and wanted to play baseball as few boys did. You never saw a boy who wanted to get into the majors as much as Frankie."

Faudem's body was returned home to Detroit some years after the war ended and rests alongside his father at the Workmen's Circle Cemetery in Clinton Township, Michigan.

In November 2007, more than 60 years after his death, Frank Faudem was inducted into the Michigan Jewish Sports Hall of Fame.
| | | | | | | | | | | | | |
| --- | --- | --- | --- | --- | --- | --- | --- | --- | --- | --- | --- | --- |
| Year | Team | League | Class | G | AB | R | H | 2B | 3B | HR | RBI | AVG |
| 1941 | Fulton | Kitty | D | 118 | 489 | 81 | 157 | 37 | 11 | 4 | 68 | .321 |
| 1942 | Fulton | Kitty | D | 40 | 162 | 39 | 52 | 11 | 2 | 8 | 42 | .321 |
| 1942 | Winston-Salem | Piedmont | B | 68 | 250 | 23 | 65 | 8 | 2 | 0 | 18 | .260 |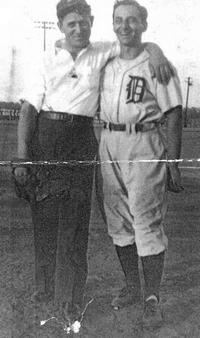 Frank and his father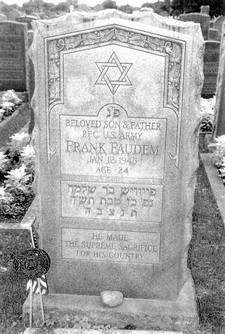 Frank Faudem's grave at the Workmen's Circle Cemetery in Clinton Township, Michigan
Very special thanks to David Otis and Benno Levi for supplying much of the information and photos contained in this biography. Thanks also to Davis O Barker and the Amateur Athletic Foundation of Los Angeles for help with this biography.
Date Added January 29, 2012 Updated July 25, 2016
Baseball's Greatest Sacrifice is associated with Baseball Almanac
Baseball's Greatest Sacrifice is proud to be sponsored by