Mike Furdyna
| | |
| --- | --- |
| Date and Place of Birth: | August 21, 1924 Troy, NY |
| Date and Place of Death: | March 11, 1945 Iwo Jima |
| Baseball Experience: | Amateur |
| Position: | Catcher |
| Rank: | Private First-Class |
| Military Unit: | 28th Marines, 5th Marine Division USMC |
| Area Served: | Pacific Theater of Operations |
Michael A. Furdyna, son of Mr. and Mrs. Andrew Furdyna, was born in the South End of Troy, New York on August 21, 1924. A star athlete at La Salle Institute, playing baseball, basketball and football, he also played with St. Michael's CYO championship baseball team in 1943 and with the Kenney A.A. team. The young catcher had received an offer from the Brooklyn Dodgers to appear for spring training after graduating in 1943. After enlisting with the Marines in September 1943, the Dodgers told him that the offer would remain good upon his return from military service.

Furdyna was stationed at Parris Island, South Carolina, Camp Lejeuene, North Carolina and Camp Pendleton, California, before being sent to Hawaii. Serving as a Private First-Class with the 28th Marines, 5th Marine Division, Furdyna was at Iwo Jima, from where his parents received a letter from him on March 10, 1945, stating that he'd been on the island for eight days.

The following day, March 11, 1945, Mike Furdyna died of wounds received on Iwo Jima. He is buried at Saint Josephs Cemetery in Troy, New York.

"Troy Area sport fans will miss Mike Furdyna of the South End who was killed in action with the Marines March 11 on Iwo Jima," the Troy Times Record noted on April 7, 1945. "Mike was one of the most promising schoolboy athletes in this neck of the woods in recent years and we always felt he would go far in baseball...We believe Mike eventually would have made good in big time baseball for he had the ability and the determination. The Troy Area has lost a good citizen and a fine athlete."

On March 11, 1946, the first anniversary of Mike Furdyna's death, his family placed the following words in the Troy Times Record:

There is a mother who misses you sadly
And finds the time long since you went.
And we think of you dally and hourly
But try to be brave and content.
There are tears that we shed in silence
And we breathe a sigh of regret
For you were ours and we remember
Though all the world forget.
We often think we see your smiling face
As you bade your last good-bye
And you left your home forever
In a distant land to die.
Mike Furdyna (far right) with La Salle Institute teammates in 1943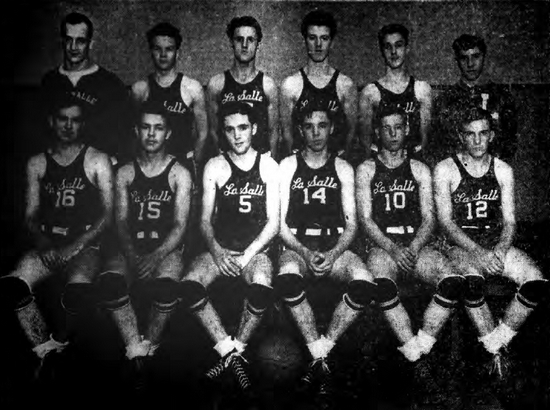 Mike Furdya (front row, second left) with the La Salle Institute basketball team of 1942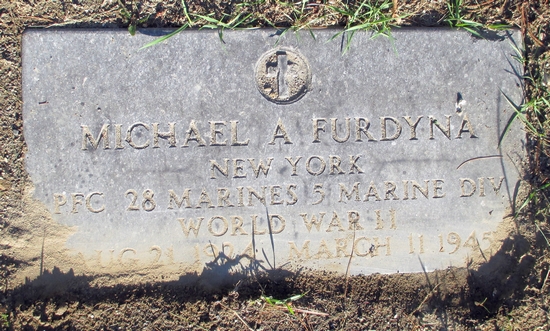 Mike Furdyna's grave marker at Saint Josephs Cemetery in Troy, New York
Source
Troy Times Record, June 22, 1942
Troy Times Record, December 19, 1942
Troy Times Record, April 27, 1943
Troy Times Record, April 6, 1945
Troy Times Record, April 7, 1945
Thanks to Astrid van Erp for help with a photo for this biography.
Date Added: June 27, 2014. Updated August 5, 2017
Can you add more information to this biography and help make it the best online resource for this player? Contact us by email
Read Baseball's Greatest Sacrifice Through The Years - an online year-by-year account of military related deaths of ballplayers
Baseball's Greatest Sacrifice is associated with Baseball Almanac
Baseball's Greatest Sacrifice is proud to be sponsored by