Gene Gabrych
| | |
| --- | --- |
| Date and Place of Birth: | September 12, 1916 Winona, MN |
| Date and Place of Death: | July 5, 1944 Foret de Mont Castre, near St. Jores, France |
| Baseball Experience: | Minor League |
| Position: | Shortstop |
| Rank: | Sergeant |
| Military Unit: | 2nd Battalion, 359th Infantry Regiment, 90th Infantry Division US Army |
| Area Served: | European Theater of Operations |
Eugene J. Gabrych, the son of Frank and Josephine Gabrych, was born in Winona, Minnesota, on September 12, 1916. He and his brothers, Elmer and Ray, played baseball for the Polish National Alliance (PNA) team of the local Bi-State League in the late 1930s, and helped the club to an 18-3 record in 1938, including an 8-4 win before a capacity crowd against the J.J. Kohns team from St. Paul, who were the 1937 National Amateur champions. "Both the fielding and batting of Gene Gabrych, PNA second baseman," declared the local press, "gave the Kohns plenty of trouble. Gabrych collected two hits and drove in three runs; he had five put-outs and three snappy assists."

Gene Gabrych had become quite a local celebrity with the PNA team and he signed with the Eau Claire Bears of the Class D Northern League in 1940, making just a couple of appearances. In 1941, he joined the La Crosse Blackhawks of the Class D Wisconsin State League and, playing as Gene Gabryck, appeared in 111 games, batting .255, driving in 82 runs (sixth best in the league) and often dazzling fans with his defensive skills. "Gene Gabryck . . . handled four putouts and three assists without an error, went behind third to catch a fly, and pulled a classy double play, Gabryck to Neuman," announced the La Crosse Tribune and Leader Press on July 20, 1941. "He went behind second base to get Moxie Muhr's grounder in the eighth and caught him by a step with a fine underhand throw to Neuman."

But the youngster was also impressing fans with his bat. "Gabryck Smacks Homer To Beat Sheboygan Nine," was the headline for the La Crosse Tribune and Leader Press sports page on August 19, 1941. La Crosse hurler Don Schoenborn pitched a three-hitter that day and "Gene Gabryck came through in the hero's role," the article declared, "blasting a home run over the right field fence in the sixth inning with Ed Gittens on base."

Excellent defensive skills coupled with occasional power at the plate spelled a promising future for the 21-year-old, but military service beckoned before the 1942 season got under way. Gabrych was assigned to the U.S. Army's 359th Infantry Regiment of the 90th Infantry Division at Camp Barkeley, Texas, where he had the opportunity to play for the regimental team in the Division baseball league.

After training in Texas the Division went to the Louisiana and California-Arizona Maneuver Areas before sailing for England on March 23, 1944. On June 7, 1944, D-plus-1, Gabrych was bound for Normandy aboard the transport ship USS Susan B. Anthony (AP-72) when it struck a mine and lost all power. Despite this near disaster, Gabrych's entire battalion waded ashore without loss, except for their weapons.

The "Tough 'Ombres" as the 90th Infantry Division quickly became known, went into action against German forces on June 10. On July 5, Sergeant Gabrych was with the 2nd Battalion of the 359th Infantry Regiment as they attacked the northeast corner of the Foret de Mont Castre, near St. Jores in Normandy. Heavy resistance was encountered and the battalion was held short of its objective, suffering many casualties, including the loss of Gene Gabrych.

News of his death deeply affected the close-knit community of Winona, and permission to rename East End Park as Gene Gabrych Park was announced in March 1946 by Mike Libera, business manager of the PNA Baseball Club. Dedication ceremonies were held at the PNA's opening game against Rochester on May 5. H. Irving Tingley was Master of Ceremonies, the Winona Municipal Band played, and speeches were given by Mayor Joseph Druey, Postmaster Leon Bronk, Council President John Dugan and Recreational Director M.J. Bambenek.

Gabrych's body was returned to Winona in 1948. On May 1, funeral services were conducted at St. Stanislaus Church with burial at St. Mary's Cemetery.

In the shadow of his older brother and on the infield dirt of the ballpark named after him, Gene's younger brother Ray fine-tuned his baseball skills with the PNA team during the 1946 season. He signed with the Marion Indians of the Class D Illinois State League in 1948 and batted .214 in 97 games. The following year he joined the Greenville Bucks of the Class C Cotton States League where he concluded his professional playing days batting .186 over 28 games.

Aged 83, Ray Gabrych passed away on October 22, 2009. Elmer Gabrych passed away in October 2010.
| | | | | | | | | | | | | |
| --- | --- | --- | --- | --- | --- | --- | --- | --- | --- | --- | --- | --- |
| Year | Team | League | Class | G | AB | R | H | 2B | 3B | HR | RBI | AVG |
| 1940 | Eau Claire | Northern | D | - | - | - | - | - | - | - | - | - |
| 1941 | La Crosse | Wisconsin State | D | 111 | 431 | 59 | 110 | 31 | 4 | 7 | 82 | .255 |
Gene Gabrych Park remains in use today although the covered wooden grandstands have long since been removed and replaced by modern metal bleachers. Nevertheless, proudly displayed upon the backstop is a sign that reminds everyone how the park got its name:
GABRYCH PARK
NAMED IN HONOR OF
GENE GABRYCH
DIED IN WORLD WAR II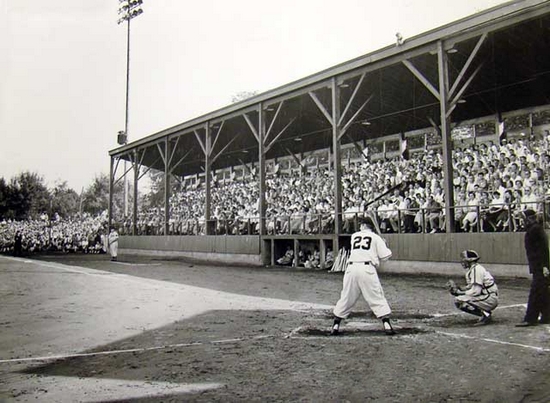 Gene Gabrych Park in Winona, MN, as it appeared in the 1950s. It was home to the Winona A's of the Class B Three-I League in 1958.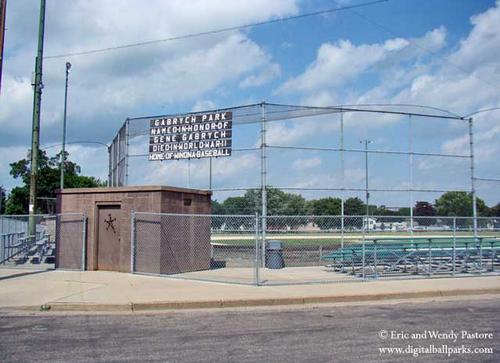 Gabrych Park in Winona, Minnesota. As it look s today.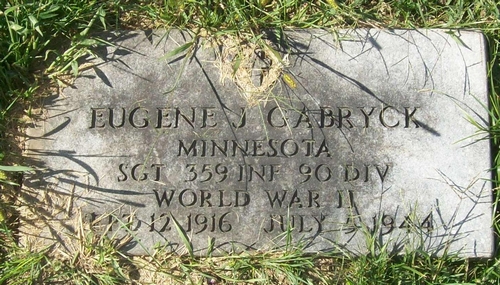 Gene Gabrych's grave at St. Mary's Cemetery in Winona, Minnesota
Date Added January 30, 2012 Updated July 25, 2016
Baseball's Greatest Sacrifice is associated with Baseball Almanac
Baseball's Greatest Sacrifice is proud to be sponsored by