Hugh Garrity
| | |
| --- | --- |
| Date and Place of Birth: | September 26, 1886 Los Angeles, CA |
| Date and Place of Death: | September 27, 1918 Mars-sur-Allier, France |
| Baseball Experience: | Minor League |
| Position: | Outfield/Pitcher |
| Rank: | Private First Class |
| Military Unit: | Company E, 26th Engineers AEF |
| Area Served: | France |
Hugh Garrity - the son of Patrick and Hannah Garrity, who were both from Ireland – was born in Los Angeles, California on September 26, 1886. Sometime before 1909, Garrity's mother died, and his father, who had served with the 6th New York Heavy Artillery during the Civil War, was admitted to the Sawtelle Veterans Home.
Garrity loved baseball and played every opportunity he got. He possessed an outstanding throwing arm which saw him play as both an outfielder and a pitcher. He first played semi-pro baseball with the Eastsiders in Los Angeles, then worked on the San Pedro, Los Angeles and Salt Lake Railroad, playing for the company baseball team in Salt Lake.
In March 1909, Garrity had a tryout with Portland of the Pacific Coast League at their San Luis Obispo spring training camp, but was released and returned to Los Angeles to play semi-pro ball with the Maiers Brewery team. However, Maiers didn't have his services for long as the 24-year-old moved to Bakersfield and played for the Merchants in the San Joaquin Valley League, helping them clinch the league title. He did, however, return to play late-summer ball with Maiers and also played winter ball for the Bakersfield Santa Fe railroad team.
In 1910, Garrity was employed at the Bakersfield Iron Works, but left to play professional baseball as the Bakersfield Drillers assembled their team for the inaugural season of the 4-team San Joaquin Valley League as a Class D minor league. Garrity helped the team clinch the league title with a 21-9 record.
Events took a very unusual turn in March of that year. Whilst still employed at the Bakersfield Iron Works, he was charged with having assaulted a non-union employee of the iron works. Garrity supposedly broke the other man's jaw. He was deemed an "undesirable citizen" by the merchants' committee of Bakersfield and instructed that "it would help the situation for him to depart from Bakersfield." Failing to leave town, 24 armed and deputized merchants entered the "troublemaker's" room at a local lodging house on March 19, 1911. Garrity was escorted to the Southern Pacific (Kern) Depot and placed on the southbound Owl passenger train to Los Angeles.
Garrity was umpiring semi-pro games in Fresno when he was asked to join the Tulare Merchants of the San Joaquin Valley League in May 1911 (Bakersfield didn't field a team in the league that year, which is probably just as well). However, the Tulare team, along with the Porterville Orange Pickers, left the league in July. Garrity, now 24, went to work as a blacksmith helper with the Kern Trading and Oil Company (K. T and O). He continued to play baseball with the Tulare team in 1912, who were back in the San Joaquin Valley League although it was no longer recognized as a minor league. He was also the captain of the K. T and O team in the West Side League for 1912 and 1913. He played for the K. T and O team at Kerto in 1914 through 1916, playing winter ball for the Taft All-Stars. By this time, Garrity was a familiar and well-liked face all over the oil fields of Central California.
On April 6, 1917, the United States joined its allies - Britain, France, and Russia - to fight in World War I against Germany. Thirty-year-old Garrity registered for military service in June and entered service with Company E of the 26th Engineers (Water Supply) in December 1917.
The 26th Engineers was composed mostly of Californians from Kern and Fresno counties. They arrived in the ice and snow at Camp Dix in Trenton, New Jersey on January 7, 1918, after a 2,900-mile railroad journey via Ogden, Cheyenne, Omaha and Chicago. After completing their training at Camp Dix, Garrity and the engineers left for Europe in August 1918.
Company E had been in France for just a few days when Private First Class Garrity died of pneumonia on September 27, 1918. The day after his 32nd birthday. The tragic news was expressed in a cablegram that was received by his sister, Josephine Acevedo, in mid-October 1918.
Hugh Garrity was buried at the American Expeditionary Forces Hospital Center cemetery at Mars-sur-Allier, France. He was disinterred and reburied at the Nevers Communal Cemetery in Nievre, France on June 15, 1919. He was disinterred again on October 21, 1920, and shipped from the port of St. Nazaire on board the USAAT Wheaton to Hoboken, New Jersey, eventually arriving in California in January 1921, where he was buried with full military honors at the Calvary Cemetery, Los Angeles, following a ceremony at the Plaza Church of Our Lady of the Angels.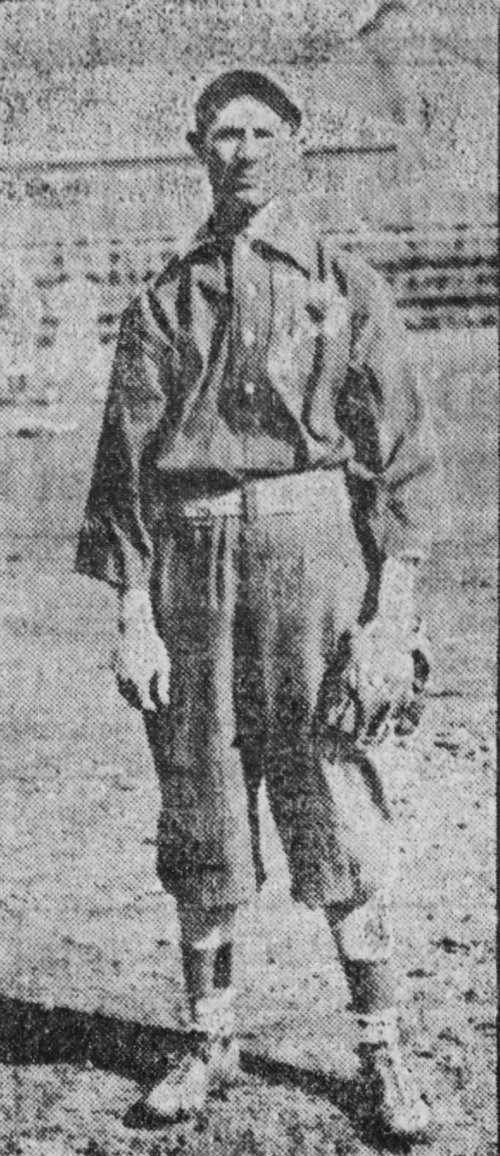 Thanks to Chris Woodman and Michael Sekeres for "discovering" Hugh Garrity and allowing me the opportunity to include him as part of the Baseball's Greatest Sacrifice family.
Date Added May 9, 2020
Baseball's Greatest Sacrifice is associated with Baseball Almanac
Baseball's Greatest Sacrifice is proud to be sponsored by