Alan Grant
| | |
| --- | --- |
| Date and Place of Birth: | February 19, 1918 Virginia |
| Date and Place of Death: | December 29, 1943 Cwm Dyserth Mountain, Wales, Great Britain |
| Baseball Experience: | Minor League |
| Position: | Pitcher |
| Rank: | Second Lieutenant |
| Military Unit: | 334th Bomb Squadron, 95th Bomb Group USAAF |
| Area Served: | European Theater of Operations |
His tour of duty with the Eighth Air Force in England had finished and he was on his way home to his wife, but it was a journey he would never complete.
Alan S. Grant grew up just a couple of miles from Wrigley Field. He attended Lake View High School in Chicago where he excelled as a pitcher and enrolled at the University of Illinois in the fall of 1937. The stocky young hurler with the permanent smile on his face hurled for the varsity team for three years, playing alongside future major leaguers Hoot Evers and Boyd Bartley. In 1941, his senior year, Grant was team captain and opened Illinois' spring training tour by keeping Louisiana State University hitless for the first five innings of a 7–2 win on March 31. To open the Big Ten campaign on April 11, he was beaten by Indiana, 2–1, despite allowing only three hits, but defeated Wisconsin, 5–0, the following week, prompting Wisconsin coach Art Mansfield to say that Grant, "had as fine control as any college pitcher he had seen in some time."

Grant's 3–2 victory over Michigan on May 9 was the highlight of his season. He held the Wolverines to four singles in handing them their first defeat of the year. In his last outing of the campaign on May 16, Grant beat Ohio State, 8–3, allowing the Buckeyes six hits. His five wins for the year tied him for first place among Big Ten pitchers.

Grant graduated from Illinois' college of liberal arts in June 1941, and signed with the Chicago Cubs' organization, being assigned to their Class D South Atlantic League team at Macon. When the Macon Peaches set out on their new team bus for Greenville, South Carolina, on June 18, 1941, Grant was on board to begin his only summer of professional baseball. The Peaches were managed by Milt Stock, who had a 13-year National League career as an infielder; Grant's teammates included Frank Marino, a 5-foot-9 righthander who finished the year with a 19–1 record, and shortstop Eddie Stanky, who would join the Cubs in 1943 and remain in the major leagues until 1953. Grant made just nine appearances during the season for an 0–1 record but the Peaches were never out of contention for the Sally League title and finished in first place with a 90–50 record. They beat Columbus in four games to clinch the first round of the playoffs, then lost to the Columbia Reds in the final playoff round. On September 16, game three of the playoffs against Columbia, Grant appeared in his last professional game, making a relief appearance in the Peaches 8–2 loss.

On January 24, 1942, Grant married his college sweetheart, Mary Lois Daum, and three days later he entered military service with the Army Air Force, beginning training as an aviation cadet at Grider Field, Pine Bluff, Arkansas. At Kelly Field, near San Antonio, Texas, on November 5, 1942, he earned his bombardier's silver wings and a commission as a second lieutenant. He was then assigned to San Angelo Army Air Field, Texas, as an instructor. Being a bombardier was a complex job. He needed not only math skills that approached those of the navigator in addition to an understanding of complex laws of physics, but also motor skills more delicate than those required of the pilot. Grant needed to master complex principles of physics and mathematics, including the laws of falling bodies and of motion, and concepts of air resistance and air
movement.

Grant was later assigned to the 19th Bomb Group at Pyote Army Air Field, Texas, where he was involved in training bombardiers to use the Norden bombsight fitted in the Boeing B-17 Flying Fortresses - the four-engine bomber being used by the Eighth Air Force in Europe. Perhaps his time with B-17s gave Grant a desire for combat because he put in a request for overseas duty and in October 1943 he was assigned to the 334th Bomb Squadron, 95th Bomb Group in England. Based at Horham Airfield in Suffolk, the 95th Bomb Group, attached to the Eighth Air Force, flew daytime bombing missions to hit targets in France and Germany. Flying in extreme conditions, crews had to endure excessive cold temperatures and constant use of oxygen, while suffering the ever-present danger of anti-aircraft fire and enemy fighter planes. Grant was lead bombardier for the 334th Bomb Squadron, and he had to be confident and resourceful, taking responsibility for the success of missions as all planes dropped their bombs on the word of the lead bombardier, not from each bombardier in each plane.

Three months after arriving in England, Grant had completed his 25-mission tour of duty and was ready to go home to his wife, who was employed in the University of Illinois Alumni Association office. On December 29, 1943, Grant was one of 20 airmen who boarded a B-17F nicknamed "Ruthless" (42-5791) for the first leg of their journey home. It was just after one o'clock in the afternoon and the skies were clear although it was bitter cold. First Lieutenant Alden R. Witt was at the controls that morning, warming up the four Wright Cyclone engines. He was a highly experienced pilot with almost 400 hours on the B-17. This ferrying flight would be a piece of cake and would take a little under two hours to cover the 300 miles to Woodvale, a Royal Air Force station near Southport. Witt would fly west from Horham to northern Wales, out over the Irish Sea then north to Woodvale.

Just before take-off, Corporal Andrew Mullavey came running over to the plane. He had just obtained permission to fly home and barely made it before Witt taxied the bomber to the runway.

The first part of the flight was uneventful but as they approached Wales the weather deteriorated. Heavy clouds, icy conditions and thick fog cut visibility down to 100 yards and Witt relied on his navigator to track their location. Estimating they had reached the coast, the navigator instructed Witt to begin his decent. In fact, they were still four miles from the coast, and as the plane emerged out of the fog at around 2:45 P.M., Cwm Dyserth Mountain appeared before them. The collision was violent. Two loud explosions were heard and the bomber crashed in a valley just 25 miles from its destination. All 21 aboard the plane perished in the burning wreck.

Evan Jones was walking along a nearby road at the time of the crash. Because of the dense fog he was unable to see the plane but heard the mighty roar of its engines and the deafening explosions. "[I] went across a field to the plane which was afire," he said at the time. "Here I was joined by another man and the two of us tried to render assistance but
it was impossible to do anything."

It was seven days before Mary Lois, at the family home in Champaign, Illinois, received the devastating news of her husband's death. His loss sent shockwaves through the community and, in particular, among his friends and the faculty at the university.

"You get to know these fellows pretty well in four years of baseball," Walter Roettger, his coach at Illinois, told a reporter shortly after receiving news of the ballplayer's death.

"They don't come any better than Al. I don't know when anything has hit me so hard. News like that drives this whole war home to you."

Alan Grant was buried at Cambridge Military Cemetery in England. On January 30, 1944, memorial services were held at Lake View Presbyterian Church in Chicago - the same church where he and Mary Lois had married two years before.
| | | | | | | | | | | | |
| --- | --- | --- | --- | --- | --- | --- | --- | --- | --- | --- | --- |
| Year | Team | League | Class | G | IP | ER | BB | SO | W | L | ERA |
| 1941 | Macon | South Atlantic | B | 9 | 32 | - | 13 | 8 | 0 | 1 | - |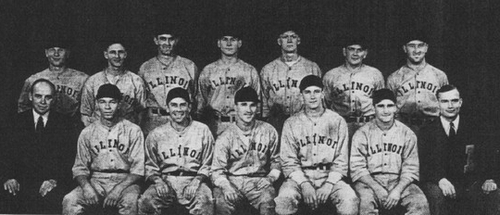 Alan Grant (back row, second from right) with the University of Illinois baseball team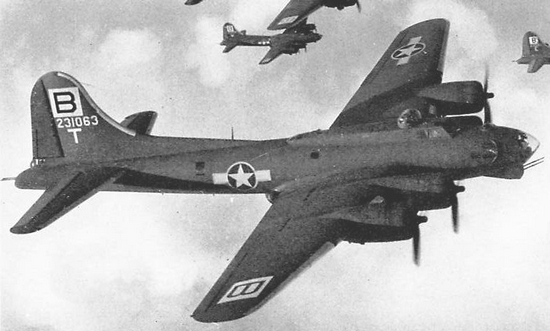 A Boeing B-17F of the 95th Bomb Group. The type 2/Lt. Grant was aboard when he was killed on December 29, 1943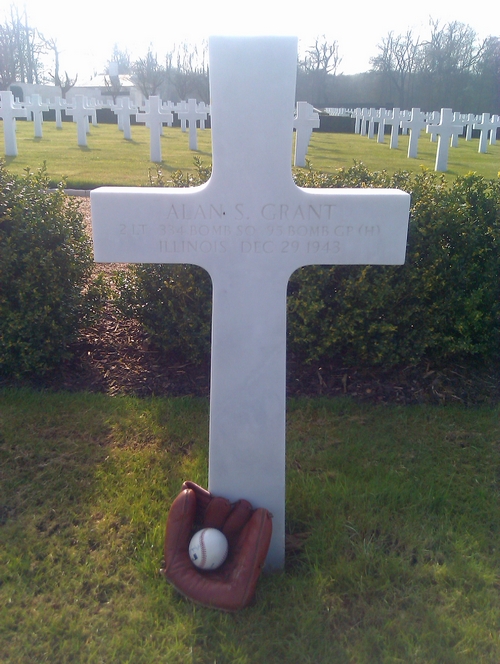 2/Lt. Alan S. Grant's grave at the Cambridge Military Cemetery in England. I visited his grave a couple of years ago when I took this photo. I took along a ball glove too, as you can see.
Thanks to Linda Stahnke, Archival Operations and Reference Specialist, University of Illinois for help with this biography.
Date Added January 30, 2012 Updated July 11, 2013
Baseball's Greatest Sacrifice is associated with Baseball Almanac
Baseball's Greatest Sacrifice is proud to be sponsored by