Chief Greene
| | |
| --- | --- |
| Date and Place of Birth: | January 13, 1887 Natchez, MS |
| Date and Place of Death: | October 16, 1918 Chateau Thierry, France |
| Baseball Experience: | Minor League |
| Position: | Pitcher |
| Rank: | Private First Class |
| Military Unit: | Company D, 105th Machine Gun Battalion, 27th Division, US Army |
| Area Served: | France |
Chief Greene was one of the best pitchers to come out of the Washington, D.C., area and was touted by numerous pro clubs.
Sherman R. Greene, the son of Mr. and Mrs. Theodore H. Greene, was born on January 13, 1887 in Natchez, Mississippi. A Seminole Indian, he naturally acquired the nickname "Chief" and after attending public schools in D.C., studied law at the city's Catholic University.

Greene had an outstanding pitching career at Catholic over four years and was team captain his junior and senior seasons (1912 and 1913). "Chief Greene is way above the ordinary run of amateur twirlers," reported the Washington Herald on June 18, 1911. "Greene has speed, control and best of all, good, fast-breaking curves. There are several Class D teams after him and he will most likely be seen in the professional ranks before another season rolls around."

It was rumoured the right-hander was playing professional baseball in Pennsylvania in June 1911. Whether this is true or not, I cannot confirm, but for the majority of that summer he pitched in D.C. for the Cornell Company Tigers of the Capital City League and the American Security and Trust Company Bankers of the Bankers' League.

On April 1, 1912, Greene pitched for Catholic against the Washington Senators. Despite losing, 7-0, "the Chief pitched classy ball the first six innings," according to the Washington Herald report the following day. On May 16, he hurled a no-hitter over Notre Dame, striking out 12, and also shutout the U.S. Naval Academy that season; the first time that had been achieved by any team in three years.

Philadelphia Phillies manager, Red Dooin, made Greene a standing offer to join his team, as did Billy Lush, manager of the Montreal Royals of the Class AA International League. Many expected he would desert the amateur ranks to play professionally, but Greene remained in D.C. that summer, pitching for the Bankers.

With Catholic in 1913 for his senior year, Greene led the team to a 23-7 record and the South Atlantic championship, and professional baseball came knocking on his door once more. In June, Greene, together with Catholic teammate Jimmy Horan, signed with the Elmira Colonels of the Class B New York State League. Both players left Washington for Elmira on June 11. "Elmira baseball officials have been watching these players for the past two years, and only lately were they able to make a satisfactory deal," reported the Elmira Star-Gazette on June 11. "Chief Greene is one of the most noted of college pitchers, having this year won 14 straight games including contests with Yale, Harvard and other larger college aggregations."

On July 22, 1913, Greene pitched for the Colonels in the second game of a double-header against Utica, allowing six hits in a 3-2 defeat. On July 27, he pitched an exhibition game against the strong Mohawk Giants semi-pro team of Schenectedy, losing 7-3, but striking out seven along the way. He also made a relief appearance in a 10-2 defeat against Syracuse on July 30. Then, on August 20, while still with the Colonels, he pitched for Mansfield and defeated the Blossburg team before a crowd of 2,000 at the annual picnic of the Odd Fellows of Tioga County.

By September of that year Greene was back in D.C. and pitched for a team composed of minor leaguers who made their home in Washington against the Bankers, city titleholders for 1913. He saw out the summer pitching for the All-Star Club in Washington, where his batterymate was Joe Giebel, who went on to make an appearance for the Philadelphia Athletics on the last day of the month.

In March 1914, Greene worked with the Business High School pitching staff in Washington, preparing them for their forthcoming season. It was reported that he would be joining the Wilkes-Barre team of the New York State League in the spring, where a young Joe McCarthy was the manager, but by May he was in D.C., pitching for Steel Plant in the Potomac League. On May 24, 1914, he made a relief appearance against the Chicago Federal League club for the Andrews Papermen, and also played for the Dreadnought Club later that summer.

In May 1915, Greene was among a number of D.C. players who boarded the Baltimore & Ohio train at Union Station to play for "Country" Morris with the Martinsburg Champs of the Class D Blue Ridge League. I have been unable to confirm he made any appearances for the Martinsburg team but he was back in Washington in September, pitching for the Potomac League All-Stars against the Government League All-Stars.

Greene left Washington after the 1915 season and was in business with a rubber company in Akron, Ohio, when he was drafted in September 1917. He trained at Camp Sherman, Ohio, for nine months and went overseas in June 1918, with Company D, 105th Machine Gun Battalion of the 27th Division.

Serving in France, Private First Class Greene was killed in action by shellfire prior, to the Battle of La Selle River, in the vicinity of St. Souplet, France, on October 16, 1918. He was 31 years old and originally buried at Busigny in France. He now rests at Arlington National Cemetery in Virginia.

A letter he wrote to his parents, dated the day he died, said, "We have been out of the front line now about two weeks and we are just about ready to go in again. We hardly ever go back to the same front twice, but generally to a new front. Consequently we have been hiking some every few days."

Greene had come close to losing his life earlier in October. "I was ... hit in the back of the helmet by a machine-gun bullet," he had explained, "but it simply glanced off and left a mark on the helmet."

His wife and eight-month old son were living in Brookville, Pennsylvania, at the time of his death. His name is included on a tablet at Catholic University that was erected in honor of former students who made the ultimate sacrifice during World War I.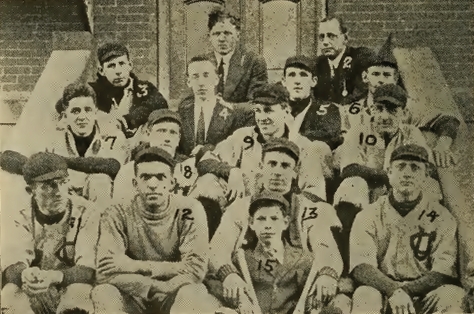 1911 Catholic University team (Chief Greene is front row, second left, #12)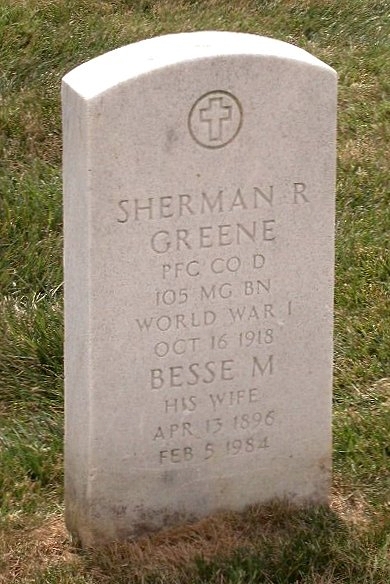 Sources
Washington Herald, June 18, 1911
Washington Herald, June 19, 1911
Washington Times, March 31, 1912
Washington Herald, April 2, 1912
Washington Times, May 17, 1912
Washington Herald, June 22, 1912
Washington Herald, Dec 29, 1912
Spalding's Official College Baseball Annual for 1912, 1913 and 1914
Washington Herald, March 18, 1913
washington Times, June 11, 1913
Elmira Star-Gazette, June 11, 1913
Utica Herald-Dispatch, July 22, 1913
Elmira Star-Gazette, July 28, 1913
Gloversville Morning Herald, July 31, 1913
Elmira Star-Gazette, August 22, 1913
Washington Times, Sept 12, 1913
Washington Herald, Sept 16, 1913
Washington Herald, Sept 19, 1913
Washington Herald, Dec 4, 1913
Washington Herald, March 15, 1914
Washington Herald, March 30, 1914
Washington Herald, May 15, 1914
Washington Herald, May 23, 1914
Washington Herald, May 26, 1914
Washington Herald, June 8, 1914
Washington Herald, May 17, 1915
Washington Herald, Sept 20, 1915
Washington Herald, November 23, 1918
Washington Times, Nov 23, 1918
Date Added: June 3, 2014. Updated January 13, 2018
Thanks to Linda Robinson for help with this biography.
Can you add more information to this biography and help make it the best online resourse for this player? Contact us by email
Read Baseball's Greatest Sacrifice Through The Years - an online year-by-year account of military related deaths of ballplayers
Baseball's Greatest Sacrifice is associated with Baseball Almanac
Baseball's Greatest Sacrifice is proud to be sponsored by