Jim Grilk
| | |
| --- | --- |
| Date and Place of Birth: | September 21, 1914 Manila, Philippine Islands |
| Date and Place of Death: | July 16, 1942 nr. Woodland, Sacramento, CA |
| Baseball Experience: | Minor League |
| Position: | Catcher/First Base |
| Rank: | Civilian Instructor |
| Military Unit: | Civilian Athletic Director at Sacramento Army Air Depot |
| Area Served: | United States |
Jim Grilk was a civilian, using his baseball skills to help the military sports program and make the team at Sacramento Army Air Base one of the best in the state.
James M. Grilk was born in Manila in the Philippine Islands, and was raised in San Francisco, California. He attended the University of California at Berkeley, where he was a standout first baseman for the Golden Bears with a conference-leading .377 batting average in 1935. Grilk attracted offers from the Yankees and Indians but it was the St. Louis Cardinals that got him to sign in May 1935. That summer he joined the Bloomington Bloomers of the Class B Three-I League, where he got off to a sensational start, batting .407 after 12 games. Sixty-three games into the season, he had a .306 batting average, seven home runs and 35 RBIs, and finished the year with the Huntington Red Birds of the Class C Middle-Atlantic League, where he batted .315 in 22 games.

In 1936, Grilk joined the Sacramento Solons of the Class AA Pacific Coast League. Opening Day was a memorable one for the first baseman because he was involved in the Pacific Coast League's first Opening Day triple play. With runners on first and second in the first inning of the game against Portland, Sid Stringfellow, the Solons shortstop, caught a line drive hit by Portland's Bill Sweeney, and then tossed the ball to Frank Morehouse at second, who relayed the ball to Grilk at first to complete the triple play. Another unique feature of the play was that it was the first Pacific Coast League fielding chance for all three infielders.

Grilk, who was also given a trial as a catcher by manager Bill Killefer, and played 31 games at that position, played 158 games with the Solons in 1936, for a .258 batting average and 10 home runs. He was acquired by the Toronto Maple Leafs of the Class AA International League for 1937, but refused to report and found himself playing Class B baseball with the Asheville Tourists of the Piedmont League. Grilk proved to be one of the best hitters in the league and batted .320 in 136 games with 43 doubles, 25 home runs and 120 RBIs. The Cardinals' organization sent the 23-year-old to the Columbus Red Birds of the Class AA American Association for 1938, where he split time as a catcher and first baseman, and batted an uncharacteristic .234 in 50 games. He finished the season back with Asheville and batted only .245 in 45 games.

Despite his weak year at the plate in 1938, Grilk was proving himself to be a useful defensive catcher and he returned to California and the Solons in 1939, playing 98 games, and splitting catching duties with Bruce Ogrodowski. Grilk enjoyed a career-year in 1940, playing 125 games as Sacramento's starting catcher, and batting .299 with 48 RBIs. The following year, just as he seemed to be a permanent fixture in the Pacific Coast League, he broke a finger which did not mend properly. His batting average plummeted to .219 in 18 games and the Solons loaned him to the New Orleans Pelicans of the Class A1 Southern Association, where he batted .231 in 39 games.

By the spring of 1942, the United States was at war, and Grilk was on loan again, but this time as a civilian athletic director at the Sacramento Army Air Depot, where he was player/manager with the depot baseball team. On Monday, July 13, 1942, Grilk (who had just applied for a commission with the Army Air Force) and Lieutenant John Corcoran were driving to Sacramento after a day's fishing. At around 4:30 P.M., 20 miles northwest of Sacramento, near Woodland, with Corcoran at the wheel, they collided with an oncoming vehicle. Grilk suffered multiple injuries including a fractured skull that rendered him unconscious. He was taken to the nearby Yolo Hospital for treatment. Corcoran was also treated for cuts and a possible skull fracture. The occupants of the other vehicle, Charles Frields and his 15-year-old son Edward, had been en route to Knights Landing to look for work. Charles suffered minor injuries while Edward suffered a fractured left arm. Grilk was still unconscious when he was moved to Sutter Hospital in Sacramento for further treatment. He died, without regaining consciousness, three days after the accident, on Thursday, July 16, 1942.

Grilk was buried at East Lawn Memorial Park, Sacramento, on July 18. He was survived by his wife, Elizabeth, a sister, Dorothy, a brother, Arthur, and his mother, Elizabeth.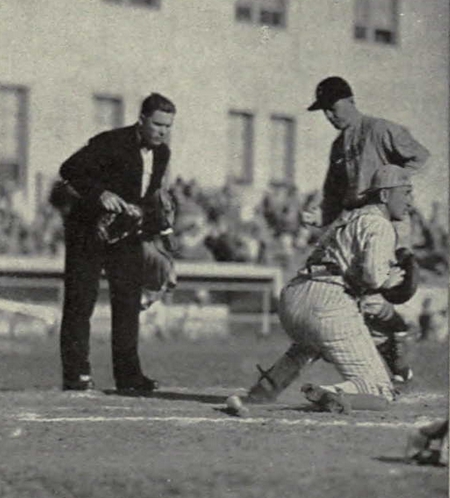 Jim Grilk scores the winning run for the University of California at Berkeley, to break a 5-5 tie in the tenth inning against Stanford
| | | | | | | | | | | | | |
| --- | --- | --- | --- | --- | --- | --- | --- | --- | --- | --- | --- | --- |
| Year | Team | League | Class | G | AB | R | H | 2B | 3B | HR | RBI | AVG |
| 1935 | Bloomington | Three-I | B | 63 | 232 | 41 | 71 | 17 | 2 | 7 | 35 | .306 |
| 1935 | Huntington | Mid-Atlantic | C | 22 | 89 | 12 | 28 | 2 | 0 | 3 | 13 | .315 |
| 1936 | Sacramento | Pacific Coast | AA | 158 | 592 | 65 | 153 | 32 | 6 | 10 | 76 | .258 |
| 1937 | Asheville | Piedmont | B | 136 | 544 | 99 | 174 | 43 | 5 | 25 | 120 | .320 |
| 1938 | Columbus | American Assoc. | AA | 50 | 137 | 14 | 32 | 4 | 5 | 2 | 16 | .234 |
| 1938 | Asheville | Piedmont | B | 45 | 151 | 13 | 37 | 8 | 1 | 0 | 23 | .245 |
| 1939 | Sacramento | Pacific Coast | AA | 98 | 273 | 13 | 65 | 13 | 1 | 3 | 33 | .238 |
| 1940 | Sacramento | Pacific Coast | AA | 125 | 331 | 27 | 99 | 16 | 1 | 6 | 48 | .299 |
| 1941 | Sacramento | Pacific Coast | AA | 18 | 34 | 3 | 14 | 0 | 0 | 1 | 6 | .219 |
| 1941 | New Orleans | Southern Assoc. | A1 | 39 | 91 | 8 | 21 | 2 | 0 | 1 | 9 | .231 |
Thanks to Astrid van Erp for help with photos for this biography
Date Added January 30, 2011. Updated July 29, 2017
Baseball's Greatest Sacrifice is associated with Baseball Almanac
Baseball's Greatest Sacrifice is proud to be sponsored by