Bob Gruss
| | |
| --- | --- |
| Date and Place of Birth: | 1923 Lakewood, OH |
| Date and Place of Death: | August 19, 1944 nr. Tonopah, NV |
| Baseball Experience: | Minor League |
| Position: | Outfield |
| Rank: | Corporal |
| Military Unit: | 442nd AAF Base Unit USAAF |
| Area Served: | United States |
Robert J. Gruss, son of Albert and Mary Gruss, was born in Lakewood, a suburb of Cleveland, Ohio in 1923. He was a backfield star on Lakewood High School's football team, among the top scorers of the Lake Erie scholastic league in 1942, and signed with the Cleveland Indians organization after graduating in June 1943.

Adept at baseball as he was at football, the Indians assigned Gruss to the Batavia Clippers of the Class D PONY League and the young outfielder appeared in 20 games, batting .329 with 12 RBIs and six stolen bases. He appeared to have a promising career ahead of him but military service beckoned and Gruss was a corporal with the Army Air Force before the 1944 season came around.

Gruss trained as an aerial gunner at Tonopah Army Air Field, one of the largest military bases in Nevada. As part of the 4th Air Force's 442nd Base Unit, Corporal Gruss was involved in high altitude bomber training in Consolidated B-24 Liberators.

On the morning of Saturday, August 19, 1944, Bob Gruss was aboard a B-24E that left Tonopah on a routine first phase training flight never to return. The four-engined bomber was being flown by Captain Robert E. Sweet - an instructional pilot with overseas service and recipient of the Distinguished Flying Cross - and Second Lt. Robert L. Pyle. Exactly what went wrong remains a mystery, but it is believed there was a failure of the right vertical stabilizer. The plane crashed in the Nevada wilderness about 20 southeast of the airfield killing all nine crew members.

The young airman's body was returned to his parents in Lakewood and buried at Calvary Cemetery in Cleveland on August 28.

In 1991, Bob Gruss was inducted in the Lakewood High School Sports Hall of Fame.
| | | | | | | | | | | | | |
| --- | --- | --- | --- | --- | --- | --- | --- | --- | --- | --- | --- | --- |
| Year | Team | League | Class | G | AB | R | H | 2B | 3B | HR | RBI | AVG |
| 1943 | Batavia | PONY | D | 20 | 82 | 14 | 27 | 4 | 0 | 1 | 12 | .329 |

Many thanks to Barbara Connolly and Bob's cousin, Patti Johnson, for their wonderful assistance in compiling this biography.

Patti's Poem for Bobby

I read their words, written long ago;
From another place and time.
They bring the sights, the sounds, the war,
Streaming into my mind.

Oh, they were just young eager boys,
Facing Fates beyond their years.
Too rapidly growing into men,
Forced to breathe with swallowed tears.

Their belief in Duty, Honor, Pride,
Pushed them through the daunting news.
They vowed to fight on, and to NEVER Forget,
The Fallen and Missing Crews.

And when they came home, at war's end,
Among their bags and souvenirs,
They carried their comrades in their hearts,
And kept them safe for the rest of their years.

They never speak of their Heroic feats,
The part they played in Terror's fall.
Instead they ask, that you recall,
The Ones who gave their all.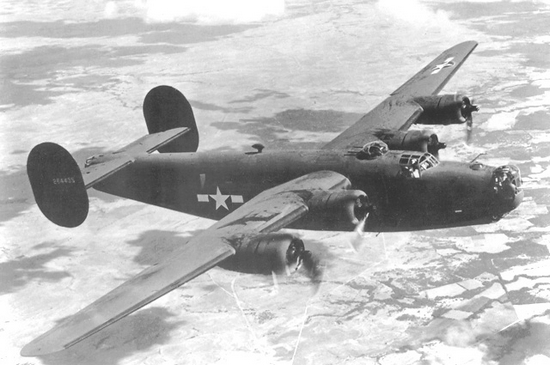 A B-24E Liberator. That type in which Cpl. Bob Gruss lost his life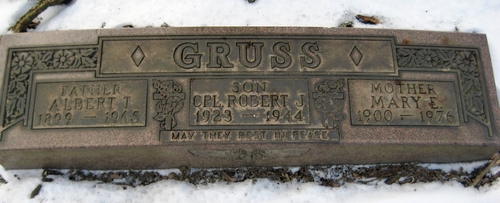 Cpl. Robert J. Gruss' grave at Calvary Cemetery in Cleveland, Ohio
Thanks to Barbara Connolly and Patti Johnson for help with this biography. Thanks also to Astrid van Erp, for help with photos for this biography.
Date Added January 31, 2012 Updated July 30, 2017
Baseball's Greatest Sacrifice is associated with Baseball Almanac
Baseball's Greatest Sacrifice is proud to be sponsored by