Nay Hernandez
| | |
| --- | --- |
| Date and Place of Birth: | October 12, 1919 San Diego, CA |
| Date and Place of Death: | March 22, 1945 Ludwigshafen, Germany |
| Baseball Experience: | Minor League |
| Position: | Outfield |
| Rank: | Private |
| Military Unit: | 376th Infantry Regiment, 94th Infantry Division US Army |
| Area Served: | European Theater of Operations |
Nay Hernandez was San Diego's opening day left fielder in his rookie season in 1944. At the end of the year he was in the Army. By the following spring he was dead.
Manuel P. "Nay" Hernandez came from a big family. He had ten sisters and four brothers, and he and his twin sister, Margarita, were among the youngest. His parents, Francisco and Gregoria, were originally from Mexico and moved to San Diego in 1903, when Gregoria's brother, who had a job on the railroad in San Diego, paid a penny in immigration fees for each of his sister's family to enter the United States.

Francisco found work on farms in southern San Diego County before working for the Street Department of the City of Chula Vista, but with so many mouths to feed, the family was far from wealthy. However, they had a roof over their heads and food on the table. They also had baseball and the Hernandez children loved baseball. "Our whole family played ball," remembered Nay's sister Valentina. "We had our own Hernandez team and we'd play everybody. My sisters were good too, but Nay was the best."

Hernandez was passionate about the game. "All he wanted to do was play baseball," recalled Valentina. "Everyday after school he'd go practice. My mother would ask where he was and Nay was always practicing baseball. He'd do his chores and he was gone."

Hernandez attended San Diego High School, where he played for legendary coach Dewey "Mike" Morrow and was All-Southern California with the varsity team in 1937 and 1938. Hernandez also played with the Hilltoppers in the Pomona Tournament, an annual event that featured Southern California's best school teams, and attracted players such as Ted Williams, Jackie Robinson and Bob Lemon. When Morrow's team clinched the Pomona Tournament title for the third time in 1938, they gained permanent possession of the $250 Stuart Carnation cup (previous wins were in 1934 and 1938). "Manuel Hernandez was an outstanding member of the San Diego High School baseball team," recalled Morrow. "He was a fine boy to work with and very popular with all his teammates. He hit in the 'clean-up' position for us, which indicates a heavy hitter, and was directly responsible for many of our victories."

Despite his athletic skills, Hernandez did not enjoy the academic side of school, as Walter McCoy, who pitched for the Negro League Chicago American Giants from 1945 through 1948, recalled. "One day he [Hernandez] talked Freddy Martinez and me into playing hooky. We liked school, but we really admired Nay because he was such a good ballplayer. We were flattered he invited us to go with him. We walked to Fifth and Laurel near Balboa Park. There were lots of big, beautiful homes. Nay said he was taking us to one of them. That's when we learned his older sister was a maid for some rich people. She invited us in and fixed a nice lunch. We never played hooky again, but I never forgot that lunch in the rich people's house."

Outside of school, Hernandez played American Legion baseball with the San Diego Post 6 team, and after graduation in 1938, he went on to play with the Neighborhood House team - one of the top semi-pro teams in San Diego. Meanwhile, his sister Valentina earned recognition as one of the finest softball players in the county with the Coronado Lime Cola team. Walter McCoy played against Hernandez on the sandlots. "Sandlot ball in San Diego was top notch," recalled McCoy. "I was with Cameron's Café and we met Neighborhood House for the city championship in '40. We played at University Heights, where Ted Williams played as a kid. The place was packed because we were both good teams. Nay was a consistent hitter. He always made contact and had pretty good power. You had to be careful pitching to him. [He] was a very quiet guy, easy going, never gave any trouble, but he was tough. Some people misread him and made the mistake of pushing him too far. If you got in a fight with him, you were in trouble. All the Hernandez boys were boxers and Nay never lost a fight."

In 1940, Nay married Lucy Villa, and the couple had a son later that year named Manuel (known as "Baby Nay"). "I remember the first game after he got married," recalled Jesus "Jesse" Ochoa, a Neighborhood House teammate. "He swung and missed the first pitch. He swung so hard at the second pitch that he fell down. We yelled at him: 'That's what happens when you get married, Nay.'"

By 1944, Hernandez — who had not been drafted by the military due to a heart murmur was playing ball with the Rohr Aircraft Corporation team in the County League. The Pacific Coast League — just one level below the majors — was one of only 12 minor leagues in operation due to the manpower shortage and war restrictions, and San Diego Padres manager George Detore was desperate for players. When he saw Hernandez play in a Padres exhibition game against Rohr Aircraft, he offered the young outfielder a contract. Detore paid Hernandez $250 a month and he joined the Padres for spring training, showing his ability against powerhouse military and defense plant teams and earning a spot on the roster for the regular season.

On Opening Day, April 8, 1944, in front of 5,000 hometown fans at the Padres' Lane Field ballpark, Hernandez trotted out to left field for his first taste of professional baseball. Batting sixth in the line-up against the Oakland Oaks, he went 1 for 2, and scored a run in the Padres 8–5 win. A week later, on April 15, again playing against Oakland, Hernandez went 2 for 4 with a triple as San Diego won, 8–3. He enjoyed his best game at the plate against Seattle on April 20, going 3 for 6 with a double in the Padres 3–2 win over the Rainiers.

Manuel, Jr., would watch his father play at Lane Field. "I remember my Uncle Chapo would put me on his shoulders and jump over the seats to go down to the field," he recalled. "I was a little guy and it scared me, but my dad would come to the fence. He'd hand me over the fence. My dad would hug me and hand me back to my uncle."

Defensively, Hernandez was sensational. "He could run like a deer," said Joe Valenzuela, also a rookie with the Padres in 1944.

Valentina Hernandez also recalls her brother's defensive abilities. "I remember him running for a long fly ball at Lane Field," she said. "He caught it leaping over the fence, but he hung on to it."

Despite his defensive prowess, Hernandez struggled at the plate against the Coast League pitchers and batted a lowly .207 in the 30 games he played for the Padres.Hopes of a second season in professional baseball were dashed when Hernandez received his draft call on August 8, 1944. "The twist in the Nay Hernandez story is that he would not have gone into the Army had he not played professional baseball," said San Diego baseball historian Bill Swank. "When he was able to play for the Padres — who were desperate for warm bodies in 1944—the draft board decided that he must be able to carry a rifle, too."

"I saw Nay before he left," recalled McCoy. "I was home on leave and he was in his uniform saying good bye to his friends at the barber shop."

When Hernandez left his young wife and son for basic training it was early morning. "It was still dark outside," recalled his son, "and my dad was wearing his Army uniform. He had his duffle bag. I remember he told me, 'Now, you take good care of your mother, because I don't think I'm coming back.' I was just a little kid and didn't know what he meant."

Not long after Hernandez got into the service the Germans made their last major offensive in the Ardennes in Europe, later known as the Battle of the Bulge. America put all her available troops into the European campaign and, just three months after joining the Army, Private Hernandez was in Germany as a replacement with the 376th Infantry Regiment, 94th Infantry Division. The division had been in the European Theater since August 1944, and had originally been in Brittany, France, where it was responsible for containing some 60,000 German troops besieged in the Channel ports of Lorient and Saint-Nazaire. On New Year's Day 1945, the division headed northward to help hold the Third Army front, where it found itself in the thick of the coldest winter in Europe in years.

Occupying a sector between the Moselle and the Saar rivers—the sole spot of German soil held by American troops at the time—conditions for a young man from San Diego, California, were alien. With night temperatures falling to around zero degrees Fahrenheit, his top priorities were keeping his head down in foxholes, and finding ways to stop his feet from freezing. The division had an epidemic of trench foot.

On January 14, the 94th Infantry Division — known as "Patton's Golden Nugget" — went on the offensive and seized the German towns of Tettingen and Butzdorf. The following day, Nennig was taken, but strong Nazi counterattacks followed, and the towns changed hands several times before being finally secured. Moving east, the division took Sinz in early February, and launched an attack across the Saar River. By the beginning of March, the division was 700 miles further south, spearheading the Third and Seventh Armies' drive to the Rhine. "We are pretty dam [sic] busy," Hernandez noted in a letter home, "and we are moving so dam [sic] fast I haven't much time to write. We've been taking town after town."

Around March 20, 1945, the 376th Infantry Regiment was called upon to capture the industrial city of Ludwigshafen, one of Germany's prize chemical producing centers. The city had been a prime target for strategic bombing by the Allied air forces because its factories produced much of Germany's ammonia, synthetic rubber, synthetic oil and other vital chemicals. The city's railroad yards were important targets too, and hundreds of small factories produced war materials, such as diesel engines for submarines. When the 376th Infantry Regiment entered Ludwigshafen they were met with an artillery attack and by strong resistance from fanatical German troops defending their homeland in the rubble and ruins of the city streets.

Fighting against snipers, concealed anti-tank guns and cellar strongholds, Private Hernandez was among many young Americans who were killed before Ludwigshafen was taken on March 24, 1945. Unfortunately, for Hernandez, a week after his death the 94th Infantry Division was pulled out of action and sent to Willich, Germany, for Occupation duty.

On April 3, 1945, a Western Union telegram was delivered to Mrs. Gregoria Hernandez in San Diego, advising "that your son Pvt Hernandez Manual P was killed in action in Germany."

"I remember my mother crying," recalled Manuel, Jr. "I'd never heard her crying like that before. She was wailing. I figured it out when she took me to my grandparents' home down by 27th and Newton. Everybody was crying. That's when I realized my dad was never coming home."

Several days later, Gregoria received the last letter her son wrote. It was dated March 5, 1945, and written from "Somewhere in Germany." In the letter, Hernandez asked his mother not to worry and said he was taking good care of himself, but if anything should happen to him, "the government will let you know about it as soon as possible." He added, "The Lord is watching over me because I had some close deals and I was praying to God that the next one would land somewhere else." In closing, Hernandez asked for his love and kisses to be given to all his family. His last sentence was, "So may God bless you all at home and be with you at all times. Your son, Nay."

"Manuel Hernandez will always be remembered as a fine example of young manhood," wrote Mike Morrow after hearing of Hernandez's death. "[We] will remember him for what he was, a fine clean boy, and a splendid competitor. He gave his life, fighting, that other boys might take part in athletics in years to come, in this great democratic country of ours."

Hernandez was buried at the United States Military Cemetery in Luxembourg, with full military honors. Three years later — at the request of the family — his body was returned to his hometown. On August 16, 1948, final rites for Private Hernandez were conducted at the First Nazarene Church. His body now rests at Greenwood Memorial Park in San Diego.

"I like to use my full name: Manuel P. Hernandez, Jr.," his son explained recently, "Because I am very proud to be named after my father. I could never accomplish what he accomplished, but I'm also very proud of my mother. She was Rosie the Riveter. She worked in an aircraft factory during the war. Women who lost their husbands had to work and raise their kids. They sacrificed and I don't think they get enough credit. If it wasn't for my mother, I wouldn't be who I am."

There is a rather unusual but pleasant postscript to this story. In February 1996, Tara McCauley, who was hoping to find her father, contacted the San Diego Padres. All she knew was that her grandfather, Manuel "Nay" Hernandez, had played for the Padres many years before. Tara was the daughter of Hernandez's son, and baseball historian Bill Swank began the search for Manuel Jr. When he eventually tracked him down, father and long-lost daughter were reunited. Tara's grandmother had taken Tara away from Manuel Jr., shortly after she was born, and he had no contact with her again. "Because of baseball, my father found my daughter for me!" said Manuel Jr."

Sixty-five years after his death, on June 14, 2010, Hernandez was honored by the San Diego Padres. The team placed a plaque in his memory in the "military zone" beneath the right field stands at Petco Park. The memorial was unveiled during pregame ceremonies.
| | | | | | | | | | | | | |
| --- | --- | --- | --- | --- | --- | --- | --- | --- | --- | --- | --- | --- |
| Year | Team | League | Class | G | AB | R | H | 2B | 3B | HR | RBI | AVG |
| 1944 | San Diego | PCL | AA | 30 | 82 | 9 | 17 | 2 | 2 | 0 | 5 | .207 |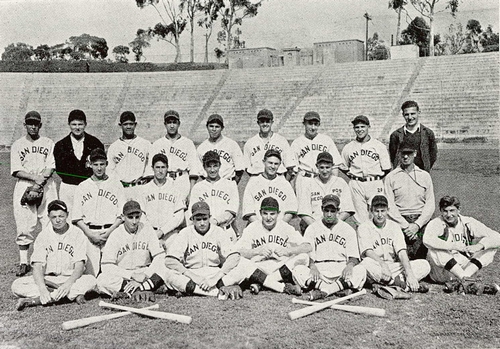 Nay Hernandez (front row, third from right) with the 1939 San Diego High School baseball team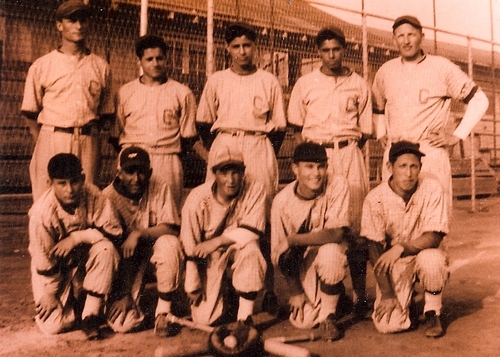 Nay Hernandez with the Cramer's Bakery team (Hernandez id back row, second from right)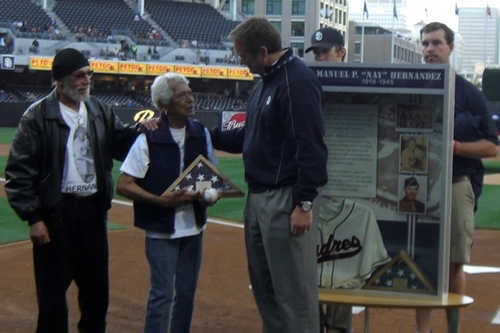 Nay's sister, Tina, and son, Nay, Jr., are presented with the American flag by Padres' president Tom Garfinkel on Memorial Day 2010 at Petco Park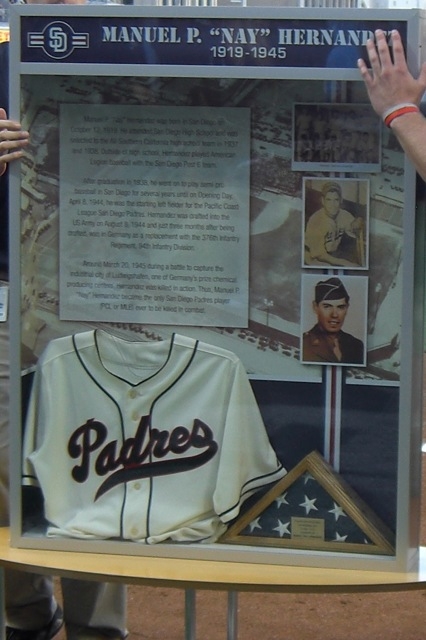 The Nay Hernandez display featured in the Padres' Salute to the Military exhibition beneath the right field stands at Petco Park
Special thanks to Bill Swank for all his help with this biography and the photos. Thanks also to Astrid van Erp for help with photos for this biography.
Date Added January 31, 2012 Updated Updated August 2, 2017
Baseball's Greatest Sacrifice is associated with Baseball Almanac
Baseball's Greatest Sacrifice is proud to be sponsored by