Bob Hershey
| | |
| --- | --- |
| Date and Place of Birth: | August 14, 1915 Universal, PA |
| Date and Place of Death: | July 31, 1943 NAS Trinidad, Caribbean Islands |
| Baseball Experience: | Minor League |
| Position: | First Base |
| Rank: | Lieutenant (jg) |
| Military Unit: | VP-204 US Navy |
| Area Served: | Caribbean |
Robert K. Hershey, the son of Mrs. Margaret Reiter Hershey, was born in Universal, Pennsylvania on August 14, 1915, and grew up in nearby Penn Hills. He attended Union High School, where he played three years of baseball and football, and was co-captain of the football team his senior year. Following graduation, he enrolled at Bucknell University in Lewisburg, Pennsylvania, and played freshman football. He then transferred to the University of Pittsburgh in his second year of college and graduated in Business Administration in 1939.

In 1938, Hershey signed with the Cleveland Indians' organization and the left-handed hitting first baseman batted .343 in 108 games with 18 home runs and 108 RBIs his rookie season with the Logan Indians of the Class D Mountain State League.

During the off-season he enrolled at the University of Pittsburgh and was the standout baseball player at the school although he was unable to play for Ralph Mitterling's Panther squad because of his previous professional experience.

In 1939, Hershey was back in pro baseball and hit .308 with 28 doubles and 14 home runs for the Springfield Indians of the Class C Middle Atlantic League, and progressed to Class B baseball with the Cedar Rapids Raiders of the Three-I League in 1940. Hershey continued to hit well and in 126 games with the Raiders he batted .318 with 15 home runs. He also hit 30 doubles and nine triples, and his 99 RBIs was third best in the league, helping the Raiders to the league championship.

In 1941, a season in which the Three-I League was dominated by a young left-handed pitcher named Warren Spahn, Hershey batted .313 in 120 games with 11 home runs and a circuit second-best 100 RBIs. On August 24, 1941, Del Jones, Hershey and Hank Edwards hit homers in succession for a team record, and the Raiders clinched their second successive league championship.

Hershey, who had a minor league career average of .320 over four seasons and had a chance of becoming Cleveland's next first baseman, entered service with the Navy in September 1941.

He took basic flight training at Naval Air Station Glenview, Illinois, then advanced to Naval Air Station Corpus Christi, Texas, before completing training at Naval Air Station Pensacola, Florida, receiving his wings on August 12, 1942. While at Pensacola, he became good friends with 1939 Heisman Trophy winner Nile Kinnick and played first base for the Pensacola team.

As a lieutenant junior grade, he served in the Caribbean with VP-204, flying out of NAS Trinidad. During the night of July 30/31, 1943, Bob Hershey was the navigator and third pilot aboard a Martin PBM-3S Mariner twin-engined flying boat that located a Japanese submarine on radar. Dropping flares as it made an approach to depth charge the sub, the Mariner was hit by 30 caliber machine-gun fire. One bullet passed through the waist hatch and mortally wounded Bob Hershey.
"I went back to the navigator's compartment and found one of the pilots and one of the crew members working over Bob," recalled pilot Lt. L.D. "David" Crockett, in a letter to Hershey's mother. "They had administered first aid and made him as comfortable as possible. They had given him two shots of morphine. He was conscious for about an hour and talked quite a bit. I told him to hang on and I'd get him home as soon as possible."
Lt. Crockett returned to base in an attempt to save Hershey and "pushed the plane for all it was worth.". The 420-mile journey took a little over two hours, but Bob Hershey died just after they reached NAS Trinidad.
"I can remember the night he left us in Springfield during the playoff," recalled Cedar Rapids Raiders manager Ollie Marquardt after hearing the news Hershey's death. "First game he got 2 hits in 5 at-bats, second 3-for-4, third 2-for-4 and we all walked to the station to bid him farewell but little did we realize it was goodbye. I had a lump that night and a misty look in the eyes as I watched him leave and it seems we were all a little sad except Hershey and he was smiling broadly."
"What a guy he was," said Raiders left-hander Stan Gehrke. "They don't make them any better."
Bob Hershey is buried at Plum Creek Cemetery in Plum, Pennsylvania.
| | | | | | | | | | | | | |
| --- | --- | --- | --- | --- | --- | --- | --- | --- | --- | --- | --- | --- |
| Year | Team | League | Class | G | AB | R | H | 2B | 3B | HR | RBI | AVG |
| 1938 | Logan | Mountain State | D | 108 | 405 | 85 | 139 | 29 | 10 | 18 | 108 | .343 |
| 1939 | Springfield | Mid-Atlantic | C | 124 | 439 | 77 | 135 | 30 | 5 | 14 | 85 | .308 |
| 1940 | Cedar Rapids | Three-I | B | 126 | 469 | 89 | 149 | 30 | 9 | 15 | 99 | .318 |
| 1941 | Cedar Rapids | Three-I | B | 120 | 448 | 93 | 140 | 25 | 10 | 11 | 100 | .313 |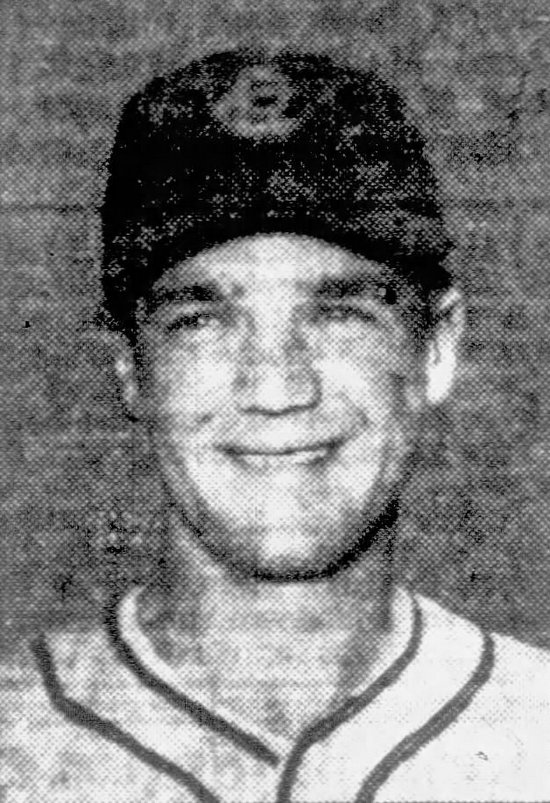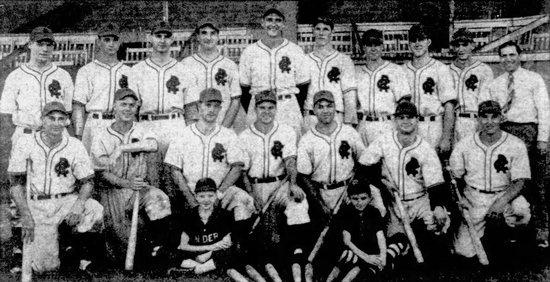 The Cedar Rapids Raiders of 1941. Hershey is back row, sixth from left.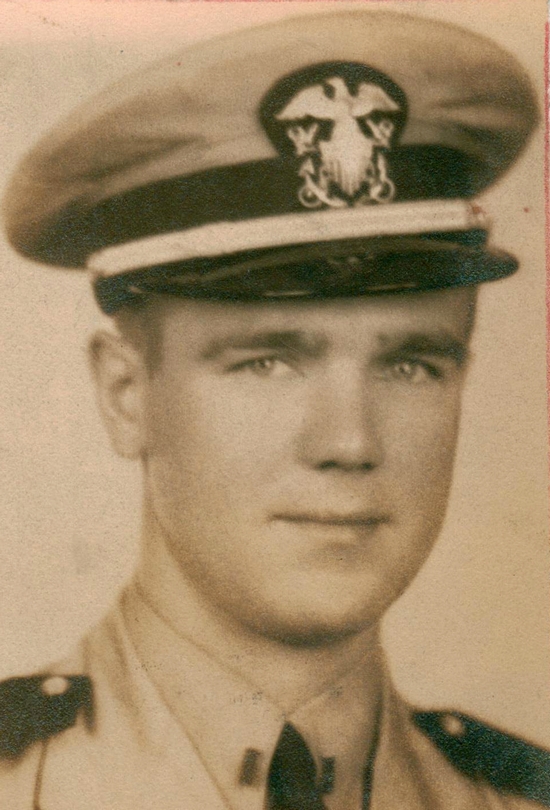 Bob Hershey during naval pilot training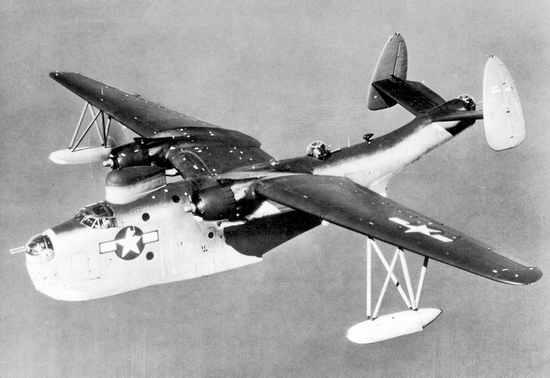 A Martin PBM-3S Mariner. The type Bob Hershey was aboard as navigator and third pilot when he was hit by machine-gun fire from a Japanese submarine on July 30, 1943.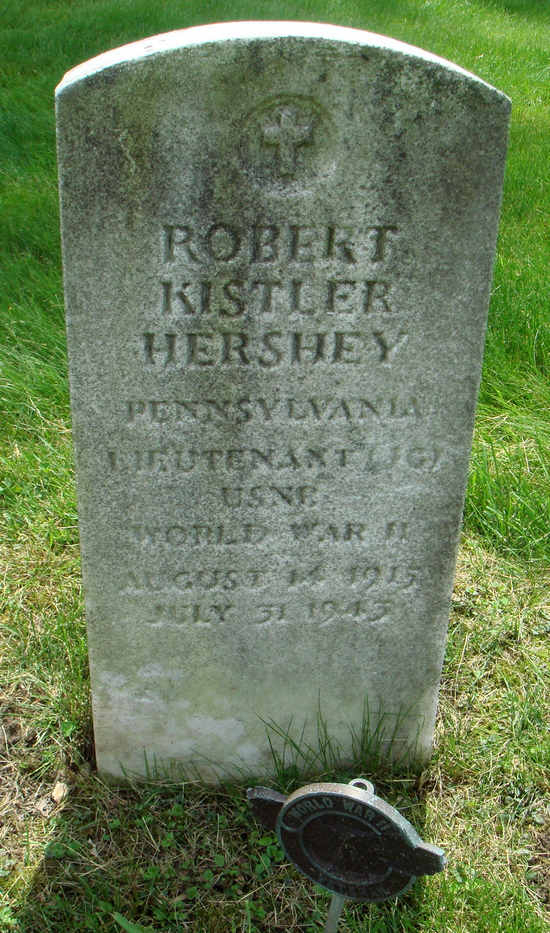 Source
http://www.uboatarchive.net/U-406VP-204ASW-6Report.htm
Cedar Rapids Gazette - August 9, 1943
Cedar Rapids Gazette - August 24, 1943
Cedar Rapids Gazette - September 19, 1943
Cedar Rapids Gazette - November 12, 1944
Date Added January 31, 2012 Updated April 1, 2020
Baseball's Greatest Sacrifice is associated with Baseball Almanac
Baseball's Greatest Sacrifice is proud to be sponsored by