Roswell Higginbotham
| | |
| --- | --- |
| Date and Place of Birth: | August 15, 1898 Jamison, TX |
| Date and Place of Death: | May 23, 1943 Quonset Point Naval Air Station, RI |
| Baseball Experience: | Minor League |
| Position: | Infield |
| Rank: | Lieutenant (jg) |
| Military Unit: | US Navy |
| Area Served: | United States |
"Higginbotham, star athlete of Texas A & M college, back in the early 1920s, died from complications following an abdominal operation."
Port Arthur News May 30, 1943
Roswell G. Higginbotham, known as "Little Hig," first gained prominence as an outstanding backfield football player at Sherman High School, Texas, and went on to become a renowned football and baseball player at Texas A&M from 1917 to 1920. In his junior year, he pitched a no-hitter against the University of Texas, and was a football All-Southwest Conference back in 1919 and 1920.

Following in the footsteps of his brother Graly, Higginbotham left Texas A&M in 1920 to start a career in professional baseball.1 He was signed by the St. Louis Cardinals and attended spring training in 1921 at Orange, Texas, before being assigned to the Paris Snappers of the Class D Texas-Oklahoma League. Batting in the number two spot for fiery manager Earl "Red" Snapp, the young second baseman hit .301 and led the league with 53 stolen bases.

Higginbotham was back with the Snappers in 1922, and his brother Graly was in the same league as player/manager with the Sherman Red Sox. Higginbotham, who played shortstop that year, batted .315 in 96 games, leading the league with 36 doubles, as the Snappers clinched their second successive league title in a season that ended August 6, due to a railroad strike. One advantage of the early season finish was that Higginbotham was called up by the Fort Worth Panthers of the Class A Texas League. On August 25, 1922, he made his first appearance for the Panthers, playing shortstop and going hitless in two trips to the plate. He played one more game before the end of the season.

Higginbotham, however, turned his back on professional baseball after 1922. It was a time when there was often more money to be made with semi-pro teams, and he played with Thurber of the West Texas Oil Belt League during the summer, while coaching football at Austin College in the winter and baseball in the spring. In 1927, he accepted a position as freshman athletic coach at Texas A&M, and in 1928, aged 29, he made a surprising return to professional baseball. Red Snapp — his manager at Paris back in 1922 — was manager and part-owner of the San Angelo Red Snappers of the newly-formed Class D West Texas League, and encouraged Higginbotham to join the club. Batting in his familiar number two spot, but playing the outfield rather than the infield, he played 81 games and hit .286 with 10 home runs as the Red Snappers clinched the league title. They went on to defeat the Abilene Aces, three games to two, in the playoffs, before stumbling against the Palestine Pals of the Lone Star League in a dual championship playoff series. On September 2—in a game against the Pals that was to be one of Higginbotham's last games in professional baseball — he hit three singles.

Higginbotham continued to coach freshman football and varsity baseball at Texas A&M, and produced two championship baseball teams including the school's first ever Southwest Conference title in 1931, and another in 1934. In 1936, Southern Methodist University in Dallas began playing baseball again, after having dropped the sport during the early Depression years, and Higginbotham was hired to coach the team as well as the freshman football team.

He remained at Southern Methodist until April 1943, when, at the age of 44, he enlisted in the Navy. Lieutenant Junior Grade Higginbotham was stationed at Quonset Point Naval Air Station in Rhode Island, but two weeks after his arrival he underwent an emergency abdominal operation at the naval hospital. Higginbotham never recovered from the surgery. He died on May 23, 1943 and is buried at West Hill Cemetery in Sherman, Texas.

"I have met many of his former Southern Methodist players," said his grandson Scott Higginbotham, "and have heard nothing but great things. They tell me he was strict, and extremely fair. All had the highest respect. I would have loved to have known him."

Roswell Higginbotham was buried in Sherman, Texas, and survived by his wife, Margaret, and their son, Bobby. In 1973, he was elected to the Texas A&M Athletic Hall of Fame.
Year

Team

League

Class

G

AB

R

H

2B

3B

HR

RBI

AVG

1921

Paris
Texas-Oklahoma
D
129
462
101
139
33
3
1
-
.301
1922

Paris
Texas-Oklahoma
D
96
359
87
113
36
2
4
-
.315
1922
Fort Worth
Texas
A
3
9
0
4
0
0
0
1
.444
1923 to 1927
Did Not Play
1928
San Angelo
West Texas
D
81
322
76
92
18
6
10
-
.286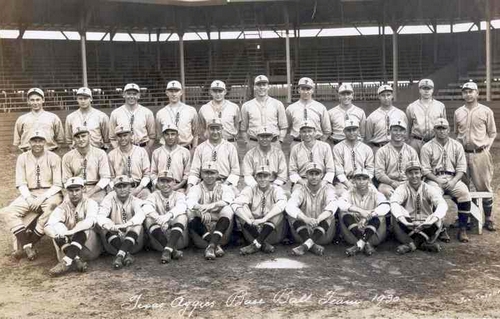 Roswell Higginbotham with the 1920 Texas A&M Aggies team (Higginbotham is back row, far right)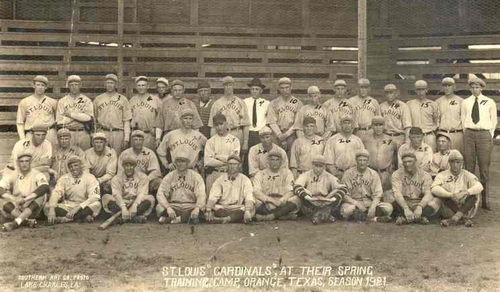 The 1921 St. Louis Cardinals at spring training (Higginbotham is middle row, sixth from left)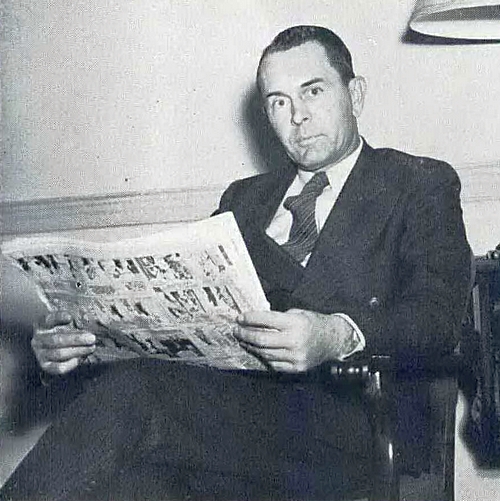 Thanks to the Higginbotham family, David L. Chapman, University Archivist and Associate Director, Cushing Memorial Library and Archives, Texas A&M University and to Davis O Barker for help with this biography. Thanks also to Astrid van Erp for help with photos for this biography
Date Added January 31, 2012 Updated August 2, 2017
Baseball's Greatest Sacrifice is associated with Baseball Almanac
Baseball's Greatest Sacrifice is proud to be sponsored by