Frank Hines
| | |
| --- | --- |
| Date and Place of Birth: | July 18, 1903 Harwood, TX |
| Date and Place of Death: | September 4, 1943 nr. Afton, Virginia |
| Baseball Experience: | Minor League |
| Position: | Outfield |
| Rank: | Second Lieutenant |
| Military Unit: | 58th Flying Training Detachment USAAF |
| Area Served: | United States |
Frank Hines was lucky to have a sensational 1924 rookie season in minor league baseball after getting caught in a bootleg shootout the year before. Military service came calling 14 years after the end of his playing days.
Frank Dexter Hines was born in Harwood, Texas on July 18, 1903. One of seven children born to Francis and Mary Hines, Frank was a star athlete at Heights High School in Houston.

In 1922, Hines attended Rice University and played at least freshman baseball before leaving education. In 1923, he was playing amateur baseball in Houston with the Herbert L. Flake team and Dow Motor Company, with his life almost coming to an end that year when he was shot. On September 13, 1922, at the Sims bayou bridge, three miles from Harrisburg, Frank Hines was working with his brother, Keller, as prohibition officers and had just seized a large quantity of whiskey from two bootleggers, whom they placed under arrest. At around this time, two Harrisburg deputy constables drove by and stopped their vehicle just beyond the location of the prohibition officers. Assuming they were bootleggers, the constables drew their weapons and opened fire on the Hines brothers. Frank was hit in the hand, while his brother, who sustained a slight wound to his foot, thought the constables were with the bootleggers they had just arrested, seized a Winchester rifle and returned fire, shooting both constables. An investigation followed with no charges being made against anyone and the incident was declared a case of mistaken identity.

In 1924, Frank Hines signed with the Enid Harvesters of the Class D Southwestern League and enjoyed a sensational rookie season, batting .315 in 91 games and a league-leading 24 stolen bases. He returned to his hometown of Houston in August and played at least one game for the Class A Texas League Houston Buffs. Despite a promising start to his professional career, Hines was in and out of baseball over the coming seasons, possibly as a result of wanting secure employment after getting married to Minnie Neel in January 1925. He worked as a statistician for a sulphur company, but played 21 games with the Springfield Senators of the Class B Three-I League in 1927 (batting .313) and 38 games with the Fort Wayne Chiefs of the Class B Central League in 1928. By 1940, he was a gas and oil lease broker living a comfortable life in a house worth today's equivelant of $350,000 at 3202 Parkwood Drive in Houston, with his wife, Minnie, sister-in-law Mattie and niece Louise.

Hines entered military service in September 1942, at the age of 39. He served as a second lieutenant with the Army Air Force, attached to the 58th Flying Training Detachment at Hawthorne School of Aeronautics in Orangeburg, South Carolina. On September 4, 1943, 40-year-old Frank Hines was the passenger in a twin-seat Vultee BT-13A Valiant basic trainer that took off from Orangeburg and later crashed near Afton, Virginia, in the Blue Ridge Mountains. Hines was killed in the crash, while pilot, Edward M. Kass, escaped with injuries and was taken to Woodrow Wilson General Hospital near Staunton.

Frank Hines' body was returned to Texas and he is buried at Forest Park Cemetery in Houston.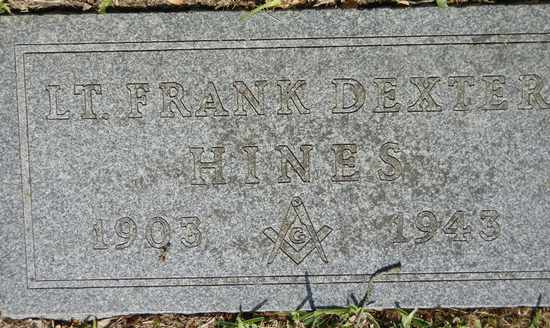 Date Added May 1, 2022
Thanks to Davis O. Barker for "discovering" Frank Hines.
Baseball's Greatest Sacrifice is associated with Baseball Almanac
Baseball's Greatest Sacrifice is proud to be sponsored by