Thomas Howie
| | |
| --- | --- |
| Date and Place of Birth: | April 12, 1908 Abbeville, SC |
| Date and Place of Death: | June 17, 1944 Martinville, France |
| Baseball Experience: | College |
| Position: | Unknown |
| Rank: | Major |
| Military Unit: | 3rd Battalion, 116th Infantry Regiment, 29th Infantry Division US Army |
| Area Served: | European Theater of Operations |
Thomas D. Howie was born on April 12, 1908, in Abbeville, South Carolina. He worked at a local printers through high school, and as an outdoor labourer for the Abbeville mills during the summer, playing baseball for the mill team. He attended the Citadel military college, South Carolina, in 1925, where he was captain of the baseball team, a star halfback on the football team, and a member of the boxing team. Following graduation in 1929, he taught English and coached baseball and football at Staunton Military Academy in Virginia, where he also played five seasons in the Augusta County Baseball League. He was commissioned into the U.S. Army Reserve in 1932 and in 1934 transferred to the Virginia National Guard's 116th Infantry Regiment, which was based at an armory in Staunton.

Second Lieutenant Howie entered active duty when the 29th Infantry Division was federalized in 1941. In September 1942, he left his wife, Elizabeth, and their four-year-old daughter, Sally, when his unit was assigned to England.

On June 6, 1944, the 116th Infantry Regiment landed at Omaha Beach, suffering heavy losses. Now a major, he was assigned to command the 3rd Battalion of the 116th Infantry Regiment on July 17, 1944, as they moved towards Saint-Lô to relieve the exhausted and battered 2nd battalion. On July 17, the 3rd Battalion broke through German lines at Martinville, and reached the 2nd Battalion at the La Madeleine crossroads on the Bayeux Road. He then phoned his position to Major General Charles Gerhardt, commanding general in the region, shouting, "See you in Saint-Lô."

That same day, as they pushed towards Saint-Lô, a German mortar attack mortally wounded Major Howie. He died in the arms of Captain Putenny.

News of his death spread quickly and Major General Gerhardt, remembering Howie's battle cry, "See you in Saint-Lô," decided he would give him that honor. The 3rd Battalion were ready to take Saint-Lô and Major Howie would lead them. His body was placed on a stretcher and an ambulance carried him forward as the battle raged around. Close to the town he was transferred to the hood of a jeep. Once they reached Saint-Lô, his body was placed on the rubble of what used to be Le Croix church. He was draped with the American flag and, for three days, countless soldiers passed by to pay their respects.

Major Howie was posthumously awarded the Silver Star, Bronze Star, Purple Heart and the French Legion of Honor. He is buried at the Normandy American Cemetery at Colleville-sur-Mer.

Today, a monument stands in Saint-Lô remembering Howie. In The Citadel's Daniel Library, there is a large mural of "The Major of Saint-Lô", painted by David Humphreys Miller. The Thomas Dry Howie Carillon Tower at The Citadel was erected in 1954. In his hometown of Abbeville, is a monument to Howie with the inscription, "Dead in France; Deathless in Fame."
Thomas Howie at Staunton Military Academy in 1939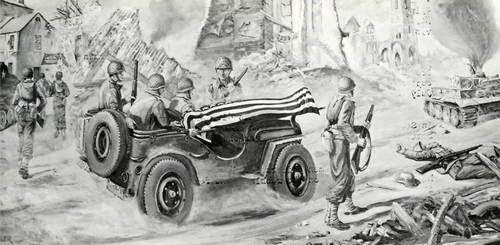 David Humphreys Miller's mural of Major Howie's body being carried into Saint-Lô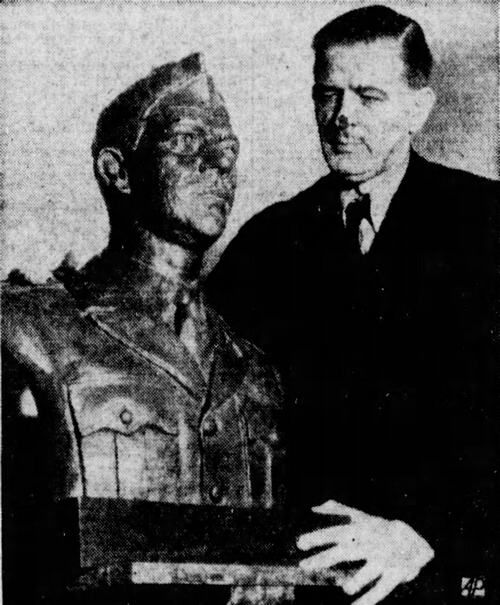 Sculptor William C. Westcott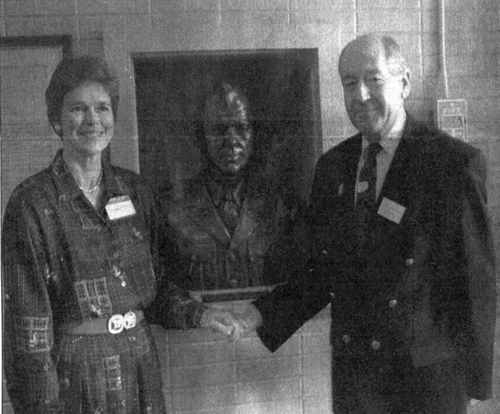 Sally Howie McDevitt, daughter of Major Howie, with Rene Bataille, mayor of Saint-Lô in 1995
Thanks to Astrid van Erp for help with information and photos for this biography.
Date Added August 6, 2017
Can you add more information to this biography and help make it the best online resource for this player? Contact us by email
Read Baseball's Greatest Sacrifice Through The Years - an online year-by-year account of military related deaths of ballplayers
Baseball's Greatest Sacrifice is associated with Baseball Almanac
Baseball's Greatest Sacrifice is proud to be sponsored by