Charlie Joplin
| | |
| --- | --- |
| Date and Place of Birth: | March 7, 1889 Joplin, AL |
| Date and Place of Death: | June 21, 1918 Belleau Woods, France |
| Baseball Experience: | Minor League |
| Position: | Shortstop |
| Rank: | Second Lieutenant |
| Military Unit: | 7th Infantry Regiment, 3rd Division US Army |
| Area Served: | France |
Charles W. Joplin, the son of James (a dry goods merchant) and Julia Joplin, was born on March 7, 1889, in Gurley, Madison County, in northeast Alabama.

Under coach D.V. Graves he played baseball and football at the University of Alabama from 1911 to 1914. On September 30, 1911, Joplin caught a 65-yard touchdown pass for the final score in a 24-0 win over Howard. He was the team's starting quarterback in 1912, and again, in 1914. But after the Crimson Tide won the first three games of that season, Joplin was ruled ineligible because he refused to sign an affidavit stating that he had never played professional. baseball. Joplin had, in fact, played with the Americus Muckalees of the Class D Georgia State League, in 1914 possibly playing as Charles West.

In 1915, he played with the Charlotte Hornets of the Class D North Carolina State League. In 48 games, alongside future major leaguers Bob Geary, Razor Ledbetter and Jake Munch, the young shortstop batted .174. Records do not indicate that he played professional baseball in 1916, but in 1917, the 28-year-old played for Dothan in the Class D Dixie League, a team that was managed by former major league third baseman Frank Manush.

Joplin volunteered for militarty service during the spring of 1918. After three months of training he received a commission as an army lieutenant and was shipped to France, where he served with the 7th Infantry Regiment, 3rd Division. In June 1918, the 7th Infantry were sent into the Belleau Woods area to relieve the 6th Marines. On June 21, Second Lieutenant Joplin lost his life. It wasn't until December 1918, that he was first reported as wounded. Confirmation of his death was not received until March of the following year.

Charlie Joplin is buried at the Aisne-Marne American Cemetery in Belleau, Picardie, France.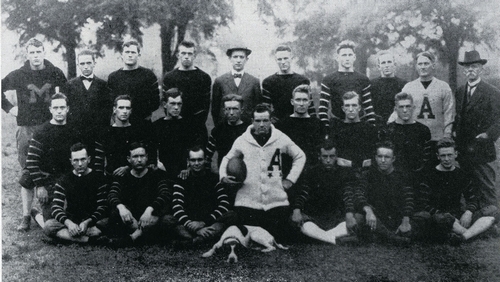 The 1914 University of Alabama football team
Charlie Joplin is back row, third from right
Thanks to Jack Morris for bringing Charlie Joplin to my attention.

Sources
Atlanta Constitution, 23 October 1919
Sporting Life, October 31, 1914
Charles Joplin's WWI Registration Card
1900 U.S. Census
1910 U.S. Census
Date Added: May 12, 2017
Baseball's Greatest Sacrifice is associated with Baseball Almanac
Baseball's Greatest Sacrifice is proud to be sponsored by