Apau Kau
| | |
| --- | --- |
| Date and Place of Birth: | September 9, 1890 Kohala, Hawaii |
| Date and Place of Death: | November 5, 1918 Borne-du-Cornouiller, France |
| Baseball Experience: | Semi-Pro |
| Position: | Pitcher |
| Rank: | Sergeant |
| Military Unit: | Company E, Second Battalion, 315th Infantry Regiment, 79th Division, US Army |
| Area Served: | France |
Apau Kau, recognized as the greatest Chinese pitcher in the United States, hurled a perfect game in April 1915.
Apau "Sam" Kau was born to Chinese immigrant parents in Kohala, Hawaii on September 9, 1890. His family moved to Honolulu in 1901 and there he attended Kauluwela School and Royal School.
A spitball pitcher with a deceptive delivery and an even more deceptive pickoff move, Kau spent his teenage years hurling for the Chinese Athletic Club in the highly competitive Oahu League. They became the Chinese-American Stars Baseball Club in 1911 and the All-Chinese team thereafter.
Described as "feared by many opposing batters because of his speed, curves and change of pace," Kau traveled to the mainland United States in 1912 with the Chinese Travelers team. Selected from the best players of Chinese origin on Hawaii, the tour was organized by sports executive Nat Strong, and the Travelers played over 100 games against amateur, college, semi-pro and minor league teams. So popular was the Chinese-Hawaiian team that they returned each year for further tours. In 1913, Kau recorded wins over St. Mary's College (CA), Westminster College (MO), Iowa State College, University of Minnesota, Sacred Heart College (WI), Washington & Jefferson College (PA), Holy Cross, Norwalk Baseball Club (CT), and Southwalk Athletic Club (PA).
For Kau, the 1915 tour was probably his most successful. On
March 28, 1915, he pitched against the San Antonio Bronchos of Class B Texas League, and while he lost, 3-2, he allowed just 6 hits to the minor league batters. The San Antonio Express talked with glee about his "wonderful spitter, control and excellent headwork," while stating that his showing was real big league stuff and that he ranked better than some of the major league pitchers. The following month, he hurled a perfect game against Baylor at Waco, Texas. "His spitball was working fine," noted the Travelers' Alfred Yap," and besides, his other offerings were too puzzling for the Baylor batsmen. All they did was to go up to the batter's box, take the count and slip back to the bench." Kau struck out 20 in the game.
Kau enjoyed success on home soil as well. On December 15, 1914, he pitched against the All-Americans in Hawaii, and although he lost, 5-2. He faced, among others, Red Sox first baseman Dick Hoblitzel, Tigers third baseman George Moriarty, Yankees second baseman Luke Boone, Indians shortstop Ray Chapman and Senators catcher John Henry. Kau had a shaky fourth inning and gave up four runs but impressively held the big leaguers to a single tally over the rest of the contest.
By 1917, Kau had moved to the mainland and was living in the Philadelphia area, where he worked as a salesman in the sporting goods section of the Lit Brothers Department Store. He also pitched for the Lit Brothers team and shutout the Ketterlinus Baseball Club, 16-0, in his team's home opener that year.
With his country at war with Germany, Kau, aged 27, registered for the draft in April 1917, and was called to service on September 22. Lit Brothers gave him a farewell dinner at Philadelphia's Hanover Hotel, and he trained at Camp Meade, Maryland, with the 315th Infantry Regiment – "Philadelphia's Own." Early in 1918, Sergeant Kau was encouraged to enrolled in the officers' training camp at Fort Meade. However, he resigned in April 1918 and returned to Company E, Second Battalion. Despite the great amount of training that had to be undertaken, Kau still found time to play sports. During the winter of 1917/1918 he played right guard on the regimental football team and joined the regiment baseball team in the summer of 1918, alongside Athletics hurler Harry Seibold.
The baseball season was short-lived, however, with the news that the regiment would be deployed to France. On July 8, 1918, the 315th Infantry boarded the liner USS America (ID-3006) at Embarkation Pier No. 3 at Hoboken, New Jersey. The following afternoon, the America steamed down the Hudson and out into the Atlantic. Nine days later they arrived at Brest, France. By the end of the month, Company E was at Anjeurres. By September, they were at Dombasle and advanced to the trenches on the night of September 13. Company E entered the frontline on Hill 304, about 10 miles northwest of the Verdun forest. Four hundred yards away, across the waste of rusted wire and shell-torn ground that marked No Man's Land, ran the German front line. On September 26, 1918, the 315th Infantry went "over the top" and attacked the German positions.
By the start of November 1918, the 315th Regiment was preparing to attack the enemy-held heights of the Borne-du-Cornouiller (Hill 378), the westernmost spur of the Grande Montagne. During the night of November 4/5, the Second Battalion moved up from the support position and relieved the badly battered First Battalion on the line. Sergeant Kau was among those leading the advance against the fury of the German positions at Hill 378. On November 5, 1918, he was killed by German gunfire. Six days later, on November 11, the war ended.
News of Apau Kau's death reached home at the beginning of December and was reported across the United States. "We had hoped for the best," A. En Sang Pau, one of Apau Kau's brothers, told the Honolulu Star-Advertiser, "and now that the war had been over three weeks we hoped Apau Kau had survived its terrible ravages. While our grief is great, we are proud that in dying our brother gave his all for his country."
"Everywhere he impressed baseball men with his worth as a pitcher," reported the Brooklyn Daily Standard Union on December 5, 1918. "This runty Hercules just tilled away and so thoroughly that few of the leading independent clubs encountered escaped defeat at his hands."
Originally buried in France, Apau Kau's remains were returned to Hawaii and now rest at Oahu Cemetery. In 1928, Kau Tom Post 11 of the American Legion was named after Apau Kau and George Bung Quon Tom, another Chinese-Hawaiian who lost his life during the Great War.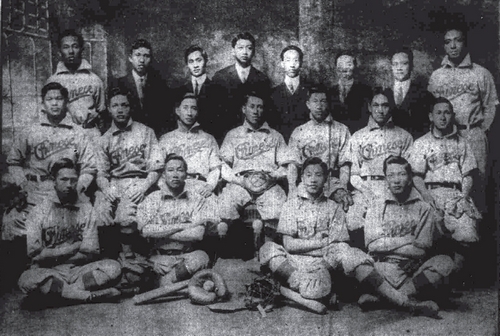 Chinese Travelers 1912. Apau Kau is middle row, first left.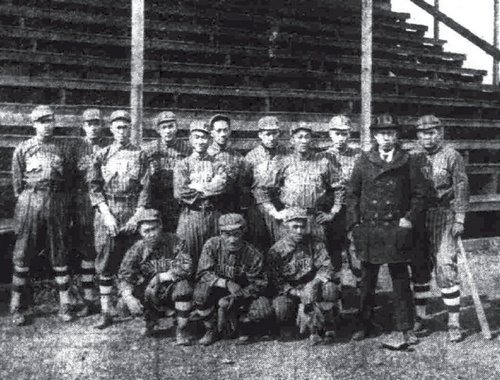 Chinese Travelers 1914. Apau Kau is standing, far right.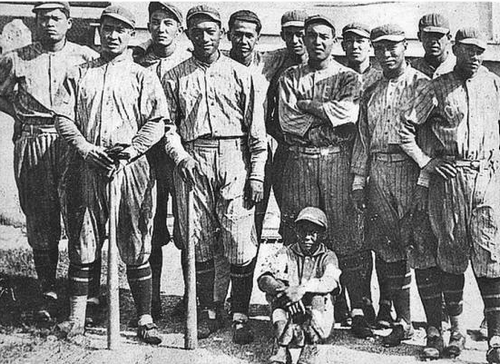 Chinese Travelers 1915. Apau Kau is standing, far left.
Sources
Honolulu Evening Bulletin, November 14, 1908
Hawaiian Star, April 14, 1911
Honolulu Star-Bulletin, October 14, 1912
Honolulu Star-Bulletin, March 18, 1913
Honolulu Star-Bulletin, September 3, 1913
Honolulu Star-Bulletin, April 14, 1914
Honolulu Star-Bulletin, December 16, 1914
San Antonio Light, March 29, 1915
Honolulu Star-Bulletin, April 14, 1915
Honolulu Star-Bulletin, April 23, 1915
Hawaiian Gazette, April 23, 1915
Honolulu Star-Bulletin, June 8, 1915
Honolulu Star-Bulletin, November 2, 1915
Brooklyn Daily Eagle, August 15, 1915
Honolulu Star-Bulletin, May 22, 1917
Honolulu Star-Bulletin, July 24, 1917
Honolulu Star-Advertiser, December 1, 1918
Brooklyn Daily Standard Union, December 5, 1918
Maui News, December 6, 1918
El Paso Herald, December 19, 1918
Franks, Joel S. The Barnstorming Hawaiian Travelers. Jefferson, NC: 2012
Official History of the 315th Infantry: 1920

Date Added September 6, 2013. Updated July 30, 2017
Thanks to Astrid van Erp for help with photos for this biography.
Can you add more information to this biography and help make it the best online resource for this player? Contact us by email
Read Baseball's Greatest Sacrifice Through The Years - an online year-by-year account of military related deaths of ballplayers
Baseball's Greatest Sacrifice is associated with Baseball Almanac
Baseball's Greatest Sacrifice is proud to be sponsored by