Dayle Klett
| | |
| --- | --- |
| Date and Place of Birth: | April 12, 1924 Everly, IA |
| Date and Place of Death: | September 17, 1943 Naval Air Station (NAS) Ottumwa, IA |
| Baseball Experience: | College |
| Position: | Unknown |
| Rank: | Cadet |
| Military Unit: | US Navy |
| Area Served: | United States |
Former prominent athlete killed at Ottumwa
Spirit Lake Beacon – September 23, 1943
Dayle B. Klett, the son of Charles and Mabel Klett, was born in Everly, Iowa on April 12, 1924. Klett played baseball at Everly High School and was on the school basketball team that went to the State tournament. He began playing American Legion junior baseball with the nearby Hartley team in May 1939 and helped them defeat Cherokee, 9-6, in their first game of the season.

Klett graduated in 1941 and entered Iowa State University, where he played varsity baseball. During the winter of 1941, he was playing basketball for the Everly town team and helped them beat Buena Vista College, 38-29 on December 11.

On August 16, 1943, Klett, just 19 years old, left Iowa State for Minneapolis, Minnesota, where he was called to report for naval reserve service. He was immediately assigned to Naval Air Station (NAS) Ottumwa for primary flight training.

Cadet Klett had been in the service just four weeks when, on September 17, 1943, he was in the air in a Stearman N2S-2 Kaydet two-seater trainer with an instructor when something went wrong with the plane. Both the instructor and Klett bailed out safely and were descending by parachute, when the unmanned plane circled around and collided with Klett, killing him instantly.

Military rites were held on September 21 for Dayle Klett, with a service at the home of his parents followed by a service at the Methodist church in Spencer. Klett is buried at Lone Tree Cemetery in Everly, Iowa.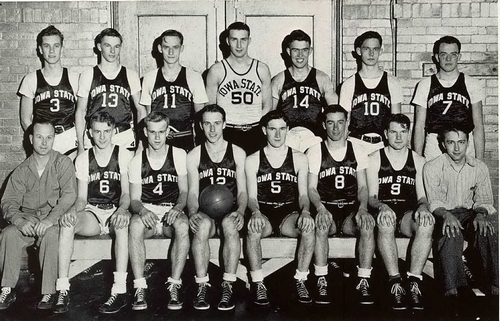 Dayle Klett #13 (back row, second left) with the Iowa State College freshman basketball team in 1943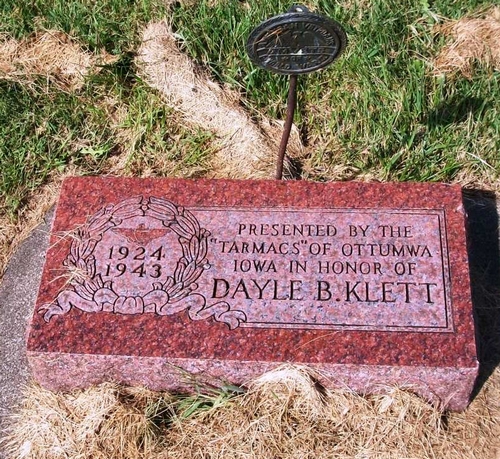 The grave of Cadet Dayle Klett at Lone Tree Cemetery in Everly, Iowa.
Sources:
Spirit Lake Beacon – April 14, 1938
Spirit Lake Beacon – May 25, 1939
Spirit Lake Beacon – June 15, 1939
Spirit Lake Beacon – June 22, 1939
Milford Mail – December 12, 1940
Milford Mail – December 11, 1941
Spirit Lake Beacon – August 19, 1943
Spirit Lake Beacon – September 23, 1943
Thanks to Astrid van Erp for help with this biography.
Date Added May 7, 2013. Updated August 6, 2017
Can you add more information to this biography and help make it the best online resource for this player? Contact us by email
Read Baseball's Greatest Sacrifice Through The Years - an online year-by-year account of military related deaths of ballplayers
Baseball's Greatest Sacrifice is associated with Baseball Almanac
Baseball's Greatest Sacrifice is proud to be sponsored by