Herb Korenko
| | |
| --- | --- |
| Date and Place of Birth: | June 28, 1917 East Lansdowne, PA |
| Date and Place of Death: | May 29, 1943 St. Nazaire, France |
| Baseball Experience: | College |
| Position: | Infield |
| Rank: | Second Lieutenant |
| Military Unit: | 366th Bomb Squadron, 305th Bomb Group, USAAF |
| Area Served: | European Theater of Operations |
Herb Korenko was an outstanding baseball and football player in high school and college who was looking forward to getting home from Europe for a life of deserved peace.
Herbert P. "Herb" Korenko was born in East Lansdowne, Pennsylvania on June 28, 1917. He graduated from Lansdowne High School in 1935 having excelled in baseball in football. He attended Muhlenberg College after high school where he played the infield on the baseball team and was a center with the football squad.

Korenko graduated in 1939 receiving the bachelor of philosophy degree. He went to work as a credit manager with the Household Finance Corporation in Camden, New Jersy, and joined the Pennsylvania National Guard.

In January 1942, Korenko transferred from the National Guard to the USAAF and was commissioned a second lieutenant after completing the Bombardier Training Program in August of that year.

On February 17, 1943, he was assigned to the 366th Bomb Squadron, 305th Bomb Group, stationed at Chelveston, England. The Muhlenberg College Alumni Magazine received a letter from Korenko as he made the crossing over the Atlantic:

At present I am headed overseas in a flying fortress into the theater of combat where they play for keeps. I am very anxious and glad to be playing a vital part to bring this war to a quicker end with us on top so that I and millions of others can return to a life of deserved peace.

Where I am going or by what route is something I can't disclose, but you can rest assured I'll be in the thick of it blowing up plenty with our supper ships.

Give my regards to all Muhlenberg men whom I pity for not being able to accompany me on this exciting experience.

The Muhlenberg College Alumni Magazine received another letter from Korenko dated April 12, 1943:

Somewhere in England

A brief word to let you know where I am and what I'm doing.

Since arriving over here a great deal has happened. Aside from my exciting work on raids in our great "Forts," I've had time to see much of England. They're not much different in this country, except war and its effects are closer to home. I'm really having the time of my life mixed with a bit of dangerous adventure.

We have a big job to do, and to date it's being done well. When it's over and won, I'll be back to tell you about it. You haven't lived until you've flown a bomber into combat.

On May 29, 1943, just seven weeks after writing Muhlenberg College, Second Lieutenant Korenko's Boeing B-17 Flying Fortress was brought down by German anti-aircraft fire at St. Nazaire, France. It was the crew's 24th mission - one away from completing their tour of duty - and only one crew member survived. Korenko's parents were notified he was missing in action in early June and on July 30 his death was confirmed.

Herb Korenko is buried at the Brittany American Cemetery in St-James, France. On November 21, 1943, the USAAF posthumously awarded Second Lieutenant Korenko the Air Medal with Oak Leaf Cluster and presented it to his father.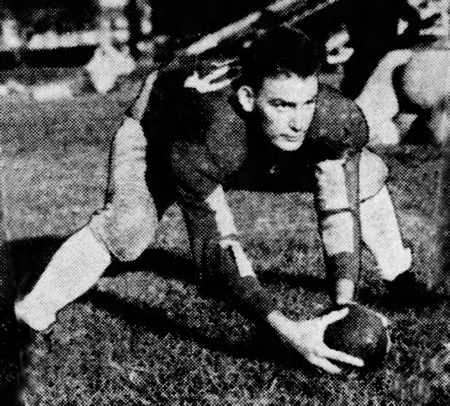 Thanks to Diane Koch, Special Collections Librarian, Muhlenberg College Trexler Library for help with this biography. Excerpts taken from "The Ultimate Sacrifice" - Greater Lansdowne Civic Association. Thanks also to Astrid van Erp for help with photos for this biography.
Date Added July 28, 2012. Updated July 31, 2017
Baseball's Greatest Sacrifice is associated with Baseball Almanac
Baseball's Greatest Sacrifice is proud to be sponsored by