Walt Lake
| | |
| --- | --- |
| Date and Place of Birth: | May 3, 1919 Richmond, IN |
| Date and Place of Death: | July 26, 1944 Les Haies, France |
| Baseball Experience: | Minor League |
| Position: | Catcher |
| Rank: | First Lieutenant |
| Military Unit: | Anti-tank Company, 9th Infantry Regiment, 2nd Infantry Division USArmy |
| Area Served: | European Theater of Operations |
Walter Lake was one of Richmond, Indiana's most promising ballplayers in the late 1930s, but his life was destined to end on a battlefield in France.
Walter E. Lake, son of Clyde and Masry Lake, was one of the most promising young ballplayers in Richmond, Indiana, in the late 1930s. An outstanding catcher for Morton High School and the local American Legion team, he also played for numerous semi-pro clubs as well as playing basketball with the Bell and Wallace team of the city's Industrial League.

Lake was 19 years old when he signed with the Cleveland Indians' organization in 1938. He was initially assigned to the Springfield Indians of the Class C Mid-Atlantic League, but soon moved to the Oswego Netherlands of the Class C Canadian-American League. The Netherlands' attendance in 1938 was just 16,522, second-worst in the league, and they finished sixth among eight teams. It was a miserable year for the team but among the few highlights were the .313 batting average of Walt Lake, and the hitting of shortstop Bob Lemon, who would later convert to a pitcher on his way to a Hall of Fame career with the Cleveland Indians.

Lake, together with fellow Oswego players Carl Fiore, Joe Knight and Elmer Sidlo, joined the Tyler Trojans - the Indians' entry in the Class C East Texas League - at the start of 1939. Lake was batting .371 after 13 games and was later sent to the Abbeville Athletics, a Philadelphia Athletics farm team in the Class D Evangeline League. Despite a pitching staff that featured 22-game winner Max Fugerson and 19-game winner Ed Head, Abbeville finished in sixth place and Lake batted just .193 in 47 games, returning to Tyler before the season's end. On August 30, he spoiled a no-hitter for Eli Birmingham of the Jacksonville Jax with a single with two out in the seventh and final inning of a doubleheader. Lake joined Cedar Rapids Raiders of the Class B Three-I League, but baseball took a backseat as military service loomed.

On January 29, 1941, Lake was inducted into the Army at Fort Benjamin Harrison, Indiana. He was sent to Fort Custer, Michigan, later in the year and then to Camp Forrest, Tennessee, for maneuvers. He trained with the 605th Tank Destroyer Battalion and advanced to private first class, then corporal, before attending Officer Candidate School at Fort Benning, Georgia. In September 1942, Lake graduated as a second lieutenant and enjoyed an 18-day furlough with his wife, Virginia, before being assigned to Company E of the 9th Infantry Regiment, 2nd "Indian Head" Infantry Division at Fort Sam Houston, Texas. Lake would also serve at Camp Bullis, Texas, and Camp McCoy, Wisconsin, where he was reassigned to the Anti-Tank Company of the 9th Infantry Regiment.

In October 1943, the division left the United States for Northern Ireland, where it underwent extensive training before moving to England, and then to Normandy, France, on June 8, 1944 (D-Day plus two) where it came ashore at Omaha Beach. The 9th Infantry Regiment advanced inland through the hedgerows of Normandy where the enemy was well dug in and casualty lists mounted steadily. The regiment took St. Germain d'Elle, and then battled for nearly a month to take Hill 192, a heavily defended vital strongpoint on the way to Saint-Lô. On July 26, as the Germans were making a desperate stand against the Allied forces near the village of Les Haies in the Cerisy Forest, First Lieutenant Lake was fatally wounded. He was evacuated to an Army hospital where he died later in the day.

His wife, Virginia, received a telegram from the War Department, stating that her husband had been "seriously wounded in action." A letter that followed on August 11 (16 days after his death), said "knowing your desire to have a letter reach him as soon as possible, you should use the following temporary address."

This cruel glimmer of hope was followed by a further telegram and letter dated August 17: "I deeply regret that it is necessary to confirm ... the death of your husband, First Lieutenant Walter E. Lake ... who died on 26 July 1944 in France as a result of wounds received in action on that date."

Not surprisingly, Virginia was shocked and dismayed. Was Walt wounded or dead? She immediately wrote to her husband's commanding officer wanting to know what had happened. The letter was forwarded to the War Department for reply. "I fully appreciate your desire to know the circumstances attending your husband's death," wrote Brigadier General Edward W. Witsell, "and I regret the confusion occasioned by the letter of 11 August 1944. An additional report has been received in the War Department which states that Lieutenant Lake was seriously wounded in action on 26 July 1944 and was evacuated to an Army hospital, where every possible medical assistance was administered, but his death occurred later that day as a result of his wounds."

Walter Lake was buried at the United States Military Cemetery in St. Laurent, France. In February 1945, he was posthumously awarded the Bronze Star. His citation read: "He distinguished himself by heroic achievements in connection with military operations against the enemy in Normandy, on 26 July 1944."

Not until January 1947 did Virginia see the place where her husband rests, in a photograph of the cemetery at St. Laurent sent by the War Department. "It is my sincere hope that you may gain some solace from this view of the surroundings in which your loved one rests," wrote Brigadier General G. A. Horkan. "As you can see, this is a place of simple dignity, neat and well cared for."
In December 1947, Walter Lake's remains were returned to the United States and now rest at Earlham Cemetery in Richmond, Indiana.
| | | | | | | | | | | | | |
| --- | --- | --- | --- | --- | --- | --- | --- | --- | --- | --- | --- | --- |
| | Team | League | Class | G | AB | R | H | 2B | 3B | HR | RBI | AVG |
| 1938 | Springfield | Mid-Atlantic | C | - | - | - | - | - | - | - | - | - |
| 1938 | Oswego | Canadian-American | C | 60 | 195 | 29 | 61 | 11 | 4 | 4 | 38 | .313 |
| 1939 | Tyler | East Texas | C | 33 | 88 | 9 | 26 | 4 | 0 | 1 | 8 | .295 |
| 1939 | Abbeville | Evangeline | D | 47 | 119 | 11 | 23 | 5 | 0 | 0 | 15 | .193 |
| 1940 | Cedar Rapids | Three-I | B | - | - | - | - | - | - | - | - | - |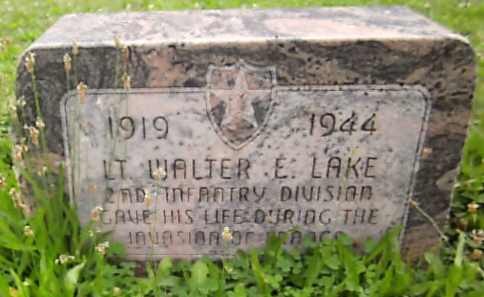 The grave of 1/Lt. Walter E. Lake at Earlham Cemetery in Richmond, Indiana
Thanks to Astrid van Erp for help with photos and information for this biography
Date Added February 1, 2012 Updated August 2, 2017
Baseball's Greatest Sacrifice is associated with Baseball Almanac
Baseball's Greatest Sacrifice is proud to be sponsored by