Gene Lefler
Date and Place of Birth:
August 26, 1920 Norfolk, NE
Date and Place of Death:
November 7, 1942 Walterboro, SC
Baseball Experience:

Amateur

Position:
Unknown
Rank:

Sergeant

Military Unit:

445th Bomb Squadron, 321st Bomb Group

USAAF
Area Served:
United States
Gene E. Lefler, son of Herman and Clara Lefler, was born in Norfolk, Nebraska on August 26, 1920. He attended Norfolk High School before his family moved to Omaha, Nebraska, where his father drove a taxi cab.
Lefler played American Legion baseball with the Kenneth Goldens and sandlot ball with the Siders of the Ak-Sar-Ben League. Working as a truck driver when not playing baseball, he was signed by the St. Louis Cardinals organization in August 1941, and was to report to the Decatur Commodores of the Class B Three-I League the following spring. However, military service intervened and Lefler joined the Army Air Corps in January 1942.
Lefler trained at Kessler Field, Mississippi and Santa Monica, California, where he qualified as a flight engineer. On November 7, 1942, just 10 months after entering service, Sergeant Lefler was part of a four-man crew on a North American B-25C Mitchell bomber that was on a routine training flight from Anderson Field, South Carolina. They were part of the 445th Bomb Squadron of the 321st Bomb Group and were preparing for combat service in North Africa. The twin-engined bomber, piloted by Second-Lieutenant Douglas W. Cole, exploded in mid-air and crash-landed in a swamp 18 miles east of Walterboro, South Carolina. All four crew members perished in the accident.
Gene Lefler was returned to Omaha and he was buried at Forest Lawn Memorial Park.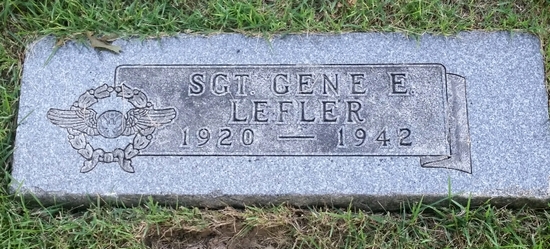 Date Added: September 22, 2020
Can you add more information to this biography and help make it the best online resourse for this player? Contact us by email
Read Baseball's Greatest Sacrifice Through The Years - an online year-by-year account of military related deaths of ballplayers
Baseball's Greatest Sacrifice is associated with Baseball Almanac
Baseball's Greatest Sacrifice is proud to be sponsored by