Harold Lind
| | |
| --- | --- |
| Date and Place of Birth: | May 15, 1921 Ottumwa, IA |
| Date and Place of Death: | July 21, 1944 Guam, Mariana Islands |
| Baseball Experience: | College |
| Position: | Unknown |
| Rank: | Second Lieutenent |
| Military Unit: | C Company, 1st Battalion, 22nd Marines, 1st Provisional Marine Brigade, US Marine Corps |
| Area Served: | Pacific Theater of Operations |
Harold L. Lind was born in Ottumwa, Iowa on May 15, 1921 – the only son of Mr. and Mrs. Harvey Lind. He attended Ottumwa High School where he was a basketball player all four years. In his junior year he finished in second place in individual scoring with 131 points. He also scored the most free throws in the entire conference, with 55. Lind was also a star on the local American Legion junior baseball team.

He graduated from high school in 1939 and entered the University of Iowa that fall. Lind was an excellent college baseball player and captained the team his senior year.

Harold Lind enlisted in the Marine Corps reserve in October 1942 while at the University of Iowa and was held in inactive reserve status. Upon graduation in 1943, Lind was stationed at Parris Island in South Carolina, Quantico, Virginia and San Diego, California.

In January 1944, Second Lieutenant Lind was assigned to Camp Catlin, Hawaii with the 38th Replacement Battalion and then to Guadalcanal with C Company, 1st Battalion, 22nd Marines, 1st Provisional Marine Brigade. In June 1944, he left Guadalcanal for the invasion of Guam.

Guam is the largest of the Mariana Islands, 30 miles long and 9 miles wide. It had been a United States possession from the Spanish-American War of 1898 until it was captured by the Japanese on December 11, 1941. It was not as heavily fortified as the other Mariana Islands such as Saipan that had been Japanese possessions since the end of World War I, but by 1944 it had a large garrison.

The Allied plan for the invasion of the Marianas called for heavy preliminary bombardment, first by carrier aircraft and planes based in the Marshall Islands to the east, then once air superiority was gained, close bombardment by battleships. Guam was chosen as a target because its large size made it suitable as a base for supporting the next stage of operations towards the Philippines, Taiwan and the Ryūkyū Islands.

On July 21, the Americans landed on both sides of the Orote peninsula on the west of Guam, planning to cut off the airfield. By nightfall on July 21, the Americans had established beachheads about one mile deep, but Second Lieutenant Harold Lind had lost his life in the process.

Harold Lind was temporarily buried at the USAF Cemetery #2 on Guam. On Tuesday, April 6, 1948, his body was returned to Ottumwa. Military services were held at Johnson Funeral Chapel and he was buried at Ottumwa Cemetery.

Harold Lind was one of twelve major lettermen in athletics at the University of Iowa to lose his life in World War II.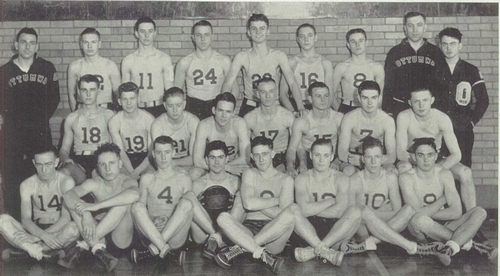 Harold Lind (back row, second left) with the Ottumwa High School basketball team in 1937

Harold Lind (front row, third right) with the University of Iowa baseball team in 1942
Thanks to Patricia Essick at the Ottumwa Public Library for help with this biography. Thanks to Astrid van Erp for help with this biography.
Date Added July 28, 2012 Updated August 8, 2017
Baseball's Greatest Sacrifice is associated with Baseball Almanac
Baseball's Greatest Sacrifice is proud to be sponsored by