Alan Loughman
| | |
| --- | --- |
| Date and Place of Birth: | 1911 Washington, PA |
| Date and Place of Death: | November 23, 1944, Beeck, Germany |
| Baseball Experience: | Semi-Pro |
| Position: | Pitcher |
| Rank: | Private First Class |
| Military Unit: | Company L, 406th Infantry Regiment, 102nd Infantry Division US Army |
| Area Served: | European Theater of Operations |
Alan D. Loughman, the son and J.G and Dora Loughman, was born in Washington, Pennsylvania in 1911. Loughman was employed by the Jessop Steel Company in Washington and pitched for the Jessop baseball team. He also pitched for Washington in the Washington County League, receiving minor league tryouts with Cumberland and Harrisburg.

He entered military service with the Army on February 19, 1944 and received his basic training at Camp Swift, Texas. He was later transferred to Fort Dix, New Jersey before being deployed overseas on September 17, 1944.

Private First Class Loughman served with Company L, 406th Infantry Regiment, 102nd Infantry Division. He was killed in action near Beeck, Germany on November 23, 1944. He is buried at the Netherlands American Cemetery in Margraten, Netherlands, and was survived by his widow, Edith, and son, Edwin.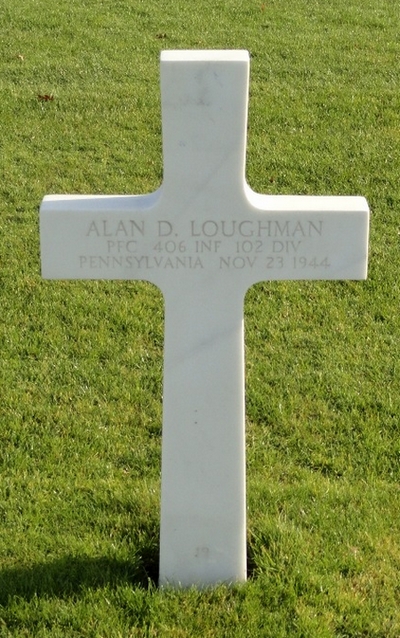 Alan Loughman's grave at the Netherlands American Cemetery in Margraten, Holland
Source
Washington Reporter, December 5, 1944
Date Added May 13, 2013 Updated July 15, 2013
Can you add more information to this biography and help make it the best online resourse for this player? Contact us by email
Read Baseball's Greatest Sacrifice Through The Years - an online year-by-year account of military related deaths of ballplayers
Baseball's Greatest Sacrifice is associated with Baseball Almanac
Baseball's Greatest Sacrifice is proud to be sponsored by