George Meyer
| | |
| --- | --- |
| Date and Place of Birth: | May 24, 1924, Blackduck, MN |
| Date and Place of Death: | January 15, 1945 Coulee, Belgium |
| Baseball Experience: | Minor League |
| Position: | Outfield/Shortstop |
| Rank: | Private |
| Military Unit: | Headquarters, 1st Battalion, 517th Parachute Regimental Combat Team U.S. Army |
| Area Served: | European Theater of Operations |
George A. Meyer, the son of August and Emily Meyer, was born in Blackduck, Minnesota, and when he was two years old the family moved to Elk River, a village about 30 miles northwest of Minneapolis, where his father opened a shoe and harness repair shop. George Meyer was shorter than his high school teammates, but he was strong and powerful and captained the school football, basketball and baseball teams at Elk River High School. Baseball coach Milt Salk, who was also the shop teacher, had made a warm-up bat out of maple. It was heavy and Meyer was the only one who could use it.
Roger Ostby, a resident of Elk River and a freshman when Meyer was a senior, said Meyer excelled in every sport and was his mentor. Ostby remembered his first game in high school as "the most thrilling sporting event I was ever a part of," thanks to Meyer. They were playing Anoka and the Anoka pitcher's previous game had been a no-hitter. The first time Meyer was up, he hit the ball out of the park in the trees in left field. The second time he hit it out of center field and they found the ball two houses down the street in the gutter. The third time he got on base and he stole second and third. He challenged the pitcher by standing between third and home, then broke for home. The pitcher threw to the catcher, and Meyer bowled him over, but the catcher came up with the ball. Elk River lost the game by one run.

Meyer was all-district in football in 1940, all-conference and team captain in 1941. In baseball, the Elk River High School team won the District 16 championship in 1941, and he captained the team in 1942. Meyer also played shortstop with the Nowthen town team and helped them win amateur league titles in 1940 and 1941. He signed with the St. Paul Saints of the Class AA American Association following high school graduation in 1942. Playing professional baseball, however, was subject to his father's condition that he would continue his studies during the off-season. Meyer was assigned to the Grand Forks Chiefs of the Class C Northern League, where he played 68 games between the outfield and shortstop, and batted .228 with 22 RBIs. At the close of the season, in line with his father's wishes, he enrolled at Hamline University in St. Paul, and created a lot of interest with his sparkplug style of play as a freshman fullback on the football team.
"Sparked by diminutive George Meyer," wrote The Liner (Hamline University newspaper) on November 6, 1942, "the Piper gridders swept through Augsburg by a decisive 13-0 score in the season's finale for both teams."

Meyer's athletic pursuits were put on hold when military service beckoned in March 1943. His family was of German origin and his father wanted him to go into the Merchant Marine as he did not want his son to have to fight in Europe. Nevertheless, George enlisted with the paratroopers and took basic training at Camp Toccoa, Georgia. In May 1944, he was sent overseas and served in Europe with Headquarters Company, 1st Battalion of the 517th Parachute Regimental Combat Team.

When the German Army launched its offensive against American positions in the Ardennes on December 16, 1944, the 517th was in France. A week later it was on its way to Belgium where it was attached to the 82nd Airborne Division. In the bitter cold weather of January 13, 1945, the 517th launched an attack and captured various German strongholds.

During a brief lull in the fighting around Coulee in Belgium on January 15, 1945, Meyer and a number of men took a five-minute break in a barn. It was a rare opportunity to get a reprieve from the cold weather. When it was time to move on, Meyer was the last one to leave, making sure everyone else was out. Moments later the area was hit with mortar fire and Private Meyer was killed.

Meyer was buried at the American Military Cemetery at Henri-Chapelle, Belgium, but in 1947 his body was returned to the United States and rests at St. John's Lutheran Church Cemetery in Nowthen, Minnesota. The American Legion post in Elk River was later named Davis-Darrow-Meyer Post 112 in honor of the three soldiers from the village who gave their lives during the war. On Memorial Day, May 30, 1999, the Nowthen ballpark was dedicated in memory of George Meyer and a granite plaque stands at the entrance to the park in his honor. In 2005, Meyer was a charter member of Elk River High School's Sports Hall of Fame.
| | | | | | | | | | | | | |
| --- | --- | --- | --- | --- | --- | --- | --- | --- | --- | --- | --- | --- |
| | Team | League | Class | G | AB | R | H | 2B | 3B | HR | RBI | AVG |
| 1942 | Grand Forks | Northern | C | 68 | 241 | 27 | 55 | 6 | 4 | 1 | 22 | .228 |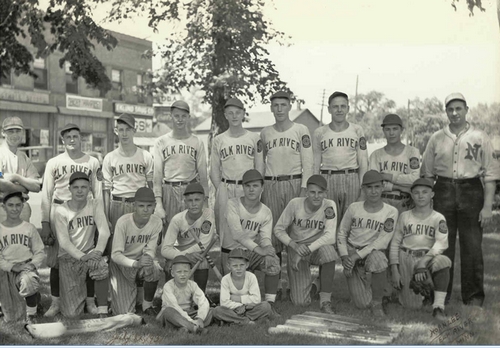 Elk River junior league team, 1937. 13-year-old George Meyer is kneeling, first right.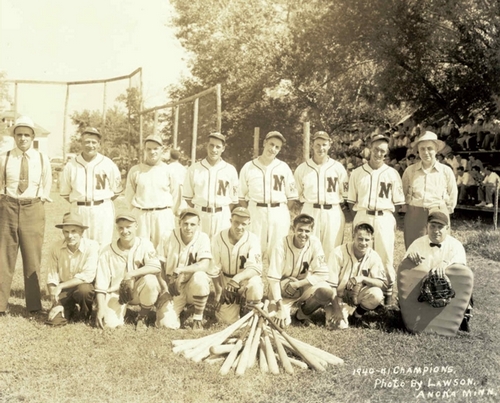 The Nowthen baseball team were amateur league champions from 1938 to 1941. George Meyer is front row, second left.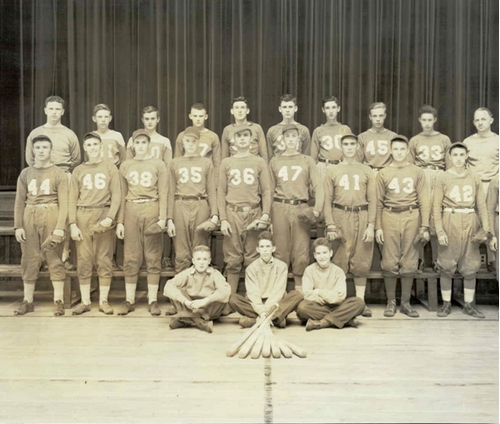 Elk River High School baseball team in 1942, his senior year. George Meyer is first left, bottom row, wearing #44.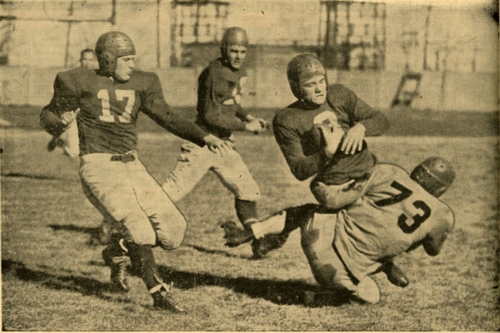 Hamline University fullback, George Meyer, is brought down by opposing player in 1942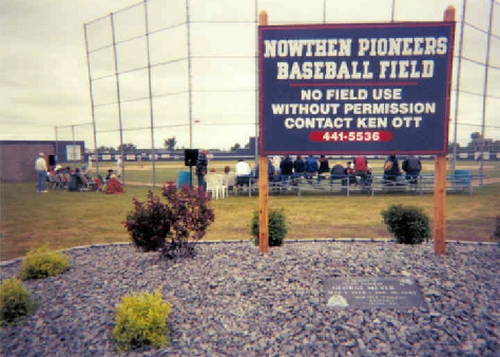 The Nowthen Baseball Field in Elk River was dedicated to George Meyer on Memorial Day 1999.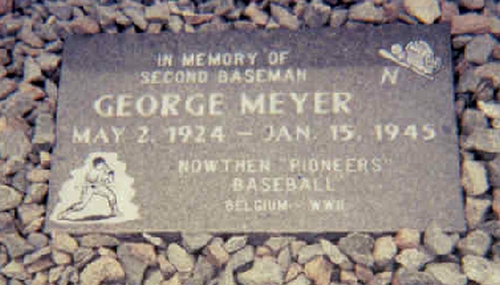 The plaque that can be seen at Nowthen Baseball Field in Elk River.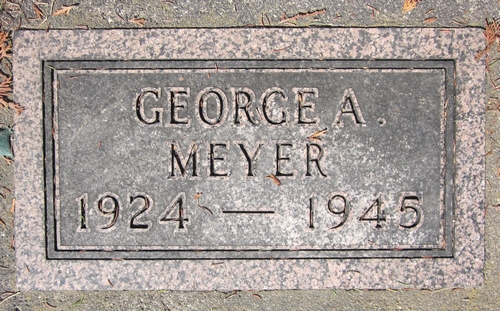 George Meyer's grave at St. John's Lutheran Church Cemetery in Nowthen, Minnesota
Thanks to Barbara (Bobbie) Scott at Sherburne History Center, Dorothy Meyer Bakke, Kumars Sakizadeh, Roger Ostby, and Candice L. Hart, Archivist at Hamline University.
Date Added February 1, 2012 Updated June 6, 2014
Baseball's Greatest Sacrifice is associated with Baseball Almanac
Baseball's Greatest Sacrifice is proud to be sponsored by