Marcus Milligan
| | |
| --- | --- |
| Date and Place of Birth: | March 18, 1896 Heflin, AL |
| Date and Place of Death: | September 4, 1918 Barron Field, Forth Worth, TX |
| Baseball Experience: | Minor League |
| Position: | Pitcher |
| Rank: | Cadet |
| Military Unit: | US Army Air Service |
| Area Served: | United States |
Marcus G. Milligan, the son of Mr. and Mrs. W.G. Milligan, was born in Heflin, Alabama on March 18, 1896. He pitched at Alabama Polytechnic Institute (now Auburn University) in 1915 and 1916, and was the school's assistant baseball coach the following two years, while taking a special course in agricultural training.

Milligan had been invited to spring training by Barney Dreyfuss of the Pittsburg Pirates in 1916 and was signed by that club. To protect his amateur status at the time he played under the name "Orr" for the Portsmouth Truckers of the Class C Virginia League and was 8-0 in 16 appearances. The National League club released the 21-year-old to the Birmingham Barons of the Class A Southern Association in 1917, where he played under his own name alongside future major leaguers Howdy Caton, Pat Duncan, Howie Haworth, Carmen Hill, Doc Johnston, Elmer Ponder and Billy Southworth. In 13 appearances, Milligan was 6-5. The highlight of his rookie season was a 6-0, two-hitter against Nashville on August 2, and he pitched well enough to earn a recall to the Pirates at the start of 1918.

Milligan never got the chance to play in the big leagues because he enlisted for military service in March 1918. His parents were living in Pensacola, Florida, and it was at nearby Escambia that he enlisted with the US Army Air Service. Cadet Milligan trained at Barron Field in Forth Worth, Texas, and as the summer of 1918 was close to coming to an end, so too was Cadet Milligan close to completing training which would have given him a commission as a lieutenant and a posting to France.

On September 3, 1918, Milligan was on a training flight in a Curtiss JN-4 "Jenny" two-seat biplane. A dependable trainer that, from April 1917 when the United States entered World War I, was used to train some 95 per cent of all U.S. and Canadian pilots. During the flight the engine stalled, causing the plane to spin out of control and crash into the ground two miles south of Barron Field. Lieutenant Sidney Greene was killed and Milligan was fatally injured. He died the following day at the base hospital.

After the war, Marcus Milligan had planned to operate a pecan farm on land he owned in Heflin, Alabama. It was to this area that his body was returned and rests at Edgemont Cemetery, Anniston.

[Marcus] Milligan did not get to face the Hun," eulogized the Anniston Star on September 7, 1918, "but he is a hero nevertheless; for he sacrificed a brilliant career to enter the army, he underwent great hardships to train himself for service abroad, and he died for you and me just the same as if he had been to France . . . He was, in a sense, an Annistonian; but greater than that, he was an American, and he died for America. It is fitting, therefore, that we pay him tribute and lend our sympathy to those of his loved ones who are bereaved.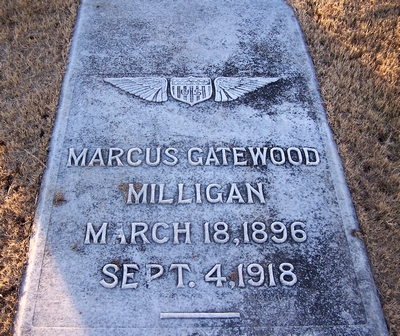 Marcus Milligan's grave at Edgemont Cemetery in Anniston, Alabama
Sources
Sporting Life April 21, 1917
San Antonio Light Aug 3, 1917
Anniston Star Jan 5, 1918
Eau Claire Leader July 10, 1918
Cleburne News Sept 5, 1918
Anniston Star Sept 4, 1918
San Antonio Light, Sept 5, 1918
Anniston Star Sept 7, 1918
Sporting News, Sept 12, 1918
Anniston Star Oct 20, 1918
San Antonio Express Jan 12, 1942
Thanks to Astrid van Erp, for help with photos for this biography.
Date Added: July 16, 2012 Updated July 30, 2017
Baseball's Greatest Sacrifice is associated with Baseball Almanac
Baseball's Greatest Sacrifice is proud to be sponsored by