Frank Myers
Date and Place of Birth:

October 24, 1911 Bitumen, PA

Date and Place of Death:

April 29, 1945 off Okinawa

Baseball Experience:
Minor League
Position:

Outfield

Rank:

Pharmacist's Mate First Class (PhM1C)

Military Unit:

US Navy

Area Served:

Pacific

Theater of Operations
Frank M. Myernick, the son of Czechoslovakian immigrants Stephen and Theresa Myernick, was born in Bitumen, Pennsylvania on October 24, 1911. By 1914, the family had moved to Wisconsin, and within two years was living in Mount Morris, Michigan, with Stephen working as a laborer in the auto industry.

In 1934, 22-year-old Frank Myernick, posing as 19-year-old Frank Myers, signed with the Pine Bluff Judges of the newly-formed Class C East Dixie League. A fleet-footed outfielder who could run the bases in under 14 seconds, Myers could also hit, clouting two home runs in his first professional game against the El Dorado Lions. Myers played 70 games his rookie year and for reasons that have been lost in time, he joined the Clarksdale Ginners of the same league in July, returning to the Judges the following month.

In 1935, Myers hit .306 in 136 games for the Judges. The next year he played 23 games for Pine Bluff before joining the Greensburg Red Wings of the Class D Penn State Association in May. In 105 games with Greensburg, Myers batted .308 and played center field in the Penn State Association all-star game.

Now 25, but masquerading as a 22-year-old, Myers joined the Rochester Red Wings of the Class AA International League in 1937, and played against the Detroit Tigers in a Florida spring exhibition game in April. Playing alongside future major leaguers Marty Marion and Johnny Hopp, the jump from Class D to AA was too big for Myers and he was batting just .129 in 19 regular season games before being sent to the Union City Greyhounds of the Class D Kitty League in July. His next stop that season was Decatur of the Class B Three-I League, where he batted .237 in 27 games, before joining the Martinsville Manufacturers of the Class D Bi-State League, batting .301 in 42 games. That proved to be the end of his professional baseball career, joining the voluntarily retired list in May 1938.

Myernick moved to Detroit after his baseball days and worked for publishing company, Brown & Bigelow, one of the largest printers of calendars in the world. Aged 30, he enlisted in the Navy on January 17, 1942, just six weeks after the Pearl Harbor attack. After training he was assigned, as a Pharmacist's Mate Third Class, to the newly commissioned Fletcher-class destroyer, USS Hazelwood, on June 18, 1943. The ever-busy Hazelwood saw action at Tarawa, Wake Island and the Gilbert Islands in 1943, moving on to the Marshall Islands, Palau, the Philippines, the Battle of Leyte Gulf in 1944, and Iwo Jima in early 1945. During this time, Myernick was promoted to Pharmacist's Mate Second Class in December 1943, and Pharmacist's Mate First Class in September 1944.

In March 1945, the Hazelwood was at Okinawa, providing shore bombardment for the invasion of the island. After the invasion the Hazelwood operated off Okinawa on escort patrols through intense Japanese air attacks. On April 29, 1945, she was attacked by kamikazes who dove out of low cloud cover. Despite all guns blazing, one kamikaze smashed into the bridge and exploded, spilling flaming gasoline over the decks and bulkheads. Ten officers and 67 men were killed or missing in action, including the Commanding Officer, Commander V. P. Douw, and Pharmacist's Mate First Class Frank Myernick.

Myernick, aged 33, was buried at sea at 1830 on May 1, 1945, before the Hazelwood limped to Ulithi in the Caroline Islands on May 5 for temporary repairs. She then sailed to Mare Island Naval Shipyard, California via Pearl Harbor for permanent repairs.

Myernick's mother, Theresa, received a wire informing of his death on May 9, 1945. He is remembered at the Honolulu Memorial in Hawaii and the Okinawa Peace Memorial.

Year

Team

League

Class

G

AB

R

H

2B

3B

HR

RBI

AVG

1934

Pine Bluff/
Clarksdale

E. Dixie

C

70

-

-

75

11

7

5

-

-

1935

Pine Bluff

E. Dixie

C

136

487

-

149

34

8

2

-

.306

1936

Pine Bluff

Cotton States

C

23

87

12

23

3

1

0

8

.264

1936

Greensburg

Penn State

D

105

403

82

124

21

8

6

58

.308

1937

Rochester

International

AA

19

31

4

4

1

0

0

1

.129

1937

Union City

Kitty

D

-

-

-

-

-

-

-

-

-

1937

Decatur

Three-I

B

27

93

15

22

7

1

1

-

.237

1937

Martinsvillle

Bi-State

D

42

163

27

49

7

4

5

-

.301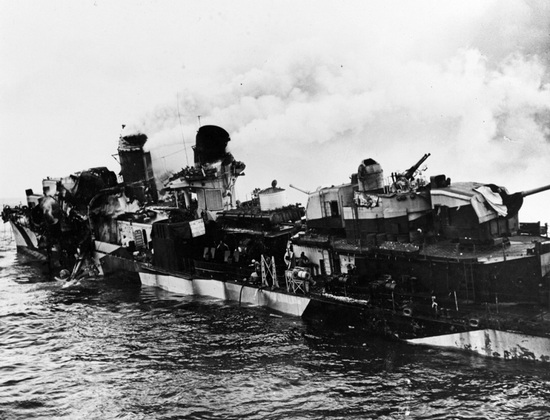 Damage to the USS Hazelwood following the kamikaze attack of April 29, 1945
Date Added September 18, 2023
Thanks to Jack Morris for "discovering" Frank Myers.
Baseball's Greatest Sacrifice is associated with Baseball Almanac
Baseball's Greatest Sacrifice is proud to be sponsored by