Hank Nowak
| | |
| --- | --- |
| Date and Place of Birth: | August 9, 1918 Buffalo, NY |
| Date and Place of Death: | January 1, 1945 Belgium |
| Baseball Experience: | Minor League |
| Position: | Pitcher |
| Rank: | Sergeant |
| Military Unit: | 345th Infantry Regiment, 87th Infantry Division US Army |
| Area Served: | European Theater of Operations |
Henry S. "Hank" Nowak, like his older brother Edmund, was an outstanding baseball player who excelled as a pitcher at Emerson High School in Buffalo, New York. Following graduation in 1936, Hank went on to play in the local semi-pro Municipal League, while Edmund was pitching for the Albany Travelers of the Class D Georgia-Florida League. Hank signed with St. Louis Cardinals scout Charles "Pop" Kelchner in 1937, and joined his brother on the pitching staff of the Travelers. Edmund was 5-7 for the year while 19-year-old Hank was the workhorse of the pitching staff with an 11-13 won-loss record, 4.19 earned run average and team-leading 134 strikeouts.

In 1938, Edmund joined the Kinston Eagles of the Coastal Plain League, while Hank remained on the Travelers' staff and had a career-year. He started impressively, handcuffing the St. Louis Cardinals batters for four innings in an exhibition game on April 6, and finished the regular season with a 20-11 record and 3.78 ERA. Nowak led the league in wins, innings pitched (243) and strikeouts (165). In 1939, he spent spring training along with Murry Dickson, Max Surkont and Ernie White, vying for a place on the Class Al Texas League Houston Buffaloes roster, but was assigned to the Kilgore Boomers of the Class C East Texas League for the regular season. After posting a 7-2 record in 12 games along with a minuscule 1.17 ERA, he was recalled by Houston and celebrated his first start, June 13, with a four-hit, 3-2, victory over Dallas. He also proved he could turn his hand to relief work on August 8, by striking out eight batters over five innings in claiming another 3-2 win over Dallas. A week later, on August 16, he beat the Tulsa Oilers, 6-3, on four hits. Nowak finished the year with a 9-7 record and 3.93 ERA and was attracting attention from bigger clubs. In October 1939, the Los Angeles Angels of the Pacific Coast League attempted to claim him in the Class AA draft but lost out because Houston had already given up a player in the major league draft.

Nowak remained with Houston for 1940 and got off to a flying start. He beat the Beaumont Exporters, 6-2, in an April 6 exhibition game, allowing just six hits, and claimed a regular season, 2-1, decision over Shreveport on May 11. He then pitched five innings of hitless ball against Fort Worth on May 20, only to lose the game, 2-0, but bounced back on May 24, with a four-hit, 4-0, shutout over Oklahoma City. On June 13, he held Beaumont to three hits with an 8-0 victory, and on July 21, he shutout Shreveport, 6-0, on three hits. On August 2, he hurled a 3-0 five-hitter over Dallas, and in his next start on August 8, he beat Fort Worth, 5-0, allowing three hits and striking out 11. Nowak finished the season with a 13-7 record and an excellent 2.72 ERA, and the Buffaloes went on to clinch the Texas League title in five games against Beaumont.

In January 1941, the Cardinals announced they had purchased four players from Houston. In addition to Nowak, they selected Howie Krist, Sam Nahem and Johnny Wyrostek. Nowak was among the most talked about rookies in camp during the spring of 1941, but the Cardinals pitching staff included Lon Warneke, Mort Cooper, Ernie White and Max Lanier. There simply was not a spot for the young rookie at the time and he was optioned to New Orleans of the Class A1 Southern Association in late March, which marked a reunion with his brother, Edmund, who was pitching for the Atlanta Crackers in the same league. Nowak made 46 appearances on the mound for the Pelicans which included 29 starts; he had a 13-16 won-loss record and 5.22 ERA. One of the most memorable games of the season was the much anticipated match-up between the Nowak brothers on May 18. The brothers wagered a new suit for the winner of the contest and it was Edmund who proved the victor, defeating his younger brother, 4-2.

Nowak was recalled by the Cardinals at the end of the season and was at spring training with the team at St. Petersburg, Florida, in the spring of 1942. But Nowak's climb towards a place on the Cardinals pitching staff came to an end on March 2, 1942 - the date he entered military service with the Army. Carried on the St. Louis Cardinals' National Defense Service List, Nowak entered service at Fort Niagara and was assigned to the special service section of the Quartermaster Replacement Training Center at Camp Lee, Petersburg, Virginia, where he was able to continue his pitching exploits with the Camp Lee Travelers. On August 2, 1942, Nowak faced Bob Feller's Norfolk Naval Training Station team. Feller beat the youngster, 4-2, but Nowak outdid the future Hall of Famer by striking out seven while Feller fanned five. The Travelers finished the season with 30 wins, 19 defeats and one tie.

Nowak remained at Camp Lee during 1943 and on April 2, 1944, he pitched for the Travelers against the Washington Senators at the University of Maryland's ballfield. Despite a great start, allowing just one hit over the first four innings, the Senators rallied in the fifth and when the game had to be halted due to rain after six innings, the Senators were on top, 8 to 4. The crowd of 2,700 was the largest seen at Maryland's field.
A month later, Sergeant Nowak transferred to the infantry training center at Fort Jackson, South Carolina, and began overseas duty in Europe in October 1944, with the 345th Infantry Regiment, 87th Infantry Division. On December 16, the Germans began their last major offensive of the war - an all-out push to split the Allied line in Belgium - the Battle of the Bulge. Allied forces lost more than 10,000 men during that freezing winter in the Ardennes. Hank Nowak was killed in action on New Year's Day 1945.

News of Nowak's death came as a terrible shock, and not least to the military personnel at Camp Lee, where he had been stationed for two years. In April 1945, Brigadier-General George A. Horkan, officially dedicated the camp's baseball field in honor of Nowak. Before a capacity crowd of 10,000- one of the largest crowds ever seen at a Camp Lee baseball game - the Camp Lee Travelers opened their 1945 season at Nowak Field with a 4-2 loss against the visiting Philadelphia Phillies.
"As commanding general of Camp Lee," said Horkan during the dedication, "I declare this field 'Nowak Field' in tribute to the life and death of Sergeant Henry Nowak. May it stand as an inspiration to all of us who serve here, and as a memorial to the soldier athletes of the Nation who on the athletic fields of America, in the corner lots and stadia, quietly molded the answer to the enemy's charge that America is a soft nation."
Attending the game in addition to many high-ranking army generals was Pop Kelchner, the scout who had signed Nowak back in 1937.
Nowak was originally buried at the U.S. Military Cemetery in Grand-Failly, in northeastern France, 150 miles from Paris. In November 1948, his body was returned to his mother, Victoria, and now rests at St. Stanislaus Cemetery in Buffalo, New York.
Recognizing the honor and selflessness of Hank Nowak, a group of veterans in Buffalo chartered an AMVETS post in his name on March 17, 1957 (Amvets Post #45), and more than 60 years after his death, Hank Nowak's name lives on as young Army pitchers continue to take to the mound in the shadow of their fallen comrade at Camp Lee's Nowak Field.
| | | | | | | | | | | | |
| --- | --- | --- | --- | --- | --- | --- | --- | --- | --- | --- | --- |
| Year | Team | League | Class | G | IP | ER | BB | SO | W | L | ERA |
| 1937 | Albany | Georgia-Florida | D | - | 217 | 101 | 130 | 134 | 11 | 13 | 4.19 |
| 1938 | Albany | Georgia-Florida | D | - | 243 | 102 | 137 | 165 | 20 | 11 | 3.78 |
| 1939 | Kilgore | East Texas | C | 12 | 69 | 9 | 38 | 75 | 7 | 2 | 1.17 |
| 1939 | Houston | Texas | A1 | 27 | 135 | 59 | 92 | 84 | 9 | 7 | 3.93 |
| 1940 | Houston | Texas | A1 | 35 | 212 | 64 | 116 | 125 | 13 | 7 | 2.72 |
| 1941 | New Orleans | Southern Assoc | A1 | 46 | 252 | 127 | 122 | 86 | 13 | 16 | 5.22 |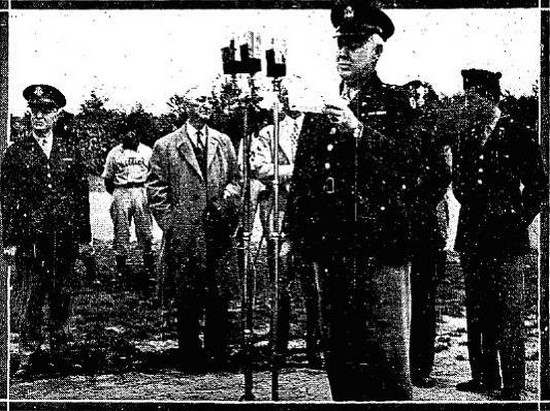 Brigadier-General George A. Horkan dedicating Camp Lee's baseball field in honor of Nowak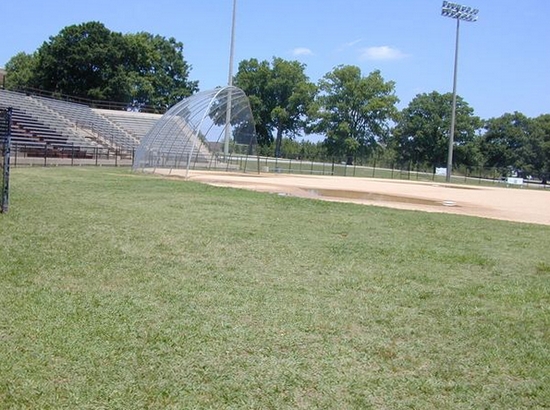 Nowak Field at what is now Fort Lee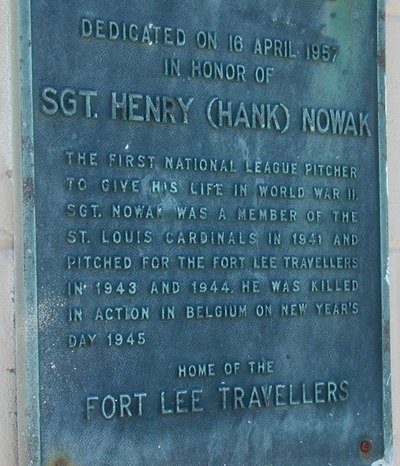 Plaque dedicated to Hank Nowak at Nowak Field, Fort Lee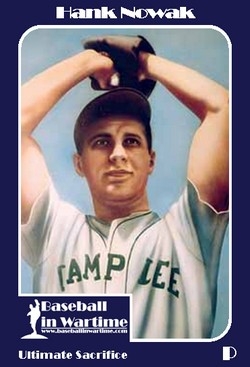 Thanks to Luther Hanson at the Army Quartermaster Museum, Fort Lee, Virginia for photos and information for this biography. Also thanks to Dave Berry at pathfinderhistoricalconsultants.com. Excerpts taken from Field of Dreams - AMVETS Magazine Fall 2005.
Source
Philadelphia Inquirer, April 9, 1945
Buffalo Courier-Express, November 18, 1948
Date Added February 4, 2012 Updated June 7, 2014
Baseball's Greatest Sacrifice is associated with Baseball Almanac
Baseball's Greatest Sacrifice is proud to be sponsored by