Nick Odell
| | |
| --- | --- |
| Date and Place of Birth: | August 9, 1920 Niles, NY |
| Date and Place of Death: | February 29, 1944 Italy |
| Baseball Experience: | Semi-Pro |
| Position: | Pitcher |
| Rank: | Second Lieutenant |
| Military Unit: | 385th Infantry Regiment, 76th Infantry Division US Army |
| Area Served: | Mediterranean Theater of Operations |
Nelson A. "Nick" Odell, the son of Earl and Clara Odell, was born on August 9, 1920 in Niles, New York, where his father, Earl, was county supervisor. He attended Moravia High School where he was an outstanding basketball and baseball pitcher. At 6-foot-3 and 190 pounds, he was a center in basketball and set an individual season scoring record with 124 points in 14 games in the Cayuga County Public High School Athletic Association Basketball League in 1938 and captained the all star team.

During 1939 and 1940, Odell pitched for the New Hope Blue Devils of the Inter-County League. He enlisted in the Army in November 1940 but was given an honorable discharge in 1941 due to ill health. He went to work at the Corona typewriter plant in Groton and played baseball with the Groton Coronas of the Central New York Semi-Pro League.

On October 2, 1942, he was inducted back into the service and attained the rank of sergeant at Camp Campbell, Kentucky. Odell was later commissioned a second lieutenant. Shortly after arriving overseas he was killed in action at the Anzio beachhead in Italy on February 29, 1944.

On April 30, 1944, a memorial service was held at New Hope Methodist Church in Niles.

In 1948, Odell's remains were returned to the United States and buried on August 10 at Woodlawn National Cemetery in Elmira, New York.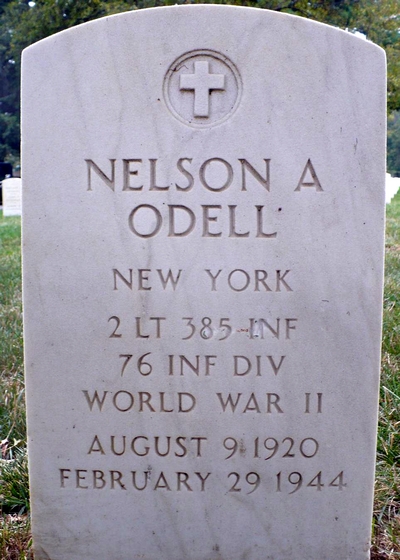 Nick Odell's grave at Woodlawn National Cemetery in Elmira, New York.
Date Added June 14, 2012 Date Updated July 17, 2013
Baseball's Greatest Sacrifice is associated with Baseball Almanac
Baseball's Greatest Sacrifice is proud to be sponsored by